Freedom To Fascism. We are polarized as a people between Conservative & Progressive. Meanwhile we are vulnerable to a takeover by the "Government" which is not "of the people" but run by the Corporate controlled Federal Reserve.
Members: 255 Code of Conduct
Visibility: open
Membership: open
Group Email: FreedomorFascism@groups.care2.com


The important thing is to never give up no matter how hopeless the situation looks. If you don`t do it for yourselves, do it for future generations. ~ Jessica C ~~~~~~~~~~~~~~~~~~~~~~~~~~~~~~~~~~~~~~~~~~~~ I am truly free only when all human beings, men and women, are equally free. The freedom of other men, far from negating or limiting my freedom, is, on the contrary, its necessary premise and confirmation. ~ Mikhail A. Bakunin ~~~~~~~~~~~~~~~~~~~~~~~~~~~~~~~~~~~~~~~~~~~~ It will be an uphill battle now. But we have to have Hope! I still believe we can restore Civil Liberties & get America back to basics! ~ Yvonne W ~~~~~~~~~~~~~~~~~~~~~~~~~~~~~~~~~~~~~~~~~ Dissent is the highest form of patriotism ~ Howard Zinn ~~~~~~~~~~~~~~~~~~~~~~~~~~~~~~~~~~~~~~~~~~~~ ....some of the most famous fascists in our American history have been named "Bush". ~ Eva C ~~~~~~~~~~~~~~~~~~~~~~~~~~~~~~~~~~~~~~~~~~~~

| | |
| --- | --- |
| Group Communication | |

There are currently no Shares tagged by hosts of this group.


Member Sharebook




( Use tag: *group:FreedomorFascism* )
Hello everyone!
There's something we can all do this coming year that wILL not only help us improve our quality of life but undoubtedly our country as well. Please committ here with me to focus 2008 to becoming 100% DEBT FREE! It's a tall order but it can and has been done! If you cannot eliminate ALL debt committ to half or a third whatever you feel you can handle. Join with me in setting ourselves and our nation free from the bonds of slavery to our debt and our debtors!!!!
Starting NOW, never use credit cards again. Pay cash for all purchases as much as possible. By becoming debt free we can truely have our voices heard by being able to donate so much more to champions such as Ron Paul. We free up funds that are being squandered and consumed by debt and apply it to furthuring the causes of freedom and the future fall of the FEDERAL RESERVE.

MERRY CHRISTMAS AND HAPPY NEW YEAR!

JOIN ME IN A QUEST FOR FREEDOM IN 2008!

Tags:
Luke 6:42
How can you say to your brother, 'Brother, let me take the speck out of your eye,' when you yourself fail to see the plank in your own eye? You hypocrite, first take the plank out of your eye, and then you will see clearly to remove the speck from your brother's eye.

The majority of people are heterosexual. Unfortunately many people in the U.S. think that "majority rule" means the majority has the RIGHT to OPPRESS the minority. If that were the case, and our law makers and courts did not step in, we may still have slavery today and women would still not be allowed to own land or vote.

Like so many that are in the majority, it is easy for them to make new laws and rules that have no affect on them. That is what Heterosexuals are doing when they write legislation or vote on laws governing gay marriage. It doesn't change anything for them. They do not have to change their behavior. They do not have to look at their own moral make up. They just dictate what other people should or shouldn't do.

Consider just the two following facts:

According to the Family Violence Prevention Fund, women are more likely to be killed by their husband or intimate male partner than by a stranger.

According to The Bureau of Justice statistics, children under 5 years of age are more likely to be killed by their own (heterosexual) parents and caregivers than by a stranger.

This is just the tip of an awful and violent iceberg. Heterosexuals, though, point their finger away from themselves and blame the disintegration of their cherished institution on people who do not have and never had any affect on their behavior.

Please consider reading and signing the linked petition so it can be sent to government officials and community leaders and help inspire informed discussion of this hypocrasy.

http://www.thepetitionsite.com/takeaction/3
03570789



Tags:
Bill Moyers interview by Mark Ash....with both video and article. For many people at home and abroad this is a critical issue that has been given very little attention.
Everyone knows Bill Moyers' credibility...so if you have not viewed or read it would be well worth your time. Also I believe the interview is going to be on PBS Wed. Oct. 18th..
thanks... ~boots~

http://www.truthout.org/docs_2006/101606Q.shtml





Tags:
scroll down to click site and view video.... ~boots~
A justifiable video concerning the Bushcons tearing the Constitution apart along with their war crimes and atrocities...click site and listen ,, ~boots~
Tags: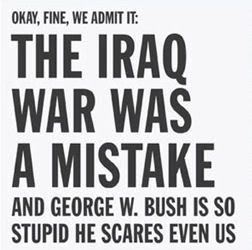 Bunito Mussoli said, "Fascism should more properly be called corporatism
because it is the merger of state and corporate power." And we the American people think we are living in a Democracy and fighting Iraq over
establishing it there. Yet some time back the -Wall Stree Journal-Washington Post-and New York Times exposed an in-depth connection between the Bush Administration and ExxonMobile, revealing the two as being practically one and the same. Other corporations already known to be tied to the GOP, to name a few: Lockheed Martin Corp., Boeing Co., Northrop Grumman Corp., General Dynamics Corp., Raytheon Co., United Technologies Corp., Halluburton Co., General Electric, and Science Applications International. Besides these mentioned there are the Pharmaceuticals, Big Tobacco, Alcohocol, Insurance, and hundreds more like Enron before they went belly up swindling their workers and stock holders out of their life time savings amounting to millions.
Now just like Bush is tied in with Big Oil and the Caryle Group there is Cheney with Halliburton, while Rumsfeld and other Repbulicans such as Bill Frist (Frist HCA) have made millions. Now the Bush/Corporate necons don't care who's fighting or where, for in any war these war profiteers are going to make millions or even billions. Just like Iraq for example, who sold them all the weapons, planes, tanks etc? One picture even showed Rumsfeld and Suddam being all chummy and skaking hands. And let us not forget MSM (Main Stream Media) that is so paradoxically called by the right wingers the Liberal Media...while they (MSM) contribute around 85% of all their champaign contributions, with the same being said for their CEOs to Republicans or Republican Pacs. So this really caps it off...the news the American people receive is censored and they only hear what the neocons want us to hear and that's a bunch of propaganda such as the delusion of Liberal Media. Add all this to the most secretive administration in American history and there you have it - looks like Mussoli hit the nail on the head.
~boots~

Tags:
more »
MY NEWEST GROUP CONNECTIONS
MEMBERS NEAR YOU
Advertisement

Our sponsors help keep this site free!


Advertisement

Our sponsors help keep this site free!