Bringing missing children to
the awareness of the general public as well as helping to fight to keep our children Safe on line and the Internet free of pornography. I am willing to support any official police department or family through INMCA.
0
00",1
http://www.rainn.org/
0)
Visitor Tracker

You can also find us on the following

MYSPACE
FACEBOOK
TAKING IT GLOBAL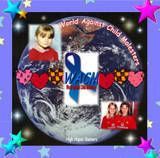 Find sex offenders near me
Members have not shared any Shares with this group.
Feeds from the Web
Missing Children Alert Cases
Initiative Vermisste Kinder
Kidnappings & Missing Persons
Care2 News Network - Brain Food found by Tom G.
TIGblogs - International network of missing chIldren and adults's TIGBlog
No group connections were found