VISIT BFC'S FREE BUFFALO MUSEUM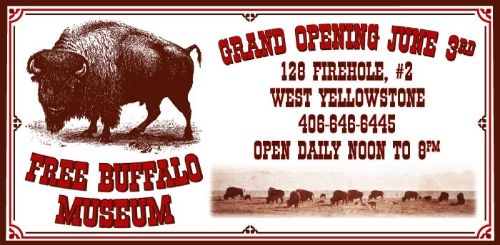 BFC's Free Buffalo Museum is now OPEN! We are located just outside Yellowstone National Park's west entrance, in the town of West Yellowstone, at 128 Firehole #2. The museum provides visitors with an incredible buffalo journey through their storied history and amazing natural lives to their current plight and the efforts of the people standing in their defense. The museum showcases photos, artwork, images, and video, as well as buffalo items you can touch, plus BFC merchandise. Please visit us or call for more information: 406-646-6445. BFC's Free Buffalo Museum is open daily from noon until 8pm.

You can help make this museum the best it can be! We are looking for a few items to showcase, items of cultural and practical significance such as (but not limited to):

>> War shields made of buffalo hump
>> Buffalo hide paintings
>> Buffalo horn spoon
>> Buffalo jawbone war club

If you have any related items that you'd be willing to allow us to showcase in our Free Buffalo Museum, please contact Mike Mease at mease@wildrockies.org or 406-646-0070.
Thanks and see you there!