Snakes - Non-Venomous July 19, 2007 1:32 PM



Non-Venomous Snakes

Non-Venomous Snakes are harmless to humans. They kill their prey in various ways. Some constrict their prey, some press it to the ground or chew it to kill it and some just catch and swallow their prey alive. Their defenses vary as well, some will musk (deficate), some will squirm wildly, some mimic more dangerous snakes in an attempt to bluff would-be predators and most will bite. A bite by the smaller species can hardly be felt and will not break the skin. Bites from the larger species like the Gopher Snake, Rat Snakes and Coachwhip can be a painful experience, although not life threatening. Click on any of the snake's names for more information.

Big Bend or New Mexico Milk Snake (L.t. celaenops)

Central Texas ( M. t. girardi ) and Desert Striped ( M. t. taeniatus )Whipsnakes

Checkered Garter Snake (T. marcianus)

Desert Kingsnake (L. g. Splendida) 

Gray-Banded Kingsnake (L. alterna)

Great Plains (Emory's) Rat Snake (E. g. emoryi) 

Ground Snake (Sonora semiannulatta)

Kansas Glossy Snake (A. e. elegans)

Sonoran Gopher Snake (P. c. affinis)  

Southwestern Blackhead Snake (T. hobartsmithi)

Texas Long nosed Snake (R. l. tessellatus)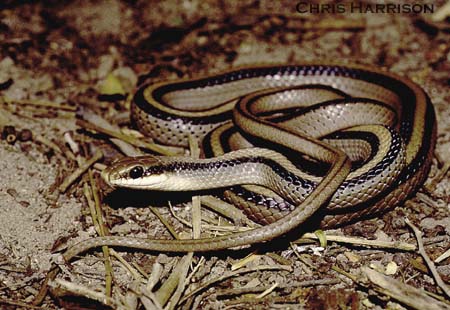 Texas Patch-nosed Snake (S. g. lineata)
anonymous
re: July 19, 2007 1:53 PM

You know I raised tigers, lions and leopards. But snakes....   not for me... never liked them... I understand they have a purpose here, as long as they stay away from me Im fine...  lol  
[report anonymous abuse]
July 20, 2007 6:57 AM



Ha ha...that's funny. I love snakes. Mine is very gentle and loves people. All he wants to do is sit around and lay with you all day. It doesn't matter if 20 people surround him and all touch him...he loves the attention.
He's about twice as big now. Probably about 8-9 feet.

[
send green star]
anonymous
re: July 20, 2007 8:09 AM



How did you get into snakes Rachel? Wht not a cat or dog?  lol

[report anonymous abuse]
July 20, 2007 9:10 AM



Shoot I've had them all. Dogs, cats, snakes, rats, birds, mice, bunnies, etc. Lol. I love all animals; I just HATE bugs!! Hey Sid, you got 3 tigers...you don't see that to often. Lol.
[
send green star]
July 29, 2007 9:06 AM


[
send green star]
July 29, 2007 9:07 AM


[
send green star]
July 29, 2007 9:08 AM


[
send green star]
July 29, 2007 9:08 AM


[
send green star]
July 29, 2007 1:42 PM

You should also include the milk snake. They're often mistaken for rattlesnakes because they can make the same sound of the rattler. They'r ereally neat. We have them all over my property. [
send green star]