WORLD BANS TOGETHER TO...CAN CANADA...
Anonymous
WORLD BANS TOGETHER TO... CAN CANADA
Animals
River
- 50 minutes ago - afp.google.com
The European Commission will ask its member states to ban the importation of furs made from the skins of young seals hunted in Canada, the European Environment Commissioner said Thursday.
Anonymous
CANADA REJECTS BRUSSELS BAN ON ITS SEAL SKINS
22 hours ago
OTTAWA (AFP) — Canada's prime minister on Thursday warned the European Commission president not to prohibit Canadian seal skins, arguing that public pressure for a ban is based on misinformation from activists.
Prime Minister Stephen Harper told European Commission President Jose Manuel Barroso, according to a statement, "that it is imperative for European Union member nations to consider their next steps carefully as they discuss any measure that would restrict or exclude the sale of seal products within their borders."
The two leaders met on the sidelines of a G8 summit in Japan.
Harper said Canada's hunt is "humane, sustainable and regulated," and added "public pressure within the European Union to curb the sale of seal products is based on misinformation from anti-sealing organizations and extremist groups."
Each year, anti-sealing activists clash with sealers and Canadian fisheries officials on Canada's Atlantic coast, denouncing the hunt as cruel.
Protestors have called for a complete halt to all trade in seal furs, but World Trade Organization rules would make such a step impossible, a European source said.
The commission is expected to make a decision whether to ban the importation of furs made from the skins of young seals hunted in Canada when it meets on July 23.
It will then look to the EU's 27 member states to approve or vote down the measure.
But Harper warned: "Canada will not stand by and accept measures that fly in the face of accepted international practices for sustainability and trade and undermine trade of seal products harvested in accordance with international standards."
Anonymous
CAN CANADA'S 2010 OLYMPICS
...TAB PICTURE
http://www.thepetitionsite.com/1/ban-canadas-2010-olympicsno-more-blood
Anonymous
SURGEON FIGHTS EU BAN ON CANADA'S SEAL FURS
Animals
River
- 9 seconds ago - theindependent.ca
On the eve of a European Union debate on whether to ban seal products, Canadian fisheries ambassador Loyola Sullivan says a European cardiac surgeon has indicated new surgical techniques may create a demand for 300,000 harp seal heart valves a year.
Anonymous
Hi everyone;

My petition against Canada's Olympics, (which you've all probably seen and signed by now) is taking up most of my time. However, I am logged in daily to our family here at Care2 to check messages and to sign all the animal petitions that come my way or in our main petition site.

The last 10 days, after most of you had had time to sign against Canada's Olympics, this petition gained ground of over 200 signatures ....and continues to grow daily.

So while I might not physically be seen around and about here, I am 100% visible to Stephen Harper (Canada's Prime Minister).

I will continue to send updates on how this petition is doing or just Click here to go to petition:
TAB PICTURE


Grateful for all of you and your support!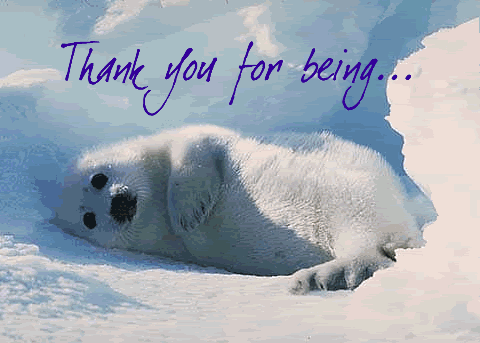 ..............................................................................................................River
This post was modified from its original form on 25 Sep, 9:52