WINTER RECIPIES
Coconut Lemon Macadamia Candies
These delicious raw vegan candies were loved by everyone at our Thanksgiving dinner. Inspired by lemon butter cookies.
1/4 tsp lemon zest
1/4 tsp fresh lemon juice
1/2 cup macadamia nuts
1 1/2 tsp shredded coconut
2 tsp agave nectar
First, grind up (process) the macadamia nuts until they have the consistency of butter with a few chunky pieces.
(I use an electric coffee grinder)
Mix in bowl with other ingredients and shape into tiny balls. Vary lemon zest and lemon juice to taste. I actually like even more than listed above.
[Recipe makes 5 candies]
Serve and enjoy!!
HOLIDAY VEGGIE RECIPIES
Posted: 22 Nov 2010 12:53 PM PST
substitute for 2 eggs
1 tablespoon soy sauce
1 box med. firm silken tofu (350 g)
3/4 cup chopped walnuts
1 packet vegan dried onion soup mix (1.5 oz)
1 1/2 cups chopped onion
2/4 cup chopped celery
2 cups chopped mushrooms
oregano, bazil & ground
1 1/2 cups vegan bread crumbs
Mix egg substitute, soy sauce, tofu & onion soup mix together in blender. Add walnuts & blend until smooth.
Sauté vegetables until onions are transparent (add other diced veggies if you wish – ie peppers, carrots, etc). Add herbs/spices while vegetables are frying.
Mix blender ingredients, cooked vegetables & vegan bread crumbs together in a large bowl.
Press into a greased loaf pan.
Bake at 350 degrees F. for 45 minutes. Let cool slightly. Turn loaf out and slice.
Adapted slightly from vegweb.com
Mock "Turkey" Slices and Dressing
Posted: 22 Nov 2010 12:50 PM PST
Adapted from a recipe by Deborah Wolfe
1 lb firm or extra-firm Tofu, frozen & thawed & gently pressed dry
1 quart water
1/4 cup vegan 'chicken' bouillon powder
1 Tbs vegan 'beef' bouillon powder
1 tsp sugar or Sucanat
1/2 tsp celery seed
Vegan 'chicken' broth (reserved from cooking Tofu)
Additional broth as needed
1 bag stuffing mix
Slice Tofu into 1/4-inch slices.
Put water, bouillons, sugar, and celery seed in a pot.
Bring to boil.
Add Tofu.
Turn down to simmer.
Simmer for 30 minutes.
Drain Tofu, reserving broth.
Prepare stuffing, using reserved broth and additional broth as needed.
Put stuffing into a baking pan.
Top stuffing with Tofu slices.
Baste with a little broth.
Cover with foil, and bake 30 minutes at 350 F.
Uncover and bake 5 minutes to brown Tofu (if desired).
Serve with gravy and fruit sauce.
From IVU Holiday Recipes
This post was modified from its original form on 23 Nov, 5:32
THAT CARNBERRY ICECREAM LOOKS HEAVENLY! I AM GOING TO TRY THAT ONE! THANK YOU MONIKA!
Anonymous
Hazelnut, White Chocolate, and Pumpkin Cheesecake
CRUST
3/4 cup vanilla-wafer crumbs
1/2 cup ground hazelnuts
3 tablespoons sugar
3 tablespoons butter, melted
CHEESECAKE FILLING
3 8-ounce packages cream cheese, softened
1 cup sugar
3 tablespoons all-purpose flour
1 teaspoon pumpkin-pie spice
1 cup canned pumpkin
4 eggs
1 cup coarsely chopped white chocolate
1/4 cup chopped hazelnuts (toasted, if you like)
Heat the oven to 325 degrees. In a small bowl, combine the crust ingredients and mix well. Press the mixture into the bottom and a half inch up the sides of a 9-inch springform pan. Bake the crust for 10 minutes, then remove it from the oven and set aside. Reduce the oven temperature to 300 degrees.
In a large bowl, blend the cream cheese, sugar, flour, and pumpkin-pie spice with an electric mixer on low speed (at low speed, less air will get into the batter and the cheesecake will be less likely to crack while baking). Add the pumpkin and eggs and beat until well combined. Stir in the white chocolate. Pour the filling into the crust-lined pan, then sprinkle on the chopped hazelnuts.
Bake at 300 degrees for 1 hour. Then turn off the heat and leave the cheesecake in the oven with the door closed for another 30 minutes or longer until set. Remove the cheesecake from the oven and chill. Makes one 9-inch cheesecake.
Anonymous
Cranberry Ice-Cream Pie
9-inch chocolate crumb pie shell
2 cups vanilla ice cream, softened
1 cup canned whole-berry cranberry sauce
1 tablespoon orange juice
2 cups whipped topping
2 tablespoons sliced almonds, toasted
Chill the pie shell in the freezer while you prepare the filling.
Place the softened ice cream, cranberry sauce, and orange juice in a large bowl and stir with a wooden spoon until the ingredients are well blended.
Spoon the filling into the chilled shell and freeze the pie until firm (4 hours or more). Next, spread the whipped topping over the ice cream layer and sprinkle on the almonds. Cover the pie and return it to the freezer. Allow the pie to stand at room temperature for 20 minutes before slicing it.
ORANGE MUFFINS WITH GLAZE
Yield: about 2 dozen muffins
Ingredients:
For the muffins:
1 cup milk
½ cup freshly squeezed orange juice
½ cup sour cream
2 large eggs
2 sticks (16 tbsp.) unsalted butter, melted
3½ cups all-purpose flour
1 cup sugar
1½ tbsp. baking powder
½ tsp. salt
Zest of 1 orange (organic if possible)
For the glaze:
¼ cup freshly squeezed orange juice
1½ cups confectioners' sugar
1-2 tsp. orange zest (organic if possible)
Directions:
Preheat the oven to 350¢ª F. Line 16 wells of a muffin pan (or pans) with paper liners. In a medium mixing bowl, combine the milk, orange juice, sour cream, eggs and melted butter. Whisk together to blend. In a large mixing bowl, combine the flour, sugar, baking powder, and salt. Stir to blend. Pour the wet ingredients into the dry ingredients and mix just until incorporated. Fold in the orange zest with a spatula.
Divide the batter evenly between the prepared muffin cups. Bake about 18-20 minutes, or until a toothpick inserted in the center comes out clean. Let cool in the pan 5-10 minutes, then transfer to a wire rack placed over a baking sheet.
To make the glaze, combine the orange juice, confectioners' sugar, and orange zest in a small bowl. Whisk together until smooth, adding more juice if necessary to achieve your preferred consistency. Drizzle the glaze over the muffins while they are still warm. Allow the glaze to set before serving. Store in an airtight container.
Anonymous
Cranberry Pistachio Biscotti
1/4 cup light olive oil
3/4 cup white sugar
2 teaspoons vanilla extract
1/2 teaspoon almond extract
2 eggs
1 3/4 cups all-purpose flour
1/4 teaspoon salt
1 teaspoon baking powder
1/2 cup dried cranberries
1 1/2 cups pistachio nuts
Preheat the oven to 300 degrees F (150 degrees C).
In a large bowl, mix together oil and sugar until well blended. Mix in the vanilla and almond extracts, then beat in the eggs. Combine flour, salt, and baking powder; gradually stir into egg mixture. Mix in cranberries and nuts by hand.
Divide dough in half. Form two logs (12x2 inches) on a cookie sheet that has been lined with parchment paper. Dough may be sticky; wet hands with cool water to handle dough more easily.
Bake for 35 minutes in the preheated oven, or until logs are light brown. Remove from oven, and set aside to cool for 10 minutes. Reduce oven heat to 275 degrees F (135 degrees C).
Cut logs on diagonal into 3/4 inch thick slices. Lay on sides on parchment covered cookie sheet. Bake approximately 8 to 10 minutes, or until dry; cool.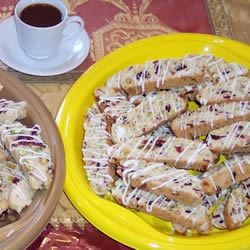 Anonymous
Country Apple Dumplings
2 large Granny Smith apples, peeled and cored
2 (10 ounce) cans refrigerated crescent roll dough
1 cup butter
1 1/2 cups white sugar
1 teaspoon ground cinnamon
1 (12 fluid ounce) can or bottle Mountain Dew
Preheat the oven to 350 degrees F (175 degrees C). Grease a 9x13 inch baking dish.
Cut each apple into 8 wedges and set aside. Separate the crescent roll dough into triangles. Roll each apple wedge in crescent roll dough starting at the smallest end. Pinch to seal and place in the baking dish.
Melt butter in a small saucepan and stir in the sugar and cinnamon. Pour over the apple dumplings. Pour Mountain Dew over the dumplings.
Bake for 35 to 45 minutes in the preheated oven, or until golden brown.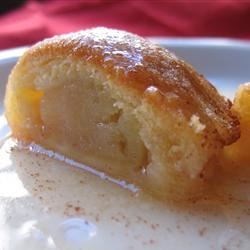 APPLE CIDER FROM MICHIGAN
Ingredients:
8 cups Michigan Apple cider or Michigan Apple juice
1 cup frozen raspberry juice concentrate, thawed
1/4 cup sugar
1 cinnamon stick
Servings:
Nutrition Facts:
Per serving, 1 cup:
200 Calories
0 g Fat
0 mg Cholesterol
51 g Carbohydrates
32 mg Sodium
0 g Fiber
Combine all ingredients in 4-quart saucepan. Heat over medium heat, stirring occasionally, until mixture starts to simmer. Reduce heat and simmer 10 minutes. Remove from heat. Remove cinnamon stick. Serve hot.
OH MONICA YOU JUST PICKED OUT 2 OF MY FAVORITES. YUMMY YUM YUM!!!! THANK YOU SWEETIE PIE!
Anonymous
Apple Pie by Grandma Ople
1 recipe pastry for a 9 inch double crust pie
1/2 cup unsalted butter
3 tablespoons all-purpose flour
1/4 cup water
1/2 cup white sugar
1/2 cup packed brown sugar
8 Granny Smith apples - peeled, cored and sliced
Preheat oven to 425 degrees F (220 degrees C). Melt the butter in a saucepan. Stir in flour to form a paste. Add water, white sugar and brown sugar, and bring to a boil. Reduce temperature and let simmer.
Place the bottom crust in your pan. Fill with apples, mounded slightly. Cover with a lattice work of crust. Gently pour the sugar and butter liquid over the crust. Pour slowly so that it does not run off.
Bake 15 minutes in the preheated oven. Reduce the temperature to 350 degrees F (175 degrees C). Continue baking for 35 to 45 minutes, until apples are soft.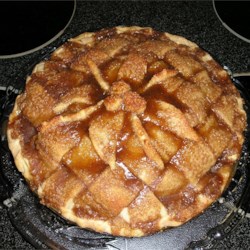 Anonymous
Double Layer Pumpkin Cheesecake
2 (8 ounce) packages cream cheese, softened
1/2 cup white sugar
1/2 teaspoon vanilla extract
2 eggs
1 (9 inch) prepared graham cracker crust
1/2 cup pumpkin puree
1/2 teaspoon ground cinnamon
1 pinch ground cloves
1 pinch ground nutmeg
1/2 cup frozen whipped topping, thawed
Preheat oven to 325 degrees F (165 degrees C).
In a large bowl, combine cream cheese, sugar and vanilla. Beat until smooth. Blend in eggs one at a time. Remove 1 cup of batter and spread into bottom of crust; set aside.
Add pumpkin, cinnamon, cloves and nutmeg to the remaining batter and stir gently until well blended. Carefully spread over the batter in the crust.
Bake in preheated oven for 35 to 40 minutes, or until center is almost set. Allow to cool, then refrigerate for 3 hours or overnight. Cover with whipped topping before serving.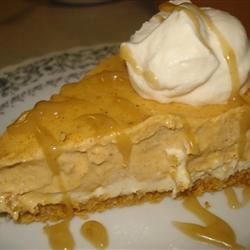 PUMPKIN PIE
Ingredients
1 (8-ounce) package

cream cheese

, softened
2 cups canned

pumpkin

, mashed
1 cup sugar
1/4 teaspoon salt
1 egg plus 2 egg yolks, slightly beaten
1 cup half-and-half
1/4 cup (1/2 stick) melted butter
1 teaspoon vanilla extract
1/2 teaspoon ground

cinnamon

1/4 teaspoon ground

ginger

, optional
1 piece pre-made pie

dough

Whipped cream, for topping
Directions
Preheat the oven to 350 degrees F.
Place 1 piece of pre-made pie dough down into a (9-inch) pie pan and press down along the bottom and all sides. Pinch and crimp the edges together to make a pretty pattern. Put the pie shell back into the freezer for 1 hour to firm up. Fit a piece of aluminum foil to cover the inside of the shell completely. Fill the shell up to the edges with pie weights or dried beans (about 2 pounds) and place it in the oven. Bake for 10 minutes, remove the foil and pie weights and bake for another 10 minutes or until the crust is dried out and beginning to color.
For the filling, in a large mixing bowl, beat the cream cheese with a hand mixer. Add the pumpkin and beat until combined. Add the sugar and salt, and beat until combined. Add the eggs mixed with the yolks, half-and-half, and melted butter, and beat until combined. Finally, add the vanilla, cinnamon, and ginger, if using, and beat until incorporated.
Pour the filling into the warm prepared pie crust and bake for 50 minutes, or until the center is set. Place the pie on a wire rack and cool to room temperature. Cut into slices and top each piece with a generous amount of whipped cream.
BAKED PUMPKIN DONUTS
Baked Pumpkin Donuts
These
soft donuts are combined together and popped in the oven, a
significantly more healthful option than frying. Can oven baked donuts
possibly taste as good as the oil-laden ones? Yes, indeed. The secret t0
giving these sweet, cakey pastries true donut flavor is a quick dunking
in buttermilk glaze. Serve these for breakfast, dessert, or to your
Halloween revelers for the ultimate taste of the season.
3 1/2 cups all purpose flour
3 teaspoons baking powder
1 teaspoon salt
2 teaspoons pumpkin pie spice
1 cup sugar
6 tablespoons butter
2 eggs
2 teaspoons vanilla
1 cup pumpkin puree
In
a large bowl, whisk together the flour, baking powder, salt, spice and
sugar. Whisk together all of the remaining ingredients in a second,
medium bowl. Make a well in the center of the dry ingredients. Pour the
wet ingredients into the dry ingredients, and stir them around the bowl
until the mixture is well combined. Turn out onto a lightly floured
surface, rolling the donut dough to approximately 3/4" thick, then cut
with donut cutter. Transfer to a lightly greased cookie sheet. Bake in
an oven preheated to 400 degrees for 12-15 minutes, or just until the
donuts are cooked through. Dip immediately into buttermilk glaze. Eat
warm & enjoy!
3 cups powdered sugar
1/2 cup buttermilk
1/2 teaspoon vanilla
Whisk together in a small bowl until smooth. Dip hot donuts in the glazed, then allow to air dry on a cooling rack.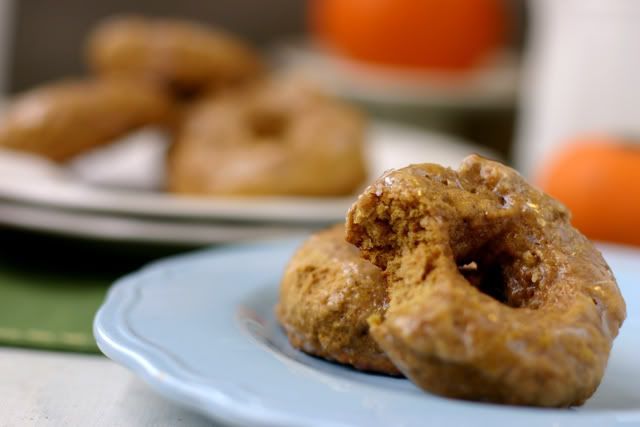 OUR FALL RECIPIES
This topic is closed