I am trying to help this senior, find a home
If you all could help me spread about this little one. We would be thankful.
I sent the shelter an e-mail, I got this back:
Yes, Ma'am! Thanks for helping Ike!

Shannon
Recycled Doggies
Here is his info: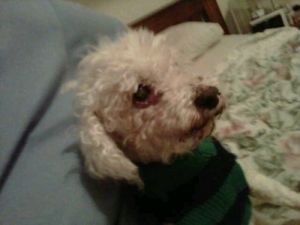 Ike
Poodle: An adoptable dog in Cincinnati, OH
Small • Senior • Male
Ike has had a rough life. He was found wandering the streets of Cincinnati - not something you normally see -- old poodles don't just end up on the streets. Ike was dumped, and we will never know why. The vet guessed he's anywhere between 12-16 years old - it's hard to tell when the dog is an neglected as he was. He has chronic dry eye and needs medication, and he has arthritis that medication for, but he is loving and affectionate and he just wants a warm, comfy home and love for however much time he has left. Ike deserves it after all these years. Due to his age and medical status, Ike will not be neutered. If you have any questions or would like to request an adoption application, please email recycleddoggies@gmail.com. For more information, including our adoption policies and fees, please see our website, www.recycleddoggies.org
More about Ike
Up-to-date with routine shots
Ike's Contact Info
Recycled Doggies, Cincinnati, OH


Phone: Please use email


Email recycleddoggies@gmail.com Recycled Doggies
See more pets from Recycled Doggies
Julie
Everyone who is abusing an animal IIIIIIIIIIIIIIIII believe the same thing sould be done to that person...........and guess what? I would go to hell takin care of all of them, but also guess what? God Forgives............. SO................... HAHAHAHAHAHAHAHHAAAAAAAAAAAAAAAAAAAAAAAAAAAAA I'm gonna have fun......... uh oh ......................... hahhhahhhahhaa
This baby needs to be in a loving home asap...everyone please share...