Ghost stories and spooky photos
Anonymous
these are from my friend Stephen...Ross Bay cemetery
and Hatley cemetery...
Anonymous
okay so...top photo shows a boys face in the mist, just below the green spot is a black triangle spot, well the bottom of that is his shoulder, to the side is his face...my mom saw this right away but she had to explain a few times before i saw anything                    
second photo, i think was just mist but i am waiting for a reply befor i know for sure 
third photo, almost direct in the center is a woman in a dress, to her left, two men...tough to see cause it was a foggy night to start with but apparently the two of them who were there saw them clear as can be
Anonymous
How Spooky 
Anonymous
Anonymous
First one that's circled is the boy's face i mentioned in the previous post, above his face is the face of the 'not so nice' woman...
the next pic, on the right, lower oval shape is a boy sitting on the tombstone, hands between his legs, that one i see clear as day..
the oval above is a young woman with flowing hair looking over her shoulder and inside her, an elderly woman......
the kinda tooth shaped circle has an elderly couple walking, their arms linked
Fascinating!!!
Fascinating!!! Thanks for posting these Jenni! I tried to capture some orbs in pics the other night but no luck - kind of spooky, but fun! It is a very foggy, damp night in Nanaimo tonight...maybe a good night for pics??  Muhahahahahaha...
Anonymous
Maybe you need to try some different areas Bryan??  I imagine you probably know the most 'active' areas around Nanaimo?
I wasn't trying to get them at all when I took the cemetery pics, nor the castle pics.  Both those times I was surprised to see them even on there!!  The last ones I haven't posted yet, from the old courtroom at the Maritime museum is known to be haunted by the 'hanging' judge and that was the first time I had actually tried to get orb photos.  Wasn't many really but the few I caught were mostly very 'clear' and in the same area to the left of the courtroom except for some that seemed to be nearer the doors.  I was surprised that one was very bright and a few looked like they were moving.  I will post those in the morning if I have time. 
Supposed to be going ghost hunting with my sis and her friend this weekend
Anonymous
Okay soooo, first I'll post a few Maritime museum shots...funny thing, I was on the stairwell taking a pic of something and got the creepiest feeling like i just wanted to leave...later i found out that is the most haunted part of the museum!!  Also there is an old birdcage elevator which is really cool, and that is somewhat haunted too.  The pics after are some my sis took of the cemetery when we walked there at dark.  Well, she walked around it, I was across the street!!  All the pics with loads of orbs were all in the same corner, the rest of the pictures had very little.  And that corner of the cemetery is where i get that very strange bad feeling.  I went there the next day and can almost pinpoint the exact spot where there is such an uneasy feeling. We also went on a 'ghost walk' and searched out some supposedly haunted areas but i have discovered I am way too much of a chicken...the thought of something just appearing in front of me is pretty much unbearable!!  So we'll see if the curiosity wins out over the fear!!
Anonymous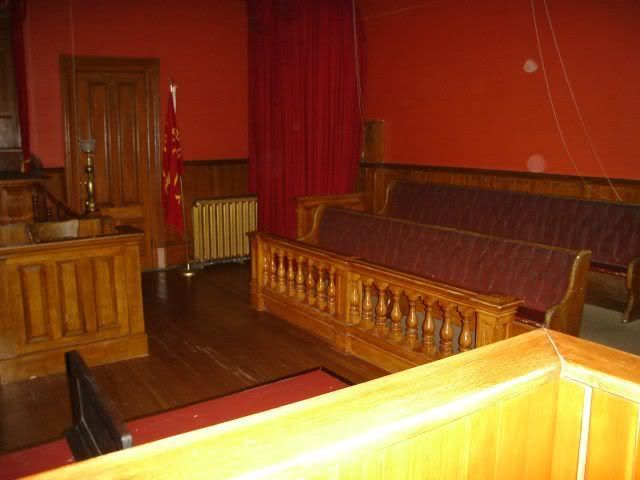 Anonymous
An endnote about orbs.....
I read up on a lot of different sites about orbs, believer and skeptics alike, and learned a lot of stuff....I did notice that several sites seemed to agree that if you could see them when you take the photo (which we could, yes even me across the street could see them as sparks) or if you catch one that is partially behind and there were some other things too that apparently differentiate a dust or water orb from a 'spirit' one.  At any rate, my camera suddenly isn't working anymore very well AT ALL since doing this so possibly it is all just a misfunction!!  We'll see after i take it in to the shop for repairs.
WOW
What a lot in that one section - I know some people would say it was camera flash reflected on moisture drops, especially if it was foggy, or even some of those drops on your lens. Even the finest mist would be magnified then. The difference is, even in the church, you have picked up a couple.
Neat photos. I do hope whatever the problem with the camera, it is resolved. It would be interesting to know whether it could have been moisture that got into it or not.
Anonymous
Yeah, thats what I am trying to find out about, interesting though that we consistently got so many in that one section, but the air is damp and that cemetery is across the street from the ocean.  But there were several pics with none, or only one or two so it is strange.
Anonymous
One thing though, I dont believe there is anything on the lense, when you shut off the camera the lense is covered automatically and its a new camera, only a few months old so i dont think there is any dirt, and the rest of my pictures i take come out beautifully.  I am having troubles with the on/off button though and the button for erasing pictures seems to be going too.
Ghost Camera
Im sure its moisture. Ive had thats happened to me, especially when its cold and/or humid. Of course sometimes, when Im smoking it gets in the way. I hear theres a lot of smoke in the air in Vansterdam. Of course that wasn't it was it? lol
Oh, happy valentines day folks, in case I forget.
 Now what was I saying?lol
Anonymous
Anonymous
Ooops, accidently deleted some pics at photobucket...so these are just being reposted!!!