PELOSI WANTS OBAMA TO BYPASS CONGRESS, RAISE DEBT CEILING
Pelosi Wants Obama to Bypass Congress, Raise Debt Ceiling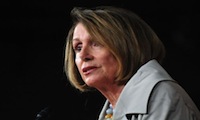 The entire debate over the so-called "fiscal cliff" was an embarrassment. Does anyone in Washington actually care about getting the financial house in order? Now that the vote is done, concern has shifted to the debt ceiling: the limit to the amount of debt Washington is allowed to run up. Each time they raise it, they simply spend more. Now, Democrat Nancy Pelosi wants it raised again... with or without congressional approval.



Bush, Bush, Bush, Bush, Bush, Bush, Bush, Bush, Bush, Bush, Bush, Bush, Bush, Bush, Bush, Bush,- Gee George! You ought to be proud! These dems don't know how to do anything but call your name!!! Think they're missing you after all?!!! They just can't seem to get enough of you, they cry for you all these years later! LOL I think it's guilt on their part George, really I do.
I believe raising the debt ceiling has been routine under all administrations, so it's not fair to blame the Dems for this.
The problem is, we're getting to a point of fiscal irresponsibility where it's not cute anymore. Personally I feel it's a substantial mid-term danger to the country, something that within 10..15 years could make us slide into a very ugly condition of civil disorder. We have to deal with the debt, and the question is, why is the debt ceiling never allowed to be an appropriate way to deal with it? I have my doubts that the "funny numbers" can keep expanding indefinitely. It's not just some funny equation where all the numbers work out ok in the end.