BE HEADINGS FOR THE WEALTHY?
Beheadings for the Wealthy?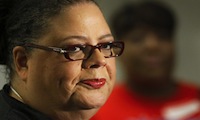 Give Karen Lewis a microphone, and you never know what she's going to say. Lewis is the president of the Chicago Teachers Union... you know, the one who led the strike last year leaving so many students without teachers. Now, she's talking about the so-called "wealth disparity" in America and harkening back to the days when the wealthy were beheaded.



Could they get an axe through her own neck??? Just askin.' - Because I doubt she's a lowly paid twit, since she's president of the Chicago Teacher's Union. Perhaps she should start with herself.
Is she for real? this is supposed to be an educated woman...