FCC PROPOSES GETTING RID OF INDECENCY LAWS
FCC Proposes Getting Rid of Indecency Laws
The Federal Communications Commission (FCC) is responsible for enforcing indecency regulations on broadcast TV. Currently profanity, nudity, obscenity, etc are not allowed on the public airways. In the last couple years, the FCC has only barely enforced these regulations and they just announced that they might get rid of enforcing these altogether. They will open up a public comment period any day now - PLEASE BE READY TO TAKE ACTION! Here's an informative article from Brent Bozell on this subject.
Dirty Dozen List Updates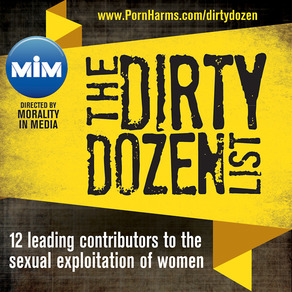 Last week we announced 12 top facilitators of pornography in America. Attorney
General Eric Holder, American Library Association, Comcast, Hilton Hotels are all on the list. The goal is to help people understand who is also contributing to the pandemic of harm and to pressure these 12 to possibly change their ways. 7,000+ people have taken action on these campaigns in the last week. More than 30 news outlets covered the story. We got so much traffic to our website last week, that it crashed. ALL GOOD THINGS! Let's keep up the pressure.
Visit the Dirty Dozen webpage and take action on a few!