"Daily Zen" Reading - On The Way
Anonymous
We must first repair our own individual spiritual self before attempting to resolve the problems of our world's governments.

If we attend to the first part first, then all the other objectives shall become obtainable!

> Care2 News to Note, Discuss & Forward with Thanks! :

http://www.care2.com/news/member/510010530?sort=submitted

http://www.care2.com/news/member/510010530/2649365
"Daily Zen" Reading: The Teachings of Master Hui Hai - 11.17.10

Society & Culture (tags: society, culture, zen, daily-zen, reading, teaching, interesting, religion, spiritual, enlightenment, higher-consciousness, awareness, wisdom, history, truth, self-help, buddhism, humans, unusual, world, GoodNews )


Third Eye Open
- 24 minutes ago - dailyzen.com

Two very interesting stories illustrating the same principles. Each one demonstrates the skill of a master who will never tell us too much, but rather points our attention back inside to where the true treasure wholly resides.
Anonymous
Zen Master Dogen
Anonymous
Zen Master Dogen
The voice within has never failed me. The few times I have failed to honor that voice, I failed myself....and others.
Anonymous
The Voice Within
I am Grateful to my Father God in Heaven who is Always with me.
Listen
When times of adversity seem at their worst and defeat seems most assured - hidden from view beneath you, is often the greatest, roller coaster ride.
You have already accomplished the heroic climb and the wonderful value of the hard lessons you have learned will become very clear - and sooner than you imagine.
Question
How am I to repair my own spiritual self to be able to cope with others who are just downright negative & selfish people. I am talking about dealing with relatives which right now there is just no way to avoid this situation. I can wake up in the morning say my prayers, thank god for this new day & be totally serene within myself, until I go downstairs to walk my dog or eat breakfast. I swear its like they are down there waiting on me ... so they can release their negativity on me. I can feel them draining me . I have been incarcerated for the last 2.5 years for a bogus charge & had endured back surgery which is getting worse ( of course no medical care while inside).
I had such a positive attitude & serenity while i was in there, unbelievable i know, but i know someone was in there with me. I could feel him. But now that I am out i am living with my 80 yr old mom who is the worst one. I try so hard to keep positive & keep serenity in my life but .............i need more help
thank you for listening
projection and the buddha
Laurie,
sometimes its projection ,and maybe you are draining them, as much as they are you..
the buddha says no person is my enemy who is my friend, meaning it literally- if you make friends with your enemies, then they are no longer your enemy, but your friend.
this is not easy, because one has to realize, that we are equal, if you seek not to be drained ,then learn to give, instead of receive, and then you also will receive-
try making the kitchen happier, by cutting fresh flowers, and pine branches, and setting them in a vase every few days. this will encourage smiles and compliments towards you.
namaste
Happiness is a choice from within
When dealing with negative older relatives, especially a parent can be very difficult. There is so much more emotional connections built up. Maybe providing emotional support to them by daily telling them a positive thing about them. Start small and keep the conversation going. Something they have done that you know of is a good start. Get them to talk about happier times. Older people often suffer from depression so maybe a good Dr visit would be of help. People get worn out from being miserable and negative and eventually listening to positive comments builds up and projects.
negativity
i try to be positive, stay positive & yes you are right, maybe i am draining them as much as they are i, but at least i try to stay upbeat and positive about it..
thank you for the responses
zen thought
when all the trees have been cut down
when all the animals have been hunted
when all the water is unsafe to drink
when all the air is polluted
then and only then will we realize that you can't eat money
from: forest conservation care2 group
"The cyclone derives its powers from a calm center. So does a person."
- Norman Vincent Peale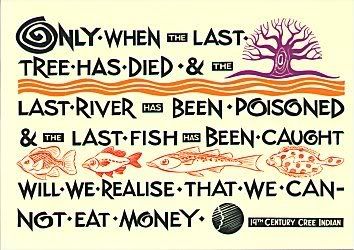 We give thanks for unknown blessings already on their way. ~Author Unknown
Pam
That is the most uplifting thing to say. When I read it, I was being verbally attacked. Man, you're good!
Laurie P.
I know EXACTLY what you are feeling. I really do. I have experienced the same.What to do to give your jailors the slip? Do not engage with them. Think of ways to escape. You may find something within that can set you free. You must be a VERY good person. Look what they did to Jesus, Gandhi, Lennon, Harrison. For some reason, good people often attract the opposite. We'll all keep trying to break out of this. Try this meditation: Watch a wave from inception to completion. If you can't find a real one, find one on the computer. While your brain is otherwise occupied, something might come in to save you.

My heartfelt wishes in the same boat,

Janine
Hi Janine I just can't help myself with this one...:)
Zen Proverb
When the pupil is ready to learn, a teacher will appear.
---
Chinese Proverb
Water and words... Easy to pour impossible to recover
---
Janine, I hope things are going well with you now. Hugs