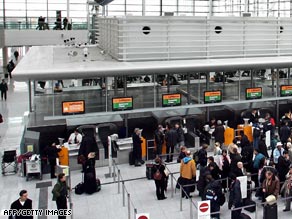 Thousands of travelers risk being detained and sent home from U.S. airports and ports.
The introduction of the Electronic System for Travel Authorization (ESTA) means visitors from 27 VWP countries -- including most of Western Europe, New Zealand, Japan and Australia -- must now register their details online at least three days before departure.
ESTA -- which came into effect today -- replaces the written green I-94 form and allows travelers under the VWP to enter the U.S. without a visa and stay for up to 90 days.
The measure is designed to tighten security and make it harder for terrorists who are citizens of the participating countries to easily obtain entry to the U.S.
Critics fear the new rule will be an inconvenience for business travelers and the British Foreign Office is concerned that travelers who have not heard about the new rules may be caught out.
A British Foreign Office report on travel trends for 2009 predicted that 13 percent of British travelers are more likely to visit the States now Barack Obama has been elected. "The consequences of not registering through ESTA could therefore be far reaching," says the Foreign Office.
The U.S. Department of Homeland Security has assured travelers that the system can handle last-minute and emergency requests.
Don't Miss