This thread is being brought back
I felt this thread should be kept for others to post on. A good subject indeed...
I so agree with you NIcki
I too am sick and tired of dogs being regarded as a replaceable object rather than a life that is just as precious any any human. 
Why didn't this woman pick up the dog if she were on a leash?  Geez.  It's not that difficult to do!.  Let me tell you what I did when a loose Pit Bull charged after me and my Clancy...about 3 months ago.
I was walking Clancy (on a leash as always) when out of the blue, from across the street, a pit bull came running after us....well I quickly scooped up Clancy and kicked the Pit in the chest and yelled at him.  Well, guess what?  It worked.  If you show NO fear, they will back down.  It's all about showing a dog who is the Dominant one.  Since dogs sense our emotions, showing fear is showing submission, which that immediately puts the dog in a dominant state....hence an attack will occur.
Here's a trick if you have a small dog.  I attach the leash to a strong clip belt which I wear whenever I have Clancy with me.  In the event he tries to bolt, or I lose my grip on the leash, he is still attached to me!  Since it's attached to the strongest part of the body, you don't lose control or balance either.
More...
If you watch the video on the website, Sally actually was on a leash.  And the owner is facing stiff fines.  After the quarantine is over, he has to take them to the vet for rabies testing - and then after that, who knows?  Hopefully he'll get smart and keep them inside!


for you Sally, brave little girl, RIP

Anonymous
.....
I agree with both of you.  Sounds like none of the dogs were on leashes.  I think the owner of the 2 large dogs needs to be fined, not confined and I don't think he should be able to keep the dogs either.  GOD bless little Sally, Rainbow Bridge awaits you..Karenlee
Her father-in-law, Frank Powell, said that despite the family's loss of a loyal friend, it could have been much worse.

"It could've been the baby, the baby could have been as easily killed as Sally the dog," he said.
Oh BS! The dog dying is JUST AS TRAGIC as if the kid had died. NOT ANY LESS.  I get so tired of these specist remarks! In fact, I feel worse that it was the dog than I would have if the kid had been attacked.
For the little hero
I will also add this little hero in my Sharebook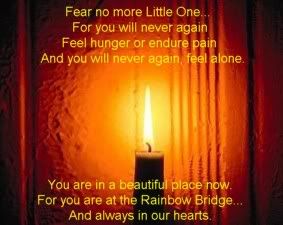 For you, Sally. You will not be forgotten for what you did to save the ones who loved you...your bravery cost you dearly.  Rest now little one.....rest.
So sad and it didn't have to happen!
There was no mention as whether or not HER dog was on a leash.  This should have never happened.  That poor dog, although a hero is now dead because some ignoramous not controling his dogs. These dogs apparently had issues and should have never even been without leashes.
And he gets to keep the dogs?  This is not right.  
Family Dog Gives Life to Save Mother & Child
Apr 18, 2006 4:33 pm US/Eastern
(CBS 3) WILLOW GROVE A family dog gave its life protecting a Montgomery County mother and her infant child from a pair of canine attackers Monday.

Natalie Powell said she never expected to be attacked by two large dogs while taking her one-month-old daughter for a walk along Quigley Avenue in Willow Grove.

The two unrestrained dogs approached her from a neighbor's house around 6:30 p.m. When they became more aggressive, Powell's pet dog Sally entered the fray to protect her owner from the much larger animals.

Powell said she pulled her child away as the three dogs violently fought.

"Everybody's barking and snarling and blood and I'm screaming and trying to kick," she said.

She suffered bites to her hand and arm, but her brave dog Sally paid a much higher price.

"My dog gave her life to show us that these dogs are a problem," Powell said.

Her father-in-law, Frank Powell, said that despite the family's loss of a loyal friend, it could have been much worse.

"It could've been the baby, the baby could have been as easily killed as Sally the dog," he said.

On Tuesday, Upper Moreland Township police cited the owner for not controlling his two dogs. He said he would comply with state law that orders the dogs must be quarantined.

"They're confined in their own home for ten days, then they get checked by the vet," stated Animal Control Officer Beverly Cupo.

Cupo added that owners should take great care to make sure their dogs are secured because a bark can quickly turn into a bite.

"Seconds, I mean all it takes is a dog to see another animal, another person, whatever the case may be and he's gone," she said.

Two years ago, the Powell's rescued Sally from an SPCA shelter, nursing her back to life. On Monday, Sally returned the favor.
(© MMVI, CBS Broadcasting Inc. All Rights Reserved.)