"To bring my beautiful rescued lab Earl into many lonely lives as a therapy dog."

Brick, NJ, USA
female
married, 1 child
Speaks: English
Joined Jun 20, 2003





Why should man expect his prayer for mercy to be heard by What is above him when he shows no mercy to what is under him?
extends the circle of compassion to all livings things, Man will not himself find peace."
--
Al
bert Schweitzer



"Life is life--whether in a cat, or dog or man. There is no difference there between a cat or a man. The idea of difference is a human conception for man's own advantage..."
-- Sri Aurobindo, poet and philosopher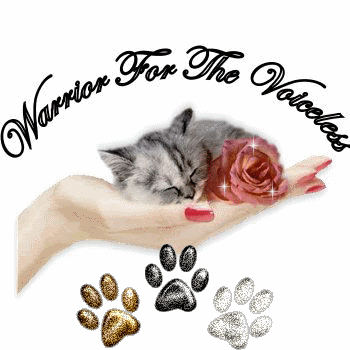 REST IN PEACE SWEET MARIUS...you will never be forgotten! Shame on humanity!!!!
Joined
Jun 20, 2003
Activist Aspirations
Casual
Here for
Meeting Friends, Support a Cause
Group Host of
none yet
Groups
Breast Cancer Awareness, Healthy Living Network, Human Rights Network, Jane Goodall Institute: Race for the Primates, Oceana, Peace & Nonviolence Network, People Helping Animals Worldwide, Pets in Need, Race for the Big Cats, Race for the Rainforest, Spirituality: through the eyes of the open mind.
Hometown
New Jersey
Homepage
Birthday
May 31
Languages
English
About Me
Passionate about animals, their lives and their rights. I am funny, spiritual, loyal & caring sometimes to a fault.
Introduce yourself to Paula
Lifestyle
Pets
5 rescued cats, 1 rescued lab
Activist Aspirations
Casual
Political Leaning
Religions
Christian - Other, Spiritual but not religious
Eating Habits
vegetarian
Wild Fact About Me
My Philosophy
Be the light of hope for all who are in darkness.
What Gives Me Hope
"There is not enough darkness in the whole world to put out the light of one, single candle." Hope never gives up!
If I were Mayor, I'd make the world a better place by
Expose political greed...fire anyone who has lied, abused the system, accepted blood money! Start from there and lead with heart and not the desire to possess power or money!
What/who changed my life and why
On January 8, 2013, I said good bye to one of the most amazing spirits I have ever known, my sweet lab Augie. Augustus St. Nicholas came into my life in November of 2000 as a 3 month old puppy given to me as a Christmas gift from my Mom. He literally changed my life. Angels come in many forms and one of mine was Augie. For 12 and 1/2 glorious years, he lived everyday as a pure example of God's love. He brought unconditional love and joy into my life and was my constant reminder that I would never be alone. He crossed the Rainbow Bridge while I held him in my arms and kissed him for one last time. I am truly a better person because Augie shared his journey with me and I will be forever grateful to him. Rest in Peace my gentle spirit... Augie 8/28/2000-1/08/2013 He is in my profile picture above.
What Bugs Me
People who HATE, Selfishness, Bullies, Corporate greed, Corruption in Governments, Destroying the planet !!!, Any one that would hurt a child, Any one that would hurt an animal
Passions
Making a Difference, Death With Dignity, Animal Rights and Rescues
Inspirations
My family and God, to fulfill my purpose on earth, the sound of the ocean, music, kittens purring, friends, My patients, Kindness in any form, good people, My dogs loyalty
What Scares Me
Losing the ones I love, hate, Ignorance and evil, politicians
Favorites
Role Models
Jesus, Princess Diana for her compassion, Elizabeth Kubler-Ross, Leo Buscaglia, Mother Teresa, Ghandi
Quotation
" Until one has loved an animal, one's soul remains unawakened. " Anatole Franca
Interests
Meeting all kinds of people, Making a difference, Spirituality/Philosophy, Music with a message
Books
Same Kind Of Different As Me, Heaven is For Real
Music
70's Music, Classic Rock, Easy listening
Movies
Sweet November, The Bucket List, Tuesdays with Morrie, The Five People You Meet In Heaven, Stealing Home, The Green Mile, Shawshank Redemption
TV Shows
Do not watch regularly
Favorite Foods

Favorite Places
Tropical islands, beach
Can't Live Without
God/spirituality, hope, sunshine, peace, music, friends and family, my child, my husband, my pets, love, laughter
Introduce yourself to Paula
My Butterfly Rewards
Most recent activity (up to 500 gifts shown)
---
I've earned Butterfly Credits