"Helping animals and to support those who do the same..To educate people on animals needs, to instil the necessity of kindness and compassion to animal"

Daytona Beach, FL, USA
female
single
Joined Dec 1, 2007





Im on Yewie too..
http://www.yuwie.com/SaveAnimals/
Come see me.
Hi, I have actually been a member here since 1998, having left and now returned to continue on the neverending mission to help animals in need. Where ever they are, whatever the need, they need all of us to be a voice and light in their life. Hope to see all my friends here again. Still on Yewie but will be here for animal related issues.

Kat~
We must fight against the spirit of unconscious cruelty with which we treat the animals. Animals suffer as much as we do. True humanity does not allow us to impose such sufferings on them. It is our duty to make the whole world recognize it. Until we extend our circle of compassion to all living things, humanity will not find peace. ~Albert Schweitzer, The Philosophy of Civilization ~~~~~~~~~~~~~~~~~~~~~~~~~~~~~~~~~~~~~~~~~~~~~~~~~~~~~~~~~~~ We have enslaved the rest of the animal creation, and have treated our distant cousins in fur and feathers so badly that beyond doubt, if they were able to formulate a religion, they would depict the Devil in human form. ~William Ralph Inge, Outspoken Essays, 1922 ~~~~~~~~~~~~~~~~~~~~~~~~~~~~~~~~~~~~~~~~~~~~~~~~~~~~~~~~~~~ I care not much for a man's religion whose dog and cat are not the better for it. ~Abraham Lincoln

The ALF guidelines are:
1. TO liberate animals from places of abuse, i.e. laboratories, factory farms, fur farms, etc, and place them in good homes where they may live out their natural lives, free from suffering.
2. TO inflict economic damage to those who profit from the misery and exploitation of animals.
3. TO reveal the horror and atrocities committed against animals behind locked doors, by performing non-violent direct actions and liberations.
4. TO take all necessary precautions against harming any animal, human and non-human.
5. To analyze the ramifications of all proposed actions, and never apply generalizations when specific information is available.






~~~~~~~~~~~~~~~~~~~~~~~~~~~~~



~~~~~~~~~~~~~~~~~~~~~~~~~~~~


~~~~~~~~~~~~~~~~~~~~~~~~~~~~~


~~~~~~~~~~~~~~~~~~~~~~~~~~~~~


GONE IN 60 SECONDS...from this
to this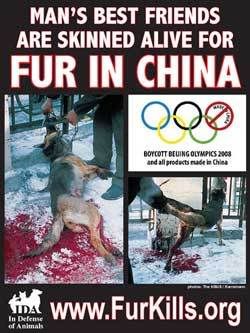 ........evil at work....STOP THIS!







WHAT ABOUT THIS IS NORMAL, WHAT ABOUT THIS IS OK, WHAT ABOUT THIS IS SOCIETY NOT GETTING....It is NOT OK to experiment on ANY animal for ANY reason.....make a stand...do something!....WHAT IF THIS WAS YOU?...we have vicious criminals in prisons who do not suffer for the crimes they have commited, yet we have INNOCENT animals like this suffering for humans wants and needs everyday and IT IS WRONG!!!!.....You want to know how that will work on a human...USE A HUMAN...we got alot of those in death row waiting for a nice peaceful end to their vicious lives.....STOP THESE INNOCENT ANIMALS from being used by sadistic criminals disguised as "science"....and yes I do know that there have been people tested on in horrible ways by the same kind of insane people but this is few and still animals have no chance or choice.....Governments have long used animals and humans as experiments......WRONG!.....still I say that serial killing, animal abusing, killer sitting in jail can pay society and their victims with some good...so here take them, but LEAVE THE ANIMALS ALONE!

THIS IS WRONG IN EVERY WAY!...
Stop Animal Testing!


WHAT IS VIVISECTION?


For additional information and Internet links to anti-vivisection organisations across the world, or to join JA's anti-vivisection working group, contact:
Colleen Mossman - E-mail – coll37@hotmail.com
Shaun Kramer – 083 454 9690
Steve Smit – (012) 662 2086 / 082 659 4711 / E-mail – falconsa@worldonline.co.za
Click here for Anti-vivisection links


A little one sleeps, safe from the horrors he knew or would have known, safe in the arms of an ALF member who took him from a horrible LAB...Others are not so fortunate to be saved.....but he sleeps in the arms of safety......

~~~~~~~~~~~~~~~~~~~~~~~~~~~~~~~~~~~~~~~~~~~~~~~~~~~~~


Joined
Dec 1, 2007
Activist Aspirations
Enthusiastic
Here for
Meeting Friends, Job Search, Professional Connections, Support a Cause
Group Host of
none yet
Groups
ANIMAL HOTSPOT...THE INFORMATIVE PLACE, Abolish Animal Abuse, Animal Activists, Animal Petitions, Animal rights, Ask the Vet Techs, Cat Rescue/Trap Neuter Release Connection, Elephant Lovers, Little Seniors Last Hope Rescue, Love and Relationships, Pets in Need, Supporters of Winging Cat Rescue, World Wide - Legal Action 4 Animal Rights
Hometown
Homepage
Birthday
Nov 10
Languages

About Me
Very quiet until it comes to animals, then Im a voice wether it is calm and educational or LOUD and in defense of...Never let any human ask why they are not more important than any animal, as I have to say, until you love with unconditional love, are truely an innocent in all ways, are in need of my help, love and care and cannot do for yourself, look into my eyes and I see the soul of a light angel, no human will ever come before any animal....NOW I will care for you and it is possible to be right up there if you are a kind and caring animal loving person......but you'll never be the ANGEL on top of the tree.....thats reserved for animals.
Introduce yourself to Rev
Lifestyle
Pets
3
Activist Aspirations
Enthusiastic
Political Leaning
Religions

Eating Habits
Still Love Chocolate Though!, vegetarian
Wild Fact About Me
My Philosophy
What Gives Me Hope
That one day, very soon either all animal abuse in all its horrid forms will CEASE, or those of us who love animals will FINALLY stand together and REMOVE the abusing SOB'S ourself and send them to mars to torture and abuse each other!...Thus ridding the world of animal abusers and neglecters and haters.....One day every day....A Happy world for animals and those who love and respect them and this world!
If I were Mayor, I'd make the world a better place by
SEE ABOVE
What/who changed my life and why
What Bugs Me
Any one that would hurt an animal, People whom do harm unto others, Those who hurt others weaker than them, cruelty, abusive people
Passions
nature, Energy Healing And Love, animals
Inspirations

What Scares Me

Favorites
Role Models
Saint Francis of Assisi, Animal lovers, Animals, buddha, Mahatma Gandhi, Dalai Lama, Jesus Christ
Quotation
"If you have men who will exclude any of God's creatures from the shelter of compassion and pity, you will have men who will deal likewise with their fellow men. ~St. Francis of Assisi
Interests

Books

Music

Movies

TV Shows

Favorite Foods

Favorite Places

Can't Live Without

Introduce yourself to Rev
My Butterfly Rewards
Most recent activity (up to 500 gifts shown)
---
I've earned Butterfly Credits