"Finding peace in the Chaos"

Prescott, AZ, USA
female, age 40
committed relationship
Head Cashier at Prescott Natural Foods
Speaks: English
Joined Feb 18, 1999


Causes: legalise the weed, Keep kids off the drug - TV!, supporting local businesses, border issues, shorter work week, models with real figures in advertising, Animal Welfare, pro-choice, women's empowerment, domestic violence prevention, community murals, bike/walk everyw

Activities: sewing, singing, dancing, loving, writing, collaging, observing, making herbal remedies, watching wierd films, meditation, costume design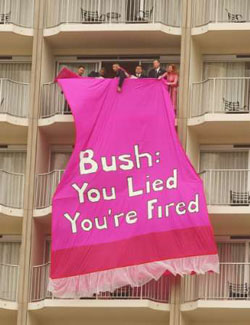 ALERT: I am VERY interested in meeting women involved with CODE PINK. I am not online a lot, but you can always drop me a line. I would like to find out more about CODE PINK and start a group here in Prescott, Arizona.
Joined
Feb 18, 1999
Activist Aspirations
undeclared
Here for
Meeting Friends, Support a Cause
Group Host of
none yet
Groups
The 80's Era
Hometown
the universe
Homepage
Birthday
Sept 30, 1977
Languages
English
About Me
If I were a man I'd be a drag queen! I am a tattooed lady with a a love of the absurd. I don't drive and I probably never will, too much anxiety. I am colorful, creative,compassionate, alive, and in love with the world. I strive to make the world a happier place with a big smile and a gentle perspective!
Introduce yourself to Rabbit
Lifestyle
Pets
1kitty
Activist Aspirations
Political Leaning
Religions
Wiccan/Pagan/Druid
Eating Habits
Keep it Healthy
Wild Fact About Me
(I am a rabbit)
My Philosophy
Enjoy it while you can, it's just like the weather - so quit complaining brother, NO ONE LIVES FOREVER!
What Gives Me Hope
community, love, and synchronicity
If I were Mayor, I'd make the world a better place by
Tell people not to move to Arizona, there's no water! Specifically don't come to Prescott (unless you're gay or drag!! We need more of y'all!) And I would encourage people to walk and bike more!
What/who changed my life and why
hiking the Appalacian Trail. I got to see that I am truly strong and capable.
What Bugs Me
posers
Passions
art, fashion, being sexy
Inspirations
music, laughter, sunshine
What Scares Me
People with a dead look in their eyes, GEORGE W. BUSH!
Favorites
Role Models
The Cockettes (especially Rumi), Klaus Nomi, Lydia Lunch
Quotation
"He not busy being born, is busy dying." Bob Dylan
Interests
!ART! sewing, singing, recycled fashions, dancing, Theater/Performance, herbalism, meditation, modeling, nutrition, health, costume design, thrift shopping, walking, yoga, biking, loving!
Books
non-fiction, crafts, Alice in Wonderland, self improvement, spiritual
Music
eighties new wave, eighties pop, sixties psychedelic rock, They Might Be Giants, Culture Club (Boy George is hot!!)
Movies
Rocky Horror Picture Show, The Cockettes, The Legend of Leigh Bowery, Labyrinth, Gigantic (A tale of 2 Johns), The Nomi Song, Celestial Clockwork, The Cruise
TV Shows
I watch videos, but no actual tv
Favorite Foods
eggs, mangos, bee pollen, sprouts, turkey, sprouted bread, almond butter, broccoli, walnuts, chocolate covered almonds, PNF fruit & nut bars
Favorite Places
above a navel and under a chin
Can't Live Without
love, peace, unity, joy, black tea
Introduce yourself to Rabbit
My Butterfly Rewards
Most recent activity (up to 500 gifts shown)
---
I've earned Butterfly Credits