"To help All animals in every way I can NO MATTER WHAT IT TAKES !!!"

Edgewood, MD, USA
female, age 52
married, 2 children
Speaks: dog and cat, english
Joined Dec 19, 2006


Causes: Animal Welfare, against factory farms, Rain Forests, Marine Wildlife, environment, global warming, Protect America's Forests, Zoo Reform, Rain Forests, Indigenous Peoples Rights, Endangered Species




He who passively accepts evil is as much involved in it as he who helps perpetrate it. He who accepts evil without protesting against it is really cooperating with it."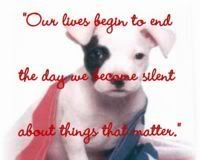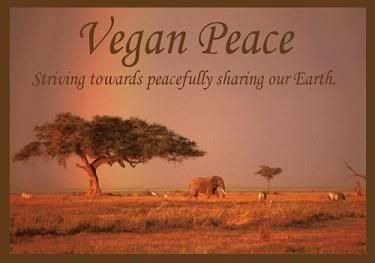 Every animal has certain fundamental rights, and the very basic fundamental right of every animal is the right to live. For you cannot take away what you cannot give. And since you cannot give life to a dead creature, you have NO right to take away the life of a living one.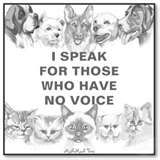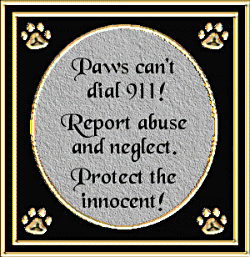 Eclesiastes 3:18
I also thought, "As for men, God tests them so that they may see that they are like the animals.

19

Man's fate

is like that of the animals; the same fate awaits them both: As one dies, so dies the other. All have the same breath; man has no advantage over the animal. Everything is meaningless.

20

All go to the same place; all come from dust, and to dust all return.

21

Who knows if the

spirit of man

rises upward and if the spirit of the animal goes down into the earth?
We have enslaved the rest of the animal creation, and have treated our

distant cousins

in fur and feathers so badly, that beyond doubt, if they were able to formulate a religion, they would depict the Devil in human form."For the simple reasons that all animals are creatures beloved by God and that God created them with a capacity for pain and suffering, we should adopt a

vegetarian diet

."
"Animals are God's creatures, not human property, nor utilities, nor resources, nor commodities, but precious beings in God's sight....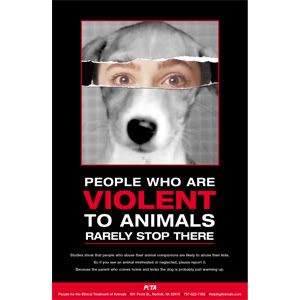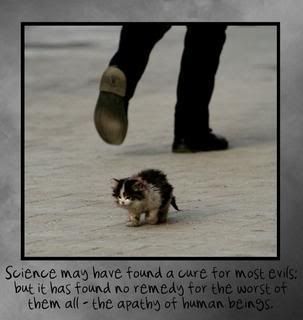 Joined
Dec 19, 2006
Activist Aspirations
Rabid
Here for
Meeting Friends, Support a Cause
Group Host of
none yet
Groups
ORANGUTANS: Men of the Forest, PRRA - People for the Rights and Respect of Animals, The Wolf Cry, Warriors of the Rainbow
Hometown
New Orleans , La.
Homepage
Birthday
Nov 11, 1961
Languages
dog and cat, english
About Me
A loving heart towards all innocents and GOOD people but a Fighter against WRONGS such as abuse & cruelty of any kind !
Introduce yourself to Nancy
Lifestyle
Pets
fish, 7 rescued cats, Rescued Dog
Activist Aspirations
Rabid
Political Leaning
Indifferent
Religions
Christian - Other
Eating Habits
LOTS OF TEA, Keep it local and organic, a lot of apple and tomatos, vegetarian and aspiring vegan, Drink Loads Of Water
Wild Fact About Me
I like animals way more than most people ~ They are 100% unconditional love !
My Philosophy
Each person CAN make the world a better place if they so CHOOSE to !
What Gives Me Hope
GOD & My Daughter & Rescuers in my Family & Friends &My Care 2 Friends & all who are working to make a difference !
If I were Mayor, I'd make the world a better place by
where do I start ? End Factory farms , Puppy mills ,All animal abusers would get the same done to them as they did to the animals as punishment even to the death ~ same for those who hurt children & elderly & All those unable to defend themselves ~ All would go to CLEAN energy ~ NO OIL ~ I could go on & on ~
What/who changed my life and why
Pay it Forward ~ if Everyone would do this the world would be SO much nicer !
What Bugs Me
apathy, Drunk Drivers, people who don't "listen", Litter Bugs!!, Stupid mean people, Those who hurt others weaker than them, liars, injustice, ignorance, Evil people, cruelty, bullying, Any one that would hurt a child, Any one that would hurt an animal, abusive people
Passions
God's Creations, helping animals, my husband, my family, MY CHILDREN!!!, LIFE!!!, laughter, making a difference, love, nature, animals
Inspirations
All those who help animals, My Loving Son Michael, My dogs loyalty, Kindness in any form, friends, beautiful stories, My Precious Mom, My Beautiful Daughter Capri, God and Jesus, my husband, My Sister Carla, my family, good people, animals, happiness, blue skies, a gentl
What Scares Me
current USA administration, Losing the ones I love!, War - Cruelty - Greed - Indifference, Is how cruel the people of the world are
Favorites
Role Models
God, my family, My Precious Mom, Jesus Christ
Quotation
If you think your to small to make a difference try sleeping with a misquito in your room . You CAN help ~ no matter what you do for good !
Interests
helping ALL animals, pets, photography, wildlife, environment
Books
Robin Cook, Westerns, Steven King, Anything to do with animals and nature
Music
soft rock, country, disco, Easy listening, Classic Rock
Movies
comedy, Braveheart, All animal movies, Wizard of Oz, The 6th Sence, Shawshank Redemption, PIRATES OF THE CARIBBEAN, Finding Nemo, Forrest Gump, Eight Below... cried my eyes out!!, Blue Collar Comedy tours, Pay it Forward- Why can't we do that?, animal movies, anything
TV Shows
NCIS, Lots of the old sit coms, history channel, DONT like Saw or Hostel, all FAKE scary shows, The Mentalist, Dancing with the stars, being human sci fi, Lots of the old sit coms, I like thrillers, csi, halmark channel movies, TV Land channel, Animal Planet, Discovery
Favorite Foods
salad, potatoes, pizza, fruit, apples, veggies, strawberries, spaghetti, mashed potatoes, french fries, broccoli
Favorite Places
home with my pets, home with my family, the mountains, Country Life, Country atmosphere, country scenes, Country (woods &amp, amp, amp, forests, nature, woods
Can't Live Without
Prayers, hope, My Beautiful Sister, My Precious Mom, God and Jesus, music, love, laughter, animals, family, my husband, my children, my animals, nature, peace, water, sunshine
Introduce yourself to Nancy
My Butterfly Rewards
Recent Activity
---
I've earned Butterfly Credits