Jaureguiberry, Canelones, Uruguay
female, age 43
married
Speaks: a little english, spanish
Joined Dec 14, 2010





This words for a care2 friend are too significant to me when I was going through a special moment. Thanks for being such a good friend dear Tim!
Words for Lily
If I could make the sun shine every day, I would
I'd change your grey skies to blue, if I could
I'd send a bird to sing for you every day
To take your blues and fly away
I think of you down by the sea
Watching the waves roll endlessly
The sun is shining in your hair
A beautiful day without a care
So Lily try to live positively
So your soul will be light and free
I hope these few words will brighten your day
From a friend so far away
Tim.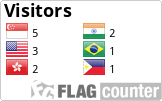 Thanks to alll my friends for waiit my recovering and thank for the wishes and get well poscards. Thanks for your support and kidness in this hard times. I will be thans all over for private but take me patient. Love to all of yours!
Joined
Dec 14, 2010
Activist Aspirations
undeclared
Here for
Meeting Friends, Support a Cause
Group Host of
none yet
Groups
Click free to donate and Petitions, Defenders of Wildlife, ORANGUTANS: Men of the Forest, SAVE ALL RAINFORESTS please join!
Hometown
Maldonado,Maldonado, UY
Homepage
Birthday
Dec 11, 1971
Languages
a little english, spanish
About Me
Introduce yourself to Libertad
Lifestyle
Pets
1 cat, 3 dogs, fish
Activist Aspirations
Political Leaning
Religions
spiritualist
Eating Habits
TRYING TO BE HEALTHY - FAILING MISERABLY
Wild Fact About Me
My Philosophy
"Not to hurt our humble brethren is our first duty to them, but to stop there is not enough. We have a higher mission, to be of service to them whenever they require it."
What Gives Me Hope
kind people that support friends in bad moments
If I were Mayor, I'd make the world a better place by
Dismiss all the corrupted and inefficient politicians (but.. will be remain a few; I don't know...)
What/who changed my life and why
Care2 because of the wonderful people I'm meeting.
What Bugs Me
false people who hurt you
Passions
Foggy days of autumn, water, trees, nature, LIFE!!!, animals
Inspirations
trees, random acts of kindness, animals, nature, My dogs loyalty, good people, animal activists, love, Well lived lives, the beauty of nature, Kindness in any form
What Scares Me
fire, global warming, Criminals that are young and violent, War - Cruelty - Greed - Indifference, Ignorance and evil, cruel people, apathy
Favorites
Role Models
T.S, animals
Quotation
Love, nothing else matters
Interests
wildlife, recycling, pets, movies, music, Holistic Health, gardening, entertainment, environment, ecology
Books
the 100 year old man who climbed out the, alternative medicines, mythology, Anything to do with animals and nature
Music
Sounds of the Earth, Classic (someones), Gary Moore, Metallica!, blues, bluegrass music, Rock and Roll, jazz, country, celtic, "golden oldies"
Movies
the 100 year old man who climbed out the, 2nd hand lyons, Home, oceans, Idiocracy, the Matrix, comedy, Avatar like IS
TV Shows
Game of Thrones, Discovery Channel, Animal Planet
Favorite Foods
fruit, spaguetti, strawberries, seafood, salad, rice, lasagna, chocolate
Favorite Places
lakes, woods, the mountains, rainy day!, nature, home, forests, beach
Can't Live Without
music, water, nature, love, Earth and Air, animals
Introduce yourself to Libertad
My Butterfly Rewards
Most recent activity (up to 500 gifts shown)
---
I've earned Butterfly Credits