"Animal Liberation!"

Hilham, TN, USA
female, age 27
single
Speaks: English
Joined Jun 18, 2007






Red Lobster resturants is a huge contributer to the Annual Canadian Seal Hunt (it serves Canadian sea food). If you buy food at Red Lobster, you support the Canadian Seal Hunt. So if you aren't vegetarian and you must have seafood, go somewhere else.
And also--don't buy anything from Canada.
(Not China or Japan either.)
Look for stuff made in the USA.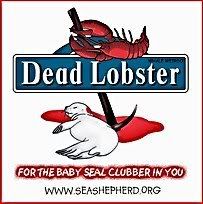 Joined
Jun 18, 2007
Activist Aspirations
Rabid
Here for
Support a Cause
Group Host of
none yet
Groups
Defenders of Wildlife, Earth Day, Vegan
Hometown
in my head
Homepage
Birthday
April 29, 1991
Languages
English
About Me
Introduce yourself to Amber
Lifestyle
Pets
horses, chickens, fish, dog
Activist Aspirations
Rabid
Political Leaning
Religions

Eating Habits
Vegan!
Wild Fact About Me
I love cocoa/fruity pebbles :)!
My Philosophy
What Gives Me Hope
Sea Shepherd,finding out there is one more compassionate person out there,Vegans,The ALF.
If I were Mayor, I'd make the world a better place by
Close down slaughterhouses, fur farms, circuses, hunting, bullfighting, dogfighting, cockfighting, and any other animal exploitation.
What/who changed my life and why
Criss Angel! ^.^ He's my hero because he taught me that you can do anything you set your mind to, not to care what stupid people think about you, and he made my life alot better. :)

The Sea Shepherd Conservation Society, they are all amazing, and I just love what they do for the majestic creatures of the sea, where there is no law.
Thank you Sea Shepherd!!!
What Bugs Me
Animal Cruelty/Killing
Passions
Animal Liberation!, Animal Rights!
Inspirations
Sea Shepherd!!!, Compassionate People, Vegans, Angel-my dog
What Scares Me
Nothing
Favorites
Role Models
Captain Paul Watson, Sea Shepherd!!!, Criss Angel, Animal Liberation Front
Quotation
"When the Mind, Body, and Spirit work as one, anything is possible" ~Criss Angel



"The fight is not for us, not for our personal wants and needs. It is for every animal that has ever suffered and died in the vivisection labs, and for every animal that will suffer and die in those same labs unless we end this evil business now. The souls of the tortured dead cry out for justice, the cry of the living is for freedom. We can create that justice and we can deliver that freedom. The animals have no one but us. We will not fail them."
- Barry Horne (1951 - 2001)



"People are often unreasonable, irrational, and self-centered; Forgive them anyway. If you are kind, people may accuse you of selfish, ulterior motives; Be kind anyway. If you are successful, you will win some unfaithful friends and some genuine enemies; Succeed anyway. If you are honest and sincere people may deceive you; Be honest and sincere anyway. What you spend years creating others could destroy overnight; Create anyway. If you find serenity and happiness, some may be jealous; Be happy anyway. The good you do today, will often be forgotten. Do good anyway. Give the best you have, and it may never be enough; Give your best anyway. In the final analysis, it is between you and God; It was never between you and them anyway" -Mother Teresa
Interests
Environment, Movies, Animal Liberation, Animal Rights, Veganism, Reading, Animals, Mind/Body/Spirit
Books
Goosebumps, Eldest by Christopher Paolini, Eragon by Christopher Paolini, Eclipse by Stephenie Meyer, New Moon by Stephenie Meyer, Twilight by Stephenie Meyer, Vegan Freak
Music
Industrial/Metal, Rise Against, Celldweller, Cradle of Filth, Criss Angel
Movies
V for Vendetta, The Number 23!, I Am Legend, The Hulk
TV Shows
Criss Angel Mindfreak, Paranormal State, Alias
Favorite Foods
Silk Soymilk mmm, Fruity Pebbles with soymilk, Cocoa Pebbles with soymilk, Spaghetti with Tofu and Mushrooms!, Anything Vegan :)
Favorite Places
My Bed
Can't Live Without
TV/Movies/Computer, My pets
Introduce yourself to Amber
My Butterfly Rewards
Most recent activity (up to 500 gifts shown)
---
I've earned Butterfly Credits