"to spread love and compassion to equal peace"

Keyport, NJ, USA
female, age 65
single, 3 children
Speaks: English and a little Spanish
Joined Feb 27, 2007


Activities: arts & crafts, observing people, listening to music, jjournal keeping, learning about myself, designing & making jewelry, reading, writing, gardening, Drawing/Sketching, cooking, Books - Collecting




Free Christmas Cards

Yes We Can - Barack Obama 11-04-08



BUDDHIST PRAYER OF COMPASSION
With every breath i take today, i vow to be awake;
And every step i take, i vow to take with a grateful heart.
So i may see with eyes of love into the hearts of all i meet,
To ease their burden when i can and touch them with a smile of peace.




Hatred never ceases by hatred; but by love alone is healed. This is an ancient and eternal law . *Dhammapada, sacred Buddhist scripture.
One act of pure love in saving life is greater than spending the whole of one's time in religious offerings to the gods.
-Dhammapada


Adopting an attitude of universal responsibility is essentially a personal matter. The real test of compassion is not what we say in abstract discussions but how we conduct ourselves in daily life.

-His Holiness the Dalai Lama, "Imagine All the People"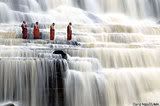 We are all Living Buddhas.
Who is and who is not is irrelevant.
What is important is we are all living Buddhas.
That is the way.
**sadmonk**
When the power of LOVE overcomes the LOVE of power, the world will know PEACE
**the late Jimi Hendrix**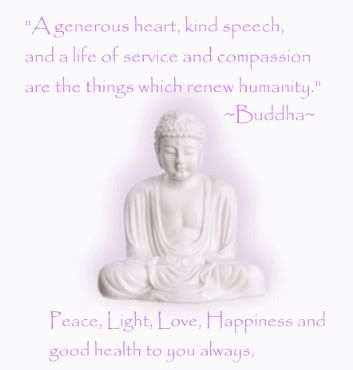 I will greet this day with love in my heart. And how will I do this? Henceforth will I look on all things with love and be born again. I will love the sun for it warms my bones; yet I will love the rain for it cleanses my spirit. I will love the light for it shows me the way; yet I will love the darkness for it shows me the stars. I will welcome happiness as it enlarges my heart; yet I will endure sadness for it opens my soul. I will acknowledge rewards for they are my due; yet I will welcome obstacles for they are my challenge.
As a mother watches over her child, willing to risk her own life to protect her only child, so with a boundless heart should one cherish
all living beings, suffusing the whole world with unobstructed loving
kindness.
**Metta Sutta**
"Silence, they say, is the voice of complicity. But silence is impossible. Silence screams. Silence is a message, just as doing nothing is an act. Let who you are ring out & resonating every word & every deed. Yes, become who you are. There's no sidestepping your own being or your own responsibility. What you do is who you are. You are your own comeuppance. You become your own message. You are the message."
In the Spirit of Crazy Horse
---Leonard Peltie
Out of your vulnerabilities will come your strength.
Love and compassion are necessities, not luxuries. Without them humanity cannot survive. -Dalai Lama
**********
A head of gray hairs
Doesn't mean one's an elder.
Advanced in years,
One's called an old fool.

But one in whom there is
Truth, restraint,
Rectitude, gentleness,
Self-control--
He's called an elder,
His impurities disgorged,
Enlightened.
-Dhammpada, 19, translated by Thanissaro Bhikkhu.
**********



"Buddhism has the characteristics of what would be expected in a cosmic religion for the future: it transcends a personal God, avoids dogmas and theology; it covers both the natural & spiritual, and it is based on a religious sense aspiring from the experience of all things, natural and spiritual, as a meaningful unity" A widely cited, but spurious quotation attributed to
***ALBERT EINSTEIN***

**********
"If we have developed a love that is truly great,




rid of the desire to hold and to possess,




firm but not grasping,




unshakeable but not tied down,




gentle and settled,




helpful but not interfering,




giving more than taking,




not proud but dignified,




the love that leads us to heights of clean achievement,

then in us can there be no ill-will at all."


-- Piyadassi Thera
**********

Bowing deeply to your light.
The light within me
is the light within you,
it is like this for all beings.
It cannot be any other way.
We are all one.
One heart
One mind
One light
One love.
One.
-Rev.Yao Feng Shakya


If the world is to be healed through human efforts, I am convinced it will be by ordinary people, people whose love for this life is even greater than their fear.

Joanna R. Macy
American Professor and Social Activist
Internal peace is an essential first step to achieving peace in the world. How do you cultivate it? It's very simple. In the first place by realizing clearly that all mankind is one, that human beings in every country are members of one and the same family.
-His Holiness the Dalai Lama



Prayer to the Bodhisattva
by Rabindranath Tagore
Let me not pray to be sheltered from dangers
but to be fearless in facing them.
Let me not beg for the stilling of my pain
but for the heart to conquer it.
Let me not look for allies in life's battlefield
but to my own strength.
Let me not crave in anxious fear to be saved
but hope for patience to win my freedom.
Sarvamangalam!
Blessings to all!
The Key of becoming a Bodhisattva:
One who wishes to protect oneself and others quickly,
should practice exchanging oneself for others,
which is a great mystery.
All those who are unhappy in the world are so
as a result of their desire for their own happiness.
All those who are happy in the world are so
as a result of their desire for the happiness of others.
Enough of such talk!
Note the difference between the fool who seeks his own benefit,
and the sage who works for the benefit of others.
One, who does not exchange his own happiness for the suffering of others, surely does not achieve Buddhahood.
How could one find happiness even in the cycle of existence?
Therefore, in order to alleviate my own suffering and to alleviate the suffering of others, I give myself up to others, and I accept others as my own self.
-Shantideva-
**********

If you really want freedom, happiness will arise
From happiness will come rapture
When your mind is enraptured, your body is tranquil
When your body is tranquil, you will know bliss
Because you are blissful, your mind will concentrate easily
Being concentrated, you will see things as they really are
In so seeing, you will become aware that life is a miracle
Being so aware, you will lose all your attachments
As you cease grasping, so you will be freed.
-Digha Nikaya
**********

To live in this world, you must be able to do three things: to love what is mortal; to hold it against your bones knowing your own life depends on it; and, when the time comes to let it go, to let it go.

-Mary Oliver


"In the end these things matter most:
How well did you love?
How fully did you love?
How deeply did you learn to let go?"
-Buddha
**********

When you realize where you come from, you naturally become tolerant, amused, kindhearted as a grandmother, and dignified as a king. Immersed in wonder, you can deal with whatever life brings you, and when death comes, you are ready.


Ancient Chinese Philosopher
**********

May I become at all times, both now and forever
A protector for those without protection
A guide for those who have lost their way
A ship for those with oceans to cross
A bridge for those with rivers to cross
A sanctuary for those in danger
A lamp for those without light
A place of refuge for those who lack shelter
And a servant to all in need.


Tenzin Gyatso, the 14th Dalai Lama
**********

Better than a thousand useless words is one word that gives peace.
-

Buddha
**********
Verse 54


Truth, once established can never be uprooted




Goodness, once imbibed, can never be stripped away




A sacrifice to a higher cause is never lost




An offering to an ancestor never goes to waste




When a person embodies Tao




his heart becomes true




When a family embodies Tao




it thrives




When a village embodies Tao




it is protected




When a country embodies Tao




it prospers




When the world embodies Tao




it reveals its perfection



Tao is everywhere


To truly see it, see it as it is




In a person, see it as a person




In a family, see it as a family




In a country, see it as a country




In the world, see it as the world





How have I come to know all this?




Tao has shown me -




Tao as all this!



TAO te CHING
**********
"To love. To be loved. To never forget your own insignificance. To never get used to the unspeakable violence and the vulgar disparity of life around you. To seek joy in the saddest places. To pursue beauty to its lair. To never simplify what is complicated or complicate what is simple. To respect strength, never power. Above all, to watch. To try and understand. To never look away. And never, never, to forget."
- Arundhati Roy
Joined
Feb 27, 2007
Activist Aspirations
Enthusiastic
Here for
Meeting Friends, Dating, Support a Cause
Group Host of
none yet
Groups
Aromatherapy & Essential Oils, Zen for the World
Hometown
Homepage
http://no-one-left-behind.blogspot.com
Birthday
May 31, 1952
Languages
English and a little Spanish
About Me
loving, kind, compassionate and concerned for those who are in need of emotional and spiritual guidance. i love to laugh and bring some laughter into the lives of those i come in contact with. family and love and peace are so very important to me. without all of them, there is nothing. am learning the teachings of the buddha and learning to incorporate these teachings into my daily living. by doing this, i have come to understand and believe in myself and in the world around me. i have always believed in love, the love of everything and everyone around me and i have found deep peace in this belief
Introduce yourself to Sandy
Lifestyle
Pets
he is the love of my life, shitzu-bishon mix. his name is cookie
Activist Aspirations
Enthusiastic
Political Leaning
Very Liberal
Religions
buddhist
Eating Habits
COFFEE, water by the gallons, asian, italian, ethnic foods, cheese, garlic
Wild Fact About Me
i sing in the shower & i snort when i laugh!
My Philosophy
laugh hard and long - it is the best medicine. treat all with total respect and compassion and most of all, love. give it show it feel it.
What Gives Me Hope
BARACK OBAMA will not only change this country but he will be instrumental in bringing about world peace.
If I were Mayor, I'd make the world a better place by
What/who changed my life and why
many things have changed my life within the past few years. i have grown and i have come to learn myself much better. i have finally finally found my own light and i love it. in finding my own light i have also lost some things very, very dear to me; but my light has shown me that i can go on with this new found peace and light that i have acquired.
What Bugs Me
IGNORANCE, abuse to others of any kind, people who intentinally harm others, george w bush, people who cannot think on their own, arrogance
Passions
LOVE LOVE LOVE, other cultures, my kids, deep thinking & conversations, designing & making jewelry, spirituality, my family, love, LIFE!!!, family, children, books, broadening my horizons, animals
Inspirations
discovering your own light, birds chirping, my mom, people waking to their own light, peace makers, the beauty & awe of nature, wind in my hair, to watch myself grow, the beauty & power of a storm, understanding, rain, peace, ocean, music, love, lifeitsel
What Scares Me
IGNORANCE, mind set of majority of americans, george bush, War - Cruelty - Greed - Indifference, Religious Extremism, Losing the ones I love, Disrespect for others, abusers, "Big Brother"
Favorites
Role Models
PEACE PILGRIM, BUDDHA, baby darling, Dalai Lama, grandmother, Maya Angelou, John F. Kennedy, Nelson Mandela, mother, MartinLutherKingJr., Mahatma Gandhi, Dalai Lama
Quotation
it is better to have lost in love than never to have loved AT ALL.
Interests
designing & making jewelry, philosophy, reading, wildlife, pets, music, Mind/Body/Spirit, humor, Holistic Health, gardening, computers, children, aromatherapy
Books
stephen king, self help books, the invitation, self improvement, Anything by the Dalai Lama, anything by thomas moore, the call, The Lord of The Rings, ThePowerofNow, spirituality, Robin Cook, psychology, poetry
Music
bob marley, paul adams, r and b, all music by aaron nevillle, world music, celtic, reggae, Hip Hop, oldies
Movies
letter in a bottle, ghost, pass it forward, Gone with the Wind, Fried Green Tomatoes, Lord of the Rings, Shawshank Redemption, The Green Mile, titanic, Wizard of Oz, Dances with Wolves, comedy
TV Shows
nova, animal planet, discovery channel, Sopranoes, lost, Grey's Anatomy
Favorite Foods
salad, all seafood, sushi, mexican, italian, chinese
Favorite Places
the ocean, italy, mountains, My bed, home, beach
Can't Live Without
my new found light, love n more love, deeply breathing the smell of the ocean, going to the water, my dog, water, compassion, love, my kids, friends, food, family
Introduce yourself to Sandy
My Butterfly Rewards
Most recent activity (up to 500 gifts shown)
---
I've earned Butterfly Credits