"Finding wacky friends; writing a book;helping animals..."

Munster, France
female, age 39
single, 1 child
Speaks: English, French, German
Joined May 1, 2006


Activities: Artwork (clay, bird watching, walking in the nature, photography, Movie watching, laughing...alot....at myself, gardening, reading, nature, psychology, astrology, collecting




I'm back!!! For quite a few years I have been absent from Care2, as I couldn't log in anymore, but somehow recently I managed to log in again...Yay! It's good to be back and active again :) Of course, I have never stopped being active in supporting causes, helping animals in need, etc. Unfortunately, most of my old friends on here, no longer seem to be active, so please feel free to add me. I'll be looking forward to getting to know you :) Wishing you all a wonderful day who ever and where ever you are :)
For the last few years I have been collecting used stamps and used phone cards for a horse hospice in Lics,UK. Last summer they were flooded from all the rain and lost most of their hay crops. Through the used stamps and albums donations they managed to collect 6000£. If you are willing to help here's their site and addy:
http://www.bransbyhorses.co.uk/
Bransby Home of Rest for Horses 2007
Bransby, Saxilby, Lincoln, LN1 2PH
Tel: (01427) 788464 Fax: (01427) 787657 E-mail: mail@bransbyhorses.co.uk
Either u can send the stamps to me (contact me) or send them directly(mentioning my name would be nice)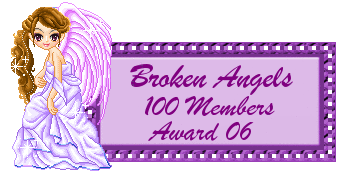 nd a letter to the MP to stop the import of seal products...it's right at the bottom of the home page and the letter is already written out.All you have to do is add your address and sign!
http://www.ifaw.org/united-kingdom/get-involved/stop-canadian-seal-hunt?ms=KONDG160305060&cid=701F0000001IWEx
Donate for free with just a click...
http://www.freedonation.com/
www.nokillnow.com/devore.htm
Here's some good links, where you can sign petitions and donate for free....
As soon as I find more of these kind of sites,I'll update....Thanks for all your help!!!
http://www.ipetitions.com/
http://www.thenonprofits.com/
http://www.savewolves.org/
please sign petition!!!
http://dingo.care2.com/c2stickies/batstickie1.swf" menu=false quality=high bgcolor=#FFFFFF WIDTH=155 HEIGHT=140 TYPE="application/x-shockwave-flash" PLUGINSPAGE="


http://www.macromedia.com/shockwave/download/index.cgi?P1_Prod_Version=ShockwaveFlash">

href="
http://go.care2.com/3723077
" target="_blank">Sign the Bat Petition!
Joined
May 1, 2006
Activist Aspirations
Casual
Here for
Meeting Friends, Support a Cause
Group Host of
none yet
Groups
(Un)Known Lithuania, 9/11 CONSPIRACY ! ! !, ANONYMOUS R US, Attempting to Learn Japanese....., Backyard Wildlife, Being a Mother, BipolarGroup, Building a Noble World, Canine Concerns: Stop Puppy Mills / Dog Chaining & Fighting, Cat Lovers, FASCIST NEWS ANALYST NETWORK, Fight For Tougher Laws In MS, Fight For Buddy's Law, Forensic Science, Forests & Trees more »
Hometown
France
Homepage
http://https://www.facebook.com/jodes.naugh
t
Birthday
Dec 21, 1978
Languages
English, French, German
About Me
I can be pretty shy,but also a fruit cake.My humour is black;my feet are huge;my love is purple;my nose is blue;my eyes are all the colors of the rainbow,just like my moods...and,well I just go with the flow
Introduce yourself to jodie
Lifestyle
Pets
leaf insects, cats
Activist Aspirations
Casual
Political Leaning
Religions

Eating Habits
Drink Loads Of Water, Coffee - Now!, trying to keep it somewhat healthy!, LOTS OF TEA, Chocolate - Lots of it
Wild Fact About Me
I have a weird Relationship to toilets ;)
My Philosophy
What Gives Me Hope
If I were Mayor, I'd make the world a better place by
I wouldn't become one
What/who changed my life and why
E.T.,because it was the first movie I saw in the cinema and I cried all the way home and, of course,the other little alien:my son ;-)
What Bugs Me
hipocrits, people who lack manners, unfriendly people, Religious supremacist (of any religion), People who see but prefer to be blind, Destroying the planet !!!, Anime cruelty
Passions
peace, reading, water, animals, books, making a difference, my cats
Inspirations
cats, Nature/Animals, books, Lightning storms, storms, my son, My mother
What Scares Me
War - Cruelty - Greed - Indifference, my son being hurt, religious fanatics, Is how cruel the people of the world are, Losing the ones I love, cruel people
Favorites
Role Models
Anyone who helps animals in any capacity, Jane Fonda, Gil Grissom, Dalai Lama
Quotation
Murphy's Law;it just seems to follow me
Interests
READING, wildlife, recycling, photography, My pets., movies, humor, Holistic Health, herbs, gardening, environment, entertainment, ecology, crafts, watching a good movie, discovering new places..., Wildlife, Internet, Libraries, Medicine / Health Care, Metaphysical Products
Books
so many!!!, true stories, Almost anything worth reading, metaphysical books, psychology, tarot, janet evanovich, homeopathy, Herbal Healing, Magic and Witchcraft, CAT BOOKS!!!, Roald Dahl, osho, Tami Hoag, Douglas Kennedy, astrology books, Kathy Reichs, Diana Gabaldon: Th
Music
too hard a question
Movies
any Bette Davis movies, comedy, Lord of the Rings, The Green Mile, Forrest Gump, My Name Is Sam, Nell, Ferris Bueller's Day Off, CSI Las Vegas, Will Hunting, The dead poets society, Wow, I have tons...I really enjoyed the Lemmo
TV Shows
The Blacklist, Sons of arnarchy, Orphan Black, Grey's Anatomy, Oz, Lost, Prison Break, Person of Interest, Weeds, Breaking Bad, The L Word, Orange is the new black, I like thrillers, csi, I love black adder
Favorite Foods
I love cajun, mexican, italian, mediteranien and other nice tasty meals
Favorite Places
woods, My bed, Barcelona, Toilet, Zurich
Can't Live Without
My kiddo, My cat, books, this planet and air
Introduce yourself to jodie
My Butterfly Rewards
Most recent activity (up to 500 gifts shown)
---
I've earned Butterfly Credits