"To Try and Be The Very Best Person I can Be Each and Every Day!"

Barrow-in-furness, United Kingdom
female
married, 2 children
Speaks: English
Joined Dec 15, 2013


Causes: Violence against Women, Rearing and Releasing Macaws and Parrots, Endangered Species, Human Rights, Free Meaningful Education for all., Womens Rights, Violence against Children, Breast Cancer Awareness, Children's Welfare, Anti-Child Labour, animal liberation, Anim




WOULD ALL MY BEAUTIFUL KIND AND DEAR FRIENDS KINDLY DONATE A SMALL SUM TO A REMARKABLE, SELFLESS LADY CALLED 'PAT DENNY' WHO RUNS A 'NON PROFIT WILDLIFE SANCTUARY' IN MY HOME TOWN AND IS IN ABSOLUTE DESPAIR AS IT IS NOW AT CRISIS POINT IN DANGER OF CLOSURE!!
http://gogetfunding.com/project/non- profit-bird-wildlife-sanctuary-at-crisis-point#.U_InK_9JN-o.yahoomail
Pat at her sanctuary holding her blind rook 'Stevie'
Watch A Video clip of Pat with her ducklingshedgehog - so cute

http://www.nwemail.co.uk/hawcliffe-bird-sanctuary-s-ducklings-1.598682?resourceView=video&index=1#video



IF LINK TO FUNDRAISER OR VIDEO DOES NOT WORK THEN PLEASE COPY INTO YOUR BROWSER. THANK YOU xx



The abandoned monkey who has found love with a pigeon
They're an odd couple in every sense but a monkey and a pigeon have become inseparable at an

animal sanctuary in China.
After being taken to an animal hospital his health began to improve but he seemed spiritless - until he developed a friendship with a white pigeon.
The blossoming relationship helped to revive the macaque who has developed a new lease of life, say staff at the sanctuary.
Now the unlikely duo are never far from each other's side.

The Macaque nestles his head against his feathered frIend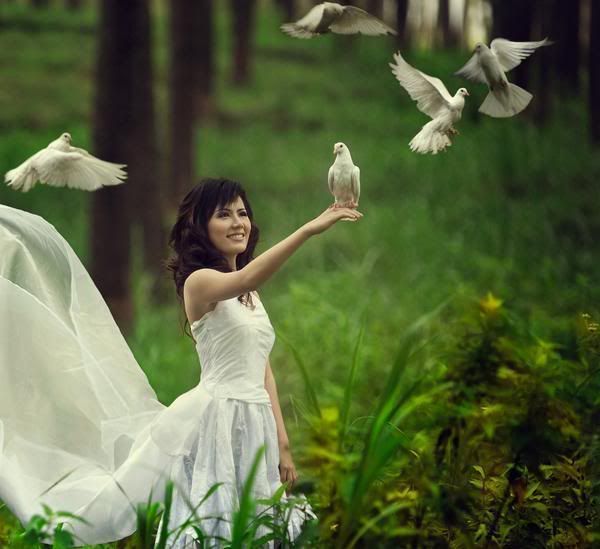 Joined
Dec 15, 2013
Activist Aspirations
Casual
Here for
Meeting Friends, Support a Cause
Group Host of
none yet
Groups
ANIMCORD: Would you like to save abandoned animals?, Backyard Birds, Click free to donate and Petitions, Click to Give Free food, Dog Lovers, Elephant Lovers, Fighting Against Animal Cruelty!, N0 Cruelty to Animals, ORANGUTANS: Men of the Forest, Pets in Need, The Tragedy of Spanish hunting dogs!! (Exposing the cruelty), WWF - World Wildlife Fund
Hometown
UNITED KINGDOM
Homepage
Birthday
Oct 15
Languages
English
About Me
I am a caring person who always puts family, all persons and all Animals first! I have 2 Children, 3 Grandchildren, 2 Dogs Blackie and Hattie & A Pet Pigeon called Beauty all of whom I love dearly! I respect Nature, All Wildlife including Pigeons. I came to own a pigeon after I hand reared her as a baby (squab) when she had been abandoned and was disabled having a splayed leg and her other leg had a deformed foot - so she would never have survived naturally in the wild on her own! I hand reared her and she now lives with my husband and I as our Special Pet! She flies freely around our home and lies cuddled up to our dog Blackie - A Large Black Labrador who is as gentle and as sensitive as they come! She has her own large cage where she has alot of room to spread her wings if she needs to and a comfy soft bed to lie on at night! Beside her bed, she has a mirror in which she can admire herself which she does often - fluffing up and cooing at herself! I ensure that her life is as full and natural as it can be and I place her cage outdoors during the day for some welcomed sunshine and the companionship of her other feral friends who come to visit her daily! I feed them all every day as I these are God's creatures too and they, unfortunately, get a raw deal from humanity being classed as vermin and disease carriers which is a complete myth! They are intelligent, Loving and Beautiful Birds which struggle to survive each and every day - eating minisule morsels from streets and feeling the cold harshness of all weathers but, most of all, being deprived 'LOVE'. My Pet Pigeon is 2 years old now and she receives All Our Love giving hers back in return - cuddling into me and cooing loudly when I get up in the morning and flying over to sit and fluff up on my knee whenever she can - She is a True Blessing and a Thankful Gift from God!!
Introduce yourself to Marina
Lifestyle
Pets
Blackie The Best Dog you could Ever own, Hattie Our Lovely Dog, Beauty Our Hand Reared Pet Pigeon
Activist Aspirations
Casual
Political Leaning
Religions
love is my religion
Eating Habits
To Eat Healthy - Try Anyway!!
Wild Fact About Me
May seem wild to some but I enjoy feeding the pigeons that visit me daily including 2 Seagulls and their 2 babies who come and sit on my wall and eat out of my hand.
My Philosophy
To Live my Life as God would want me to! I strive for this each and every day!
What Gives Me Hope
That the world will become a More Peaceful, Happier place - No Violence, No Cruelty, No Abuse, No Hatred, No Anger - Just Kindness to All - Hope for an Ideal World!
If I were Mayor, I'd make the world a better place by
To provide shelter for the homeless both humans and animals. Food for the Hungry. Be always available to listen to the needs of the people and help wherever I could!
What/who changed my life and why
My Granny was the most influential and most Special person in my life and I love and miss her dearly! She passed away to a better place in 1983 and her life was dedicated to helping others and living for those she loved! My Granny lived simply and never wanted anything for herself! She was born in Ireland in 1902 and came over to England on her own when she was just 17! After an abusive first marriage when she was constantly beaten and was told she could never have children, she met and subsequently married my Grandfather! It was with my Grandad that she found True Happiness and she did love him so very much! Despite being told that she could never have children, within a year of their marriage, at the age of 38, she gave birth to my mother and in the two years that followed she gave birth to two further children both boys! My Granny was the happiest she could have ever been however, her happiness was so very shortlived and, sadly after a short illness, my Grandad died on the 14th February 1943 aged just 33 years old. My Granny was left, once again, on her own except she now had three children aged 3 and under to look after and care for! To provide for her children she had no alternative but to take in lodgers and, at one time, she had 40 of them! My Granny was always kind, selfless and caring and was well known and liked by all who knew her! Consequently, any person needing food or shelter or both would be guided to her and she never ever turned anyone away! To this day, people still remember her for all she did and her kindness! My Granny helped so many many people in her lifetime, giving them plenty of irish home cooked food and clean shelter - no-one wanted for anything! She had a pantry which she kept full of provisions of all kinds to cater for the needs of anything anyone may want! My Granny was a generous, forgiving woman so much so, that when her abusive first husband died she paid for his funeral which she also did for two lodgers that died! My Granny cared for everyone however, the most important people in her life were her family whom she lived for! When her children including my mother were all grown up and had families of their own - her grandchildren, she provided food hampers every week for all of them! She only ever got 4 hours sleep every night with looking after the lodgers but she always had time for her grandchildren and looked after us frequenly when my parents were at work! Unfortunately, life gave her another cruel blow when she suffered the untimely loss of her youngest son to cancer in 1976 when he was just 34 years old and, even though she shed a tear for him every single day, she never stopped, she never gave up and she kept herself going for her family that remained! Nothing could ever stop her - she was a Strong-willed, Beautiful Irish Woman who lived for those she loved and those she loved will Always remember! I talk about her now to my own grandchildren and I often talk to her - I know that she can hear me and, at times, I can feel her close! God Bless Granny - I love you x
What Bugs Me
Some Peoples contempt for Pigeons, Any one that would hurt a child, Any one that would hurt an animal, cruel persons, unfriendly people, mean obnoxious people, idiotic politicians, Destroying the planet !!!, bad juveniles who bully n' hurt people, abusive people
Passions
Life, family, spirituality, animals, birds, laughter, kindness to all creatures, love, peace, Life in Heaven, trees
Inspirations
My Family, My dogs loyalty, Recovered Addicts/Alcoholics, fresh cut grass, Cloudless Nights, love, Kindness in any form, listening to the rain, reaching for the light of life, the sound of the ocean, the beauty of nature, Twilight, Sunrises and sunsets, Well lived liv
What Scares Me
Ignorance and evil, hate, moral direction of our society, war, Violent people, shootings in schools, my family being hurt, Losing the ones I love, Horror films, hell, cruel people
Favorites
Role Models
My Granny who I miss dearly
Quotation
'Do unto others as you would have others do unto you'. [Matthew 7:12]
Also: A verse entitled: 'Within My Power' has influenced my life:-
One Hundred Years from now
it will not matter
what my bank account was,
the sort of house I lived in
or the kind of car I drove.....
but the world may be different,
because I was important
in the life of a child.
Interests
My Family, My pets and garden birds, reading, labradors!, wildlife, pets, fitness, aromatherapy, children, psychology, Holistic Health, Mythology / Folklore, environment, the arts and nature..., Spirituality/Philosophy, music, recycling
Books
psychology, spirituality
Music
Sounds of Nature, Classical
Movies
Talking to Heaven, The March of the Penguins, Amazing Grace, Faith like Potatoes, The Bridges of Madison County, Spritual Films, The Sixth Sense, The Painted Veil, The Notebook, Mother Teresa Starring Geraldine Chaplin, St Bernadette, PS I love you, Historical Movies
TV Shows
history channel, Religious Films, Psychic John Edward, Afterlife, Miranda, Dramas
Favorite Foods
My Granny's Xmas Pud, cheesecake, Poached Egg on toast, egg omelettes, pizza, Homemade Tomato Soup, vegetables, salads, fruit
Favorite Places
Places of Natural Beauty, A Clear Starry Sky, Sunrises and Sunsets, In front of the Fire of an Evening, In my Bed on a cold wintery night, Trees with Birds Singing, Fields of flowers, Sunshine, Any place with snow!, Trees and Waterfalls, lakes, the beach, the ocean
Can't Live Without
My Family, Animals, Nature, The Sweet Sound of Birds Singing, hope, music, laughter, sunshine
Introduce yourself to Marina
My Butterfly Rewards
Recent Activity
---
I've earned Butterfly Credits