Apple Valley, CA, USA
female
married
Speaks: English, Dutch - not perfect, German - bit rusty, Indonesian
Joined Jun 21, 2008






it does not take much to live in an eco-friendly way and avoid cruelty to animals, maybe save a life one animal at a time...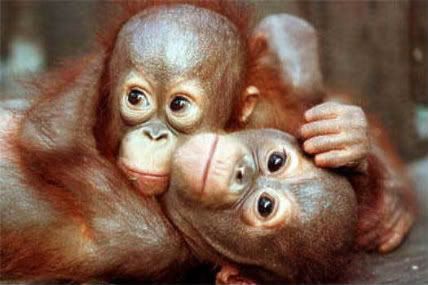 By some estimates, Borneo's vast forests are being cleared faster than the Amazon. Unless something is done now, Orang-utans could be extinct in 20 years.
Please watch this very informative video clip:
Threatened Orangutan of Borneo
The practice of bulldozing everything to make way for palm oil plantations has left Orang-utans without their customary habitat. "Palm oil is totally destructive. They're cutting down every single tree", complains Lone Droescher-Nieslen from the Orang-utan Survival Foundation. When the forests disappear, Orang-utans cling to any stump in the cleared land, unable to understand their homes are gone. It's left to charities to rescue the apes before the plantation workers kill them. Lone hopes she can rehabilitate the Orang-utans back into the wild. But if the rate of de-forestation continues, there may soon be no forests to release them into.
Help save the Orangutan, please sign the petition!



















To preserve the Orangutan's natural habitat,
please Do Not consume Palm Oil.



NO MORE ANIMAL TESTING!



Do NOT buy products tested on animals.
Do NOT buy from puppy-mills.
Do NOT buy animals as toys for kids.




Stop the oversupply and euthanasia of healthy pets,
click to sign petition here.



End Euthanasia of Healthy & Treatable Animals


Stop Dogfighting Now!! (sign here)






Save a life - ADOPT from an animal shelter!



Establish Federal Legislation to End the Use of Gassing Chambers in Animal Shelters


Sign the Petition to save Cloud and His Wild Herd

Sign Petition to save our Wild Horses & Burros

Give Feedback Regarding BLM's Management of Western Wild Horses and Burros directly to BLM






Joined
Jun 21, 2008
Activist Aspirations
Casual
Here for
Meeting Friends, Support a Cause
Group Host of
none yet
Groups
Animal Petitions, Canine Concerns: Stop Puppy Mills / Dog Chaining & Fighting, Eco Earth. ONE WORLD., Florida Panthers: Can We Save Them?, ORANGUTANS: Men of the Forest, PRRA - People for the Rights and Respect of Animals, Treehuggers, WWF - World Wildlife Fund, Warriors for the Voiceless, World Without Frontiers
Hometown
Homepage
http://cruelty-free-world.blogspot.com/
Birthday
Oct 01
Languages
English, Dutch - not perfect, German - bit rusty, Indonesian
About Me
multi-cultural, for cruelty free living, against inhumanity
Introduce yourself to Natali
Lifestyle
Pets
none right now :(
Activist Aspirations
Casual
Political Leaning
Religions
Christian
Eating Habits
vegetarian, no eggs, no dairy
Wild Fact About Me
bleh
My Philosophy
Cruelty is one fashion statement we can all do without. ~Rue McClanahan
What Gives Me Hope
People who care
If I were Mayor, I'd make the world a better place by
Speak up for those who cannot speak for themselves. Protect the rights of all who are helpless.
What/who changed my life and why
recognizing the cruelty involved in consumer product manufacture and factory farming, it turned me vegetarian and cruelty-free
What Bugs Me
Racists, Ignorance and intolerance, Ignorance and cruelty, the same things that changed my life!
Passions
racism is stupid!
Inspirations
the beauty of nature, My dad, Dalai Lama, God's love, animals and nature, animals
What Scares Me
inhumanity
Favorites
Role Models
My Dad, The Dalai Lama
Quotation
Earth provides enough to satisfy every man's need, but not every man's greed. (Mahatma Gandhi)
Interests
wildlife, Vegetarian / Vegan, animals and nature, gardening/backyard farming, watercolor art
Books
Animal Dreams/Barbara Kingsolver, Pigs in Heaven/Barbara Kingsolver, The Bean Trees/Barbara Kingsolver, Plain Truth/Jodi Picoult, The Greenlanders/Jane Smiley
Music

Movies
The Lion King, Disney's Jungle Book, City of Angels, Legends of the Falls, Schindlers List, Dances with Wolves, March of the Penguins
TV Shows
Orang Hutan Island/Animal Planet, Tribal Life/Travel channel, The Wire/HBO, Criminal Minds, Deadwood/HBO
Favorite Foods
tropical fruit, tofu and tempeh
Favorite Places
Bali, holland, california, beach, with my family, warm places, islands, beaches
Can't Live Without
my husband, family, friends, animals
Introduce yourself to Natali
My Butterfly Rewards
Most recent activity (up to 500 gifts shown)
---
I've earned Butterfly Credits