"To make the world a better place for animals & children"

Wat Riding Yoyshire, YH, United Kingdom
male
divorced, 1 child
Speaks: English only
Joined May 31, 2010


Causes: Anti-Anything that harms animals, Anti-Wild horse round ups, Anti-Whaling, Anti-Canned Hunting, Anti-Bear Bile Farms, Protecting the Rain Forests, Protecting Endangered Species, Anti- Discrimination, Anti- Animal Abuse, Anti Child Abuse, Anti-Child Labour, Anti Fact

Activities: Staring at ceiling from my bed!, Face booking, You tubing, Helping people, I'm a good listner, Watching any animal programs, Taking copious amounts of Morphine, Being cuddled up with my dogs, Being pushed down hill in my wheelchair, Reading my horses stories, Chat




I am an Animal Warrior opposed to all abuse!
To each & everyone of my precious friends... thank you. You really don't know how special you all are!! Your kind words, encouraging emails, support & love, have kept me feeling positive! I couldn't have kept going without the love & kindness you all shared with me. My dear friends,
God bless you all & keep you safe xxxxxxx
My animals are my life, I have 2 Yorkshire Terriers (1 who has no eye's) & a Chihuahua who thinks he is a Rottweiler....lol...they are by my side 24/7!!!
My beautiful horses...Lillia a 16.2H Gelderland & my cheeky colt (I rescued him from slaughter) Bengie...they have been my inspiration to go on, when it all gets too much!!
They give me the reason to get better & live my life as best I can...It's hard when you suffer pain daily...but when you have animals in your life...that love you unconditionally... there is no other feeling to beat it. When you open the door & your dogs nearly knock you over cos their so happy to see you...what makes you feel more loved than that???? It's... unconditional...they give so much, yet ask so little in return...I will never understand the mentality of anyone who could hurt such sentient beings...never have & never will!!!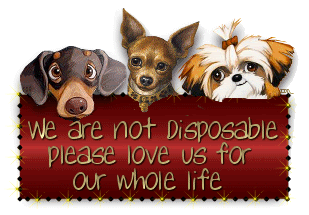 -
Tony the truck stop tiger!!!!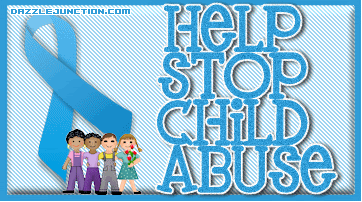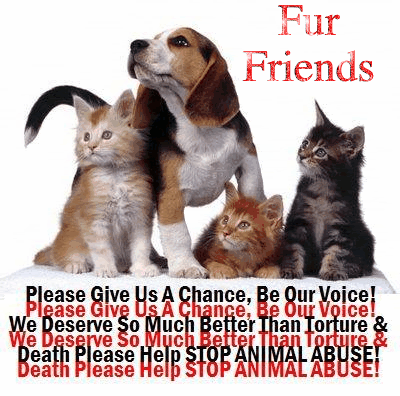 Stray Dogs and Cats Prayer
Dear God please send me somebody who'll care!
I'm tired of running, I'm sick with despair.
My body is aching, it's so racked with pain.
And Dear God I pray as I run in the rain,
That someone will love me and give me a home.
A warm cozy bed I can call my own
My last owner neglected me and chased me away
To rummage in garbage and live as a stray.
But now God I'm tired and hungry and cold.
And I'm afraid that I'll never grow old.
They've chased me with sticks and hit me with stones
While I run in the streets just looking for bones!
I'm not really bad God, please help if you can.
For I have become just a "VICTIM OF MAN!"
I'm wormy Dear God and I'm ridden with fleas
and All that I want is an owner to please!
If you find one for me God, I'll try to be good
I won't run away and I'll do as I should.
I don't think I'll make it to long on my own,
Cause I'm getting so weak and I'm so all alone.
Each night as I sleep in the bushes I cry,
Cause I'm so afraid God, that I'm gonna die!
And I've got so much love and devotion to give,
That I should be given a new chance to live.
So Dear God PLEASE,
PLEASE answer my prayer
Author unknown


Free Tony the Truck Stop Tiger
Join the Animal Legal Defense Fund in urging the Louisiana Department of Wildlife and Fisheries to revoke the permit that allows Michael Sandlin to display Tony, a ten-year-old Siberian-Bengal tiger, at the Tiger Truck Stop in Grosse Tete, Louisiana.
Sign the Expose Animal Abusers Petition Now!
Sign on to demand that your state require animal abusers to register in their communities.
Help Stop Elephant Abuse at Seattle's Woodland Park Zoo
Urge the City of Seattle to stop funding the Woodland Park Zoo's cruel elephant exhibit.
Sign the Animal Bill of Rights!
Let Congress know that you want their support!
First Strike and You're Out!
Help stop animal hoarding! Support ALDF's model law.
29 Dogs Victimized in West Virginia Domestic Violence Case
A disturbing reminder of the link between animal cruelty and domestic violence.
Terrier Survives Horrific Alleged Abuse, Sentencing Scheduled
Kern County, California
Sentencing: May 12




Death & Agony: Wild Horse Roundup
Help stop this massacre of America's wild horses!
Horses Victimized by Animal Hoarding
Harrison County, Ohio
Act now!

Protect O
ur Hrses!
Put a stop to abusive practices and support H.R. 305 and H.R. 503.
More than 12,000 bears are suffering desperately cruel conditions in Asia's bear farms, right now.
They are confined so bile can be extracted from their gall bladders and sold for traditional Asian Medicine.
.
Over 12,000 bears are captive in bear farms in Asia. Most are held in cages the size of a telephone booth, in which they are unable to stand and can only turn around with difficulty.
The bears in these farms are visibly in severe distress. They are often hurt or scarred from repeatedly rubbing or hitting themselves against the bars of their tiny enclosures.Farmers prevent bears from hibernating – the cage floors are iron bars to stop the bears lying on firm ground.
Bullfighting pits a bull against men wielding barbed spikes, spears, swords and daggers. These weapons are designed to inflict intense pain and cause blood loss to weaken the animal. At the end of the fight, the bull is slaughtered.
Fighting back
The Spanish province of Catalonia recently led the way in the fight against bullfighting, thanks to the citizen's platform 'PROU' ('Enough'), supported by campaigning work by WSPA and Spanish member society Asociacion Defensa Derechos Animal (ADDA),Fundación para la Adopción, Apadrinamiento y Defensa de los Animales (FAADA) andLibera!.
Joined
May 31, 2010
Activist Aspirations
Enthusiastic
Here for
Meeting Friends, Support a Cause
Group Host of
none yet
Groups
AGAINST DEATH PENALTY AND LIFE SENTENCE WITHOUT PAROLE, ANIMCORD: Would you like to save abandoned animals?, Activists Against Factory Farming, All Animal Activist, All Animals Great And Small, Animal House, Animal Information, Birds of the World, Click to Give Free food, Defenders of Wildlife Action Fund - Electing Pro-Wildlife Leaders, Dog Lovers, Donkey Lovers, Eco Earth. ONE WORLD., Elephant Lovers more »
Hometown
Yorkshire, England, UK
Homepage
http://preciousjules1985.wordpress.com
Birthday
May 04
Languages
English only
About Me
An Animal lover; can't stand any abuse toward animals. I am a vegetarian who is kind, compassionate, empathic, caring, loyal with a good sense of humour! I Love meeting new friends on line.
Introduce yourself to Jules
Lifestyle
Pets
13.2 Piebald Colt Rescued, 1Chihuahua, 2 Yorkshire Terrier's, 16.3Hh Gelderland Mare
Activist Aspirations
Enthusiastic
Political Leaning
Depends
Religions
christian
Eating Habits
Mainly All Bran toast, vegetarian, Drink Loads Of Water
Wild Fact About Me
Have held a 4ft croc (in wildlife sanctuary) without tape round its mouth, how wild is that...must have been high on morphine...lol
My Philosophy
Animals deserve as much love respect & kindness as you would give or show to a human!
What Gives Me Hope
The unconditional love my animals give me! They might find a cure for chronic nerve damage or a spinal transplant :(
If I were Mayor, I'd make the world a better place by
Anyone who abuses animals or humans would be punished to suit the crime. No petty fines or slap on the wrist, abusers need to pay for their actions. Create a register of animal abusers, one that can be seen by public.
What/who changed my life and why
What Bugs Me
Folk who go to Circus, Zoo's etc., Folk that think animals beneath them, animal abuse/neglect/cruelty/testing, Animal abusers who are also not punished, Rapists who get off lightly, Peeps who don't give a shit about animal, Abusers ~ anykind!, arrogance, bullying
Passions
Seeing abusers suffer, Having my adopted animals around world, Helping save sick an abused animals, My computer cos my best friends in it!, Free Circus animals, Save the worlds abused animals, Seeing animal abusers locked up, Seeing healthy animals run free an h
Inspirations
Those who suffer yet still go on helping, People who save animals, Anyone that can put up with my moaning, All animal organisations, Judges who lock up animal abusers, My animals unconditional loyalty, the beauty of nature, Recovered Addicts/Alcoholics, People w
What Scares Me
Ending up in wheelchair 24/7, Cruelty people inflict on animals, Not be able to ride much longer - pain, War - Cruelty - Greed - Indifference, Violent people, Knowing my pain will get worse, Being alone - scared of falling, Death of my animals, War - Cruelty - Gr
Favorites
Role Models
Animal Activists that make a difference, Any animal that fights back, Animals:simple, People who fight for Animal Rights, Anyone that can put up with me!, My PC-it lets me see friends, My horse who showed me how to live again, Born Free, RSPCA-ILPH-WSPCA-ALDF-IDA
Quotation
Do unto others as you would like to be done by!
Interests
Family and friends of course, Watching animals run free, Seeing justice done right, Getting out the house :), Watching Animal programs, Meeting new friends on line, Chatting on line with friends, You Tubing - Face Booking, ANIMALS PERIOD!, Never giving up, Taking t
Books
romance novels, Anything by Stephen King or Dean Koontz
Music
That would be anything really :}, Saxophone music, Jazz and Blues, Mexican music, Diamond Rio, Christopher Cross, Christina Aguilera, Big Band Sounds, Phil Collins (Genesis), Michael Buble, Michael Jackson, Israel "IZ" Kamakawiwo'ole, Paolo Nutini, Robbie Williams, Pin
Movies
" To Scu " I also loved " Happy Feet ", titanic, The Prince &amp, amp, The Pauper, the notebook, The Green Mile, The 6th Sence, shrek, Pretty Woman, PIRATES OF THE CARIBBEAN, ghost, Gone with the Wind, Fried Green Tomatoes, Forrest Gump, Finding Nemo, dirty dancing, Danc
TV Shows
When Animals Attack :}, Documentaries of almost any kind, Eden Channel, Destination Truth, Ghost Hunters (Taps), Anything to do with animals, Simpsons :}, South Park, Discovery Channel, Coronation Street (a periodic obsession), East Enders (shame on me), Animal Cops
Favorite Foods
Peanut butter, Vegi Tortellini, Vegi spaghetti bolognese, Vegi Pizza, Vegi Lasagna, rice, potatoes, mashed potatoes, french fries, bread, Vegetarian chinese food, pasta
Favorite Places
Hacking through countryside on my horse, Horse Stables, my room, woods, beach
Can't Live Without
Laughter or I would cry :{, Care2-YouTube, All Bran-taste nicer than lactulose :{, My Range Rover 4 Wheelchair, My ipod an iphone4 -life savers, Wheelchair an crutches :{, cigarettes (though I hate to admit it!), Helping save animals, My horses especially Lillia
Introduce yourself to Jules
My Butterfly Rewards
Most recent activity (up to 500 gifts shown)
---
I've earned Butterfly Credits