"My own daycare center!!"

Brooklyn, NY, USA
female
married, 2 children
Joined Aug 26, 2007


Causes: literacy, Marine Wildlife, Rain Forests, hunger, homelessness, education, Affordable Housing, Animal Welfare, Civil Rights, environment, Violence against Children, pro-choice, poverty, pollution, Human Rights

Activities: Partying, museums, Wildlife Observation, gardening, massage, prayer, volunteering, travel, reading, walking, Movie watching, Listening to Music, Games - Board games, cooking, Amusement Parks





Since the start of the conflict in Darfur in February 2003:

- More than 3 million people have been affected by the crisis.
- More than 400,000 people have died from conflict and diseases.
- 2.5 million civilians have been internally displaced by the conflict.
- 200,000 Darfurians have sought refuge in neighboring Chad.


Darfur: Children facing severe food shortages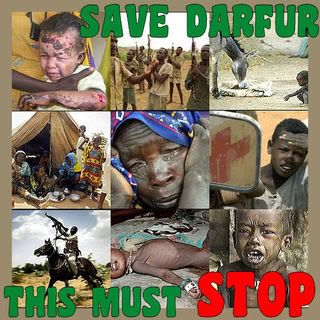 The Saddest Animal in the World
December 13th, 2007 (87 views )
Kenny the Inbred white Tiger.


It is rare that pictures of these deformed white Tigers are allowed to reach the public. Breeders of these poor and unnatural things know that they have poor ethics and do not want the fruits of their handiwork shown to the public. This is the price of Sigfried and Roy shows. What happens to the white Tiger offspring that survive, like Kenny, but aren't up to snuff...they get snuffed and are left to starve so that the zoos can claim that the baby Tiger died a natural death.

We can't say it any better so read this:
This and the other pictures were lifted from Big Cat Rescue. Go to their site, read more, cry, and then do something about it!
Joined
Aug 26, 2007
Activist Aspirations
Casual
Here for
Support a Cause
Group Host of
none yet
Groups
(APPPN) A Petition Posting & Peoples Network, 9/11 CONSPIRACY ! ! !, ANIMCORD: Would you like to save abandoned animals?, African Wildlife Foundation, Amnesty International, Care2 Feedback and Suggestions, Free Burma!, Friend Of The Week, Green Party | 10 Key Values, Help The Prisoners, INTERNATIONAL PEOPLE FOR ANIMALS - IPFA, International Society for the Prevention of Cruelty to Animals, Naresh Kadyan, Animal Rights activist and Gandhian Ideologist fan club, PEOPLE FOR ANIMALS HARYANA more »
Hometown
Homepage
http://cstokes-adam@stfranciscollege.edu
Birthday
June 09
Languages

About Me
Introduce yourself to Cynthia
Lifestyle
Pets
Chachi my beloved cat.Meow chach
Activist Aspirations
Casual
Political Leaning
Religions
Infidel. No religion here
Eating Habits
TRYING TO BE HEALTHY - FAILING MISERABLY
Wild Fact About Me
I'm in a race with time to learn 5 languages, be abreast and knowledgeable with politics, religion, and the current issues of the happenings of the world. All while going to school full time, working full time, being a full time mom and a full time wife. Think I can do it all? Watch me!!!
My Philosophy
When we help others don't expect something in return. Help because you can, because you're fortunate, and because you care!!

Our species,humans, control the future, but we are destroying it everyday.
What Gives Me Hope
My children and smiles on faces. :)
If I were Mayor, I'd make the world a better place by
End poverty and hunger!! Oh and we can't forget about WAR!!! End that also.
What/who changed my life and why
This Thing Called You
What Bugs Me
abusive people, Any one that would hurt a child, Britney Spears, Paris Hilton, rich people who don't help those in need, cruelty of governments, The destruction of rural areas, People who can't be their self, Those who hurt others weaker than them, people who WON'
Passions
Tigers!!, learning, earth, other cultures, nature, peace, spirituality, Saving Darfur!!!, animals, laughter, LIFE!!!, making a difference, MY CHILDREN!!!
Inspirations
smiles on children, smiles on disabled kids, animals, children, peace, Al Gore-for Inconvenient Truth, my children, understanding, to fulfill my purpose on earth, the sun coming up, the sound of the ocean, the beauty of nature, love, life itself, good people
What Scares Me
Extinction of animals, the direction the world is going, War - Cruelty - Greed - Indifference, Shootings in Our Schools, Religious Extremism, religious fanatics, Is how cruel the people of the world are, global warming, George W. Bush, Criminals that are young and
Favorites
Role Models
myself, Oprah Winfrey, Maya Angelou
Quotation
I am not whole.. I am half of another's soul..'tis when we are joined by the art of making love not war....we then become one.
Interests
Education
Books
Alumni Jan.'09
Music
all kinds
Movies
horror, drama, comedy, action
TV Shows
Those design shows for your home, House Hunters on HGTV, Sex and the City, history channel, Discovery Channel, Animal Planet
Favorite Foods
Ethnic foods of all kinds, except internal organs
Favorite Places
My bed
Can't Live Without
my children, my husband, hope, friends, chocolate
Introduce yourself to Cynthia
My Butterfly Rewards
Most recent activity (up to 500 gifts shown)
---
I've earned Butterfly Credits