- THE GREAT BEAR RAINFOREST OF BRITISH COLUMBIA,CANADA IS SAFE FOR NOW!!! MOST OF THE FIRST NATIONS THAT WOULD HAVE BEEN AFFECTED BY THE PIPELINE GOING THROUGH AND AROUND THE GREAT BEAR RAINFOREST ARE IN COURT NOW AND SHOULD WIN THEIR CASES DUE TO THE UNANIMOUS DECISION BY THE SUPREME COURT OF CANADA FINDING THAT THE TSIHQOT'IN NATION CAN CONTINUE TO HOLD LEGAL TITLE TO THEIR TRADITIONAL TERRITORY IN CENTRAL B.C.
....
lushness of our rainforests. They feed bugs in the streams, mushrooms sprouting off nurse logs, bald eagles, river otters, bears and on and on.
.
CRITICALLY, THE COURT FOUND THAT THE DEVELOPMENT ON LAND OWNED BY INDIGENEOUS PEOPLE REQUIRES CONSENT OF THESE NATIONS!!!!
Great News! Historic Supreme Court decision a crucial step for Indigenous peoples in Canada
On June 26, a unanimous decision by the Supreme Court of Canada found that the Tsilhqot'in people continue to hold legal title to some 2000 square kilometres in the heart of their traditional territory in central British Columbia.
It's hard to overstate the importance of this historic ruling, both for the Tsilhqot'in people, who first went to court to protect their land rights more than 20 years ago, and for other Indigenous nations across Canada. JUST IN: PRIME MINISTER STEPHEN HARPER IS TRYING NOW TO CHANGE THESE LAWS, ALL FOR THE SAKE OF THE PIPELINE FROM BURNABY MOUNTAIN TO THE BURRARD INLET!!! (also probably for the pipeline to the East Coast).
Much of the route of the proposed Northern Gateway pipeline crosses territory where there are no treaties with Indigenous peoples and the underlying issue of Indigenous land title has never been resolved. These issues were excluded from the mandate of the public review on which the government says it based its decision to approve Northern Gateway.
THERE ARE 3 PROVINCIAL PARKS, AND 1 PROTECTED NATURE RESERVE THAT THE PIPELINE WANTED TO HAVE THE B.C. GOVT. CHANGE THE BOUNDARIES ON, SO IT WOULD BE EASIER TO INSTALL THE PIPELINE.
NORTH THOMPSON RIVER PROVINCIAL PARK - THERE IS A LOT OF BEAUTIFUL SCENERY AROUND THE PROVINCIAL PARK.
BRIDAL VEIL FALLS PROVINCIAL PARK - BELOW
F
INN CREEK PROVINCIAL PARK
The park features the braided meandering channel of Finn Creek, and a portion of the North Thompson River which contains some islands. Cottonwoods, cedars, hybrid spruce and birch along the wetter bottomlands exist in the park. The park protects important spawning habitat for bull trout, Coho and Chinook salmon. It is also an excellent year-round moose habitat.
LAC DU BOIS GRASSLANDS PROTECTED PROVINCIAL PRESERVE - BELOW -
Kinder Morgan has proposed to triple the capacity of its existing Trans Mountain Pipeline, which carries crude oil and other products from Alberta to Port Metro Vancouver, or Westridge Terminal, Burnaby, B.C. thru Finn Ck. Prov.Pk., N, Thompson River
Prov.Pk
, Lac Du Bois Grasslands, Bridal Viel Falls, Prov. Pk. all in B.C.
Kinder Morgan/Trans Mountain Pipeline owns a pipeline that has transported oil from Alberta to Burnaby for 60 years. It is now is applying to the federal government to twin the pipeline, to increase the oil flow from 300,000 to 890,000 barrels per day. The project would increase the number of oil tankers in the Vancouver area from 60 per year, to more than 400, said the company.
The Trans Mountain Expansion Project (TMX) is a proposal to expand the existing Trans Mountain pipeline system between Edmonton, AB and Burnaby, BC. It would include approximately 987 km of new pipeline, new and modified facilities, such as pump stations and tanks, and the reactivation of 193 km of existing pipeline. The Westridge Marine Terminal would also be expanded.

KINDER MORGAN/TRANS MOUNTAIN PIPELINE WORKERS - BURNABY MOUNTAIN-
Grand Chief Stewart Phillip arrives on Burnaby Mountain ... As well as other First Nations members..
DR. DAVID SUZUKI ARRIVED AT BURNABY MOUNTAIN TO JOIN THE PROTESTERS AND TO SEE HIS GRANDSON (STANDING BEHIND), WHO WAS ONE OF THE PROTESTERS ARRESTED.
I BELIEVE THERE WERE OVER ONE HUNDRED ARRESTED, AND SOME KINDER MORGAN SAID THEY WERE GOING TO SUE FOR HARASSMENT.
BUT GOOD NEWS CAME -
BY NOW KINDER MORGAN WAS ALMOST FINISHED ONE CORE SAMPLE,BUT THEY NEEDED MORE TIME TO MEET THE DEC. 1st DEADLINE, AND THEY WERE TURNED DOWN AND HAD TO LEAVE THE MOUNTAIN. THEY SAY THEY HAD ENOUGH INFORMATION TO PRESENT TO THE NATIONAL RESOURCES BOARD.
TRANS MOUNTAIN PIPELINE/KINDER MORGAN WANTS TO GO RIGHT UNDER THE BURNABY MOUNTAIN. SIMON FRASER UNIVERSITY SITS ON TOP OF THE MOUNTAIN AND THERE IS A NATURE RESERVE. OBVIOUSLY, BURNABY DOES NOT WANT THIS TO HAPPEN, BUT THE NEB GAVE PERMISSION FOR THE PIPELINE COMPANY TO ACCESS THE LAND TO DO THEIR STUDY TO SEE IF IT WOULD BE FEASIBLE, STATING THAT THEY DID NOT NEED PERMISSION FROM THE CITY OF BURNABY.
....A FOGGY DAY - BURNABY MOUNTAIN IN FOREGROUND WITH SIMON FRASER UNIVERSITY ON TOP.. BELOW-SFU ON TOP OF BURNABY MTN.
VIEW FROM BURNABY MOUNTAIN, SHOWING BURRARD INLET WHERE OIL TANKERS WILL BE GOING THROUGH.
-VIEW FROM TOP OF BURNABY MOUNTAIN THAT THEY WANT TO TUNNEL THROUGH!
SIMON FRASER UNIVERSITY, CONSERVATION PARK, CENTENNIAL PARK, ETC. SIT AT THE TOP OF BURNABY MOUNTAIN, BURNABY, B.C.
GARDENS IN CENTENNIAL PARK ON TOP OF BURNABY MTN.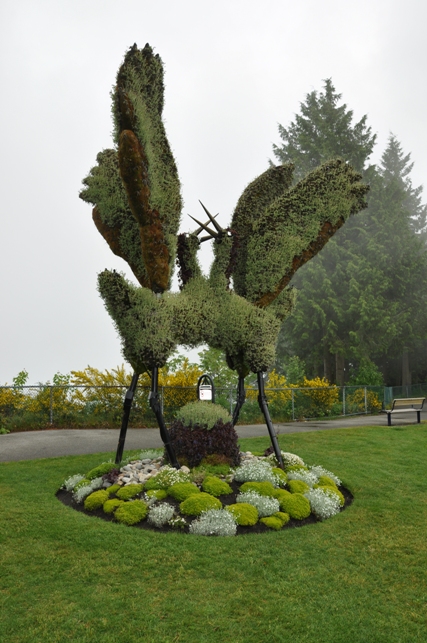 CENTENNIAL PARK ON BURNABY MOUNTAIN
BIKE SKILLS PARK ON BURNABY MOUNTAIN
TOTEM POLLS IN THE PARK, ON BURNABY MOUNTAIN -
Kamui Mintara (Playground of the Gods) sculptures. The Kamui Mintara comprises more than a dozen carved poles created by Japanese sculptors Nuburi Toko and his son, Shusei.Below are views from near the top of Burnaby Mtn.
TOTEM POLLS IN THE PARK, ON BURNABY MOUNTAIN -
Kamui Mintara (Playground of the Gods) sculptures. The Kamui Mintara comprises more than a dozen carved poles created by Japanese sculptors Nuburi Toko and his son, Shusei.Below are views from near the top of Burnaby Mtn.
HIKING AND BIKING ON BURNABY MOUNTAIN
JUST DOWN THE PATH IS THE SIMON FRASER UNIVERSITY.
BARRED OWLS IN CONSERVATION AREA, THERE ARE ALSO DEER ETC.
HIKING TRAILS, CONSERVATION AREA
VIEWS FROM THE TOP OF BURNABY MTN. LOOKING OUT ON BURRARD INLET WHERE THE OIL TANKERS WILL TRAVEL THROUGH TO GET TO THE OCEAN.
THE WESTRIDGE TERMINAL OF TRANS MOUNTAIN/KINDER MORGAN SHOWS HOW CLOSE TO BURNABY RESIDENTS.
GREENPEACE HUNG THIS BIG BANNER ON ONE OF THE PRESENT STORAGE TANKERS AT THE SITE WHERE KINDER MORGAN/TRANS MOUNTAIN TERMINAL WILL BE.
These (above) images represents a conceptual design for Westridge Terminal, based on preliminary engineering. The design may change after further developmental and detailed engineering. Burnaby, B.C. where pipeline will end and tar sands oil from Alberta will be loaded on tankers.

(ALSO BELOW)
The Trans Mountain Expansion Project team has worked extensively with Port Metro Vancouver (PMV), the Pacific Pilotage Authority (PPA) and the BC Coast Pilots (BCCP) to determine a preferred dock layout. We have also incorporated feedback from the City of Burnaby and our community discussions in the planning.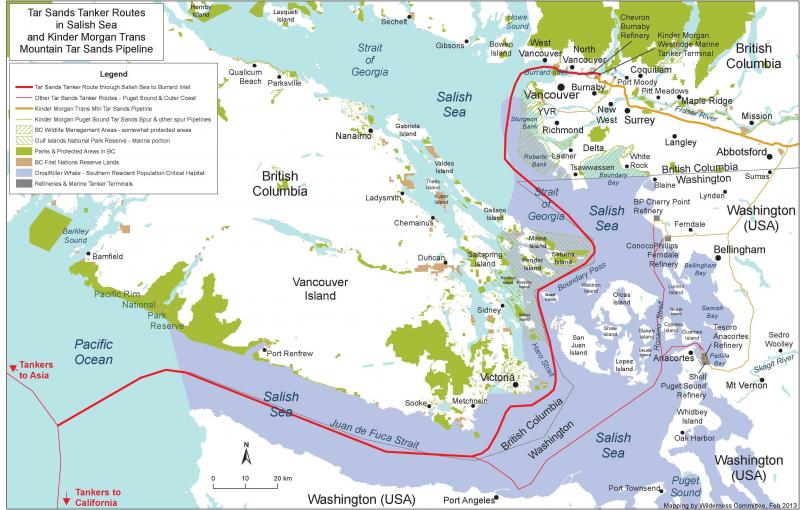 THIS IMAGE ABOVE SHOWS WHAT WOULD HAPPEN IF THERE WERE AN OIL SPILL IN ENGLISH BAY WHERE OIL TANKERS WOULD GO. THERE IS A STAND WITH LOOKING GLASS THAT WAS DONE BY DOGWOOD INITIATIVE, JUST BEFORE THE VANCOUVER ELECTION. I FIND IT PRETTY SCARY!!!!
EXACTLY WHY THERE IS CONCERN FOR THE OCEAN - THE GREAT BEAR SEA AND SALISH SEA WOULD BE RUINED!!!!!!!!!
Paddlers performed a ceremony at the third annual Salish Sea Summer Gathering to show that oil, in particular, the twinning of Kinder Morgan's Trans Mountain Pipeline that would subject B.C. waters to an estimated 400 tankers per year, is not welcome in the Tsleil-Waututh Nation's ancestral waters.
THIS MAP OF THE GREAT BEAR SEA SHOWS HOW IT INCORPORATES THE SALISH SEA. BOTH ARE AT RISK WITH OIL TANKERS GOING THROUGH THEIR WATERS.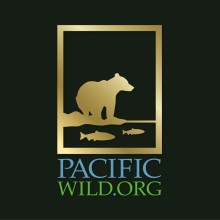 IAN McALLISTER AND HIS TEAM HAVE WORKED FOR YEARS TO SAVE THE GREAT BEAR SEA (AND THE GREAT BEAR RAINFOREST). THIS SITE AT PACIFIC WILD HAS LIVE STREAMING UNDER THE WATER AND ALSO ON LAND. MR. McALLISTER HAS WRITTEN MANY BOOKS ON THESE SUBJECTS, AND THIS IS AN AMAZING SITE.
SAVE THE GREAT BEAR SEA!!!
THE MAGNIFICENT ORCAS ARE IN BOTH SEAS
& HUMPBACK WHALES.
The Great Bear Sea is home to an incredible bounty of marine life — including humpback whales, sea otters, dozens of other mammals, and hundreds of species of fish. But this is not just about saving the wildlife. The ocean generates half of the oxygen we breathe and plays a major role in stabilizing the climate.
THE STELLAR SEA LIONS - ABOVE
WHITE SIDED DOLPHINS ARE PLENTIFUL.BELOW ARE THE SEA OTTERS.
SOME OF THE SEA OTTERS - ABOVE ARE TAGGED FOR OBSERVANCE. ONCE ALMOST GONE FROM THE GREAT BEAR SEA, SOME WERE BROUGHT DOWN FROM ALASKA, AND NOW THERE ARE HUNDREDS+
THE SALMON ARE SO IMPORTANT TO THE GREAT BEAR SEA, MARINE ANIMALS PREY ON THEM, THE SPIRIT (KEROMODE) BEARS, GRIZZLIES, BLACK BEARS, THE RAIN WOLVES, AND MANY SPECIES OF BIRDS FEED ON THEM. ALSO THEY ARE A VERY IMPORTANT PART OF FIRST NATIONS DIET.
It is always known when the herring run is on - just watch the gulls.
THERE IS A WHITE FOAM CALLED MILT THAT WASHES UP TO THE SHORES.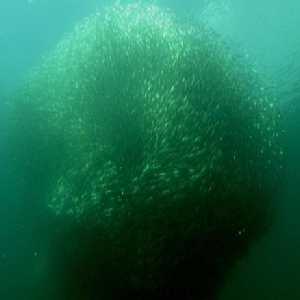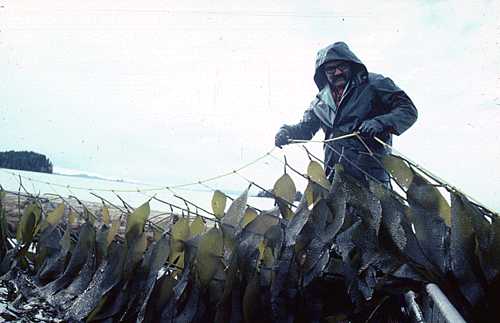 HERRING EGGS COLLECT ON KELP
In th
e spring there is a Herring run, they lay their eggs on the kelp, and the eggs (roe) are washed ashore by the waves, The herrring has always been prized by the First Nations.
HERRING ROE COLLECTS ON THE BEACH AFTER HIGH TIDE.
BEARS LOVE THE HERRING ROE, AND AFTER HIBERNATION NEED TO FILL THEIR TUMMIES.
HERRING EGGS (ROE) ATTACHES ITSELF TO THE KELP FROM UNDER THE SEA.
Thick roe on stringy algae or yaga (Egregia menziesii)- BELOW
A BED OF MUSSELS AT LOW TIDE, THERE ARE ALSO SHRIMP, CRAB, & CLAMS
BELOW THE SEA: WITH IAN McALLISTER................................
Vast waves of opossum shrimp bring rockfish from below and birds from above.
BELOW ARE SEA STARS - FOR SOME REASON - MAYBE SOME KIND OF VIRUS, THE PURPLE SEA STARS ARE DYING - THEY GO LIKE GOO.
BELOW -
There were also the basket stars ... and down deep, around 100 feet or so ... I found one that was sizeable and with its arms fully extended, feeding on the planktonic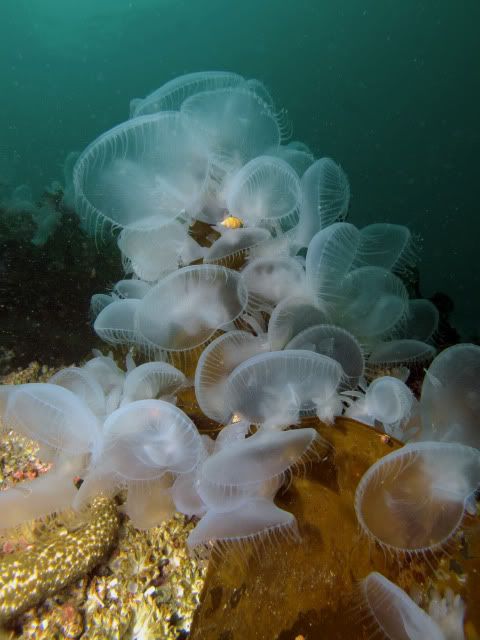 A translucent nudibranch, or predatory sea slug, swims near the Great Bear Rainforest.AND the photo just above with the diver is a Hooded Nudibranch.
Stingless Pacific Moon Jellyfish, one of the simplest forms of life above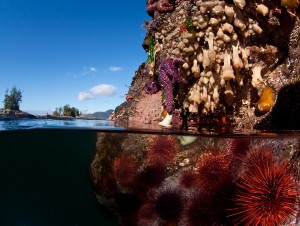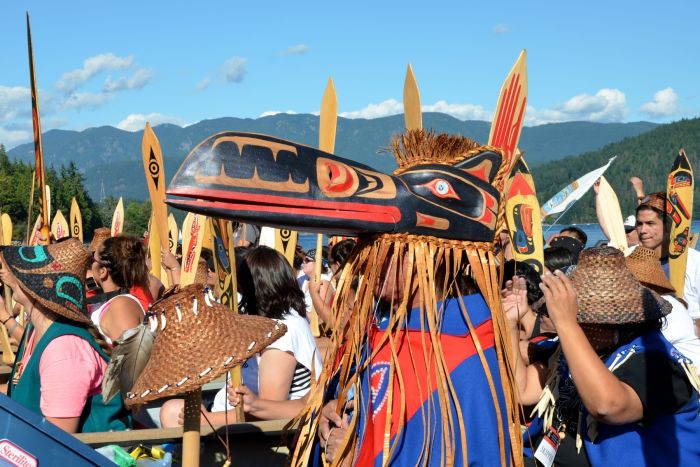 Leaders sign declaration to protect Salish Sea. First Nations Paddle to protect the Salish Sea above.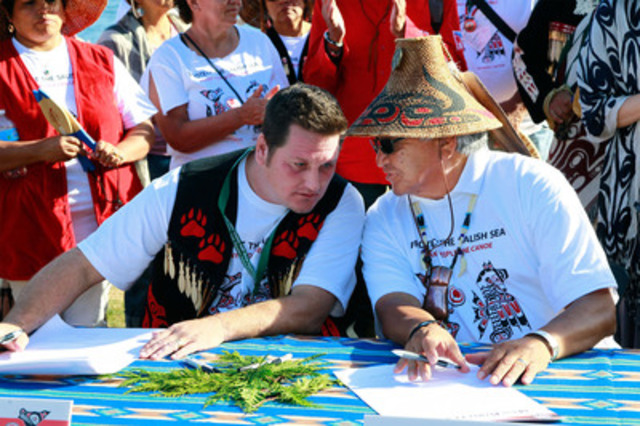 Chief Justin George of Tsleil-Waututh Nation and Chief Gibby Jacob of Squamish Nation sign a historic declaration to protect the Salish Sea.
MOST OF THESE MARINE MAMMALS ARE THE SAME AS THE ONES IN THE GREAT BEAR SEA.
WE MUST DO ALL THAT WE CAN TO STOP THE MADNESS OF OIL TANKERS GOING THROUGH THESE WATERS TO ASIA. WE ARE TAKING ALL THE RISK AND THERE IS SO MUCH TO LOSE.
----------------------------------------------------------------------------------
Salmon not fully eaten are left and feed the forests!
MEW GULLS AND BALD EAGLES FEEDING ON SALMON EGGS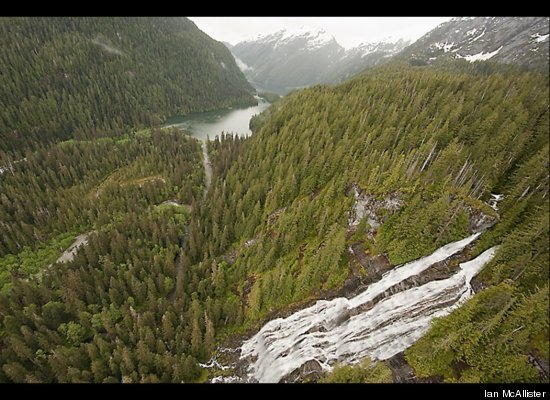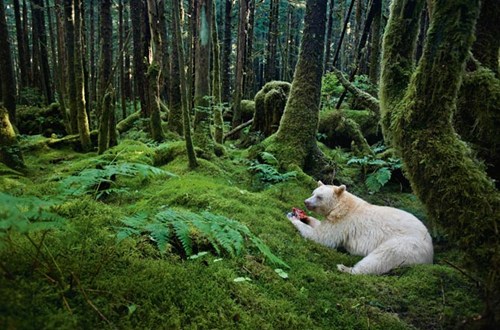 -