Global impact of the world's existing meat consumption
- A report summary by the CIWF (Compassion in World Farming Trust)
This counts for milk and eggs to a lesser degree as well.

Summary:
~ Current global meat, milk and egg consumption is
unsustainable
for the growing human population.
~ To meet today's consumption demand, more factory farms are being employed instead of traditional organic farms.
~ Consuming vast amounts of (factory farmed) animal products is
not healthy
. (Animals are being drugged to increase their growth unnaturally.)
~ Animals in factory farms are also being pumped full of
antibiotics
, which increases bacterial resistances.
~ Factory farming of animals raised for food causes
pollution
in the form of soil erosion and extra methane and CO2 emissions.
~ Raising animals for food is energy and protein
inefficient
(it takes more than 7 pounds of grain to get 1 pound of meat, and soy beans are 7 times more protein efficient to grow than meat).
~ Animals
suffer
in factory farms.

Factory Farming
has animals kept inside a "factory" building, in most cases all year round, in semi-caged enclosures with very little space and comfort. Some animals can't lie down, and most have
no access
to stimulating activities natural for them. This building is inaccessible to visitors. The unnaturally fast growth and body size causes animals to develop skeletal and neural disorders. Since most industrial farms are enterprise driven, the farm workers often don't have a connection with the animals, leading to animal
abuse
. Higher-ups have little initiative to enforce well-being over profit.
Transport to slaughterhouses is exhausting for the animals, often taking many hours, without food or drink. The animals are kept in cages in the transport vehicle. Some die on the way. This is also the only time many see sunlight.
Commercial slaughterhouses are made to be efficient, and move so fast that sometimes animals aren't properly stunned or killed, causing them to be
alive and conscious
for butchering.
Be aware that some fish, especially salmon, is from fish farms, which has similar problems to land farms!
Eat less meat, milk and eggs, and buy organic.


Up to
90 %
of poached birds
die
before even reaching the pet store. Parrots are social creatures with a need to exercise their wings, and they suffer a life in a cage. Even locally-bred parrots usually don't get their needs satisfied.
Don't buy birds as pets. Enjoy them in the wild instead!
Photo: © Dana Allen
Please help the
World Parrot Trust
.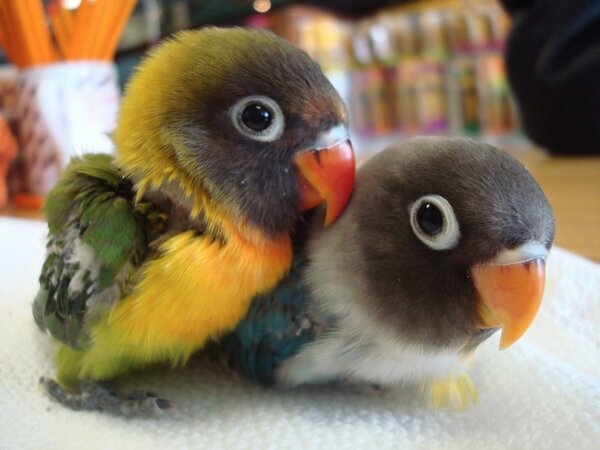 Image from critterbabies.com
Animals in China
In Asia, and especially China, and Korea, the traditional view of non-human animals is that they're
not sentient
. They also believe that beating the animal to death or cooking it alive gives them health benefits and vigour. As a result, animals are being treated like objects, kept in cages barely large enough to contain them, beaten ruthlessly, and then skinned, alive. Some people even torture animals for enjoyment.
Here is a video
(
WARNING
: very disturbing) of a group of Chinese people having tied a cat to a tree so it can't move. They have cut open the skin along its back. The cat is using what energy it has left to gently miao for help. They very slowly keep cutting and skinning the cat alive. The cat passes out from the torment, and they wake it up again. They are enjoying this. People walk by, and no one stops or is even surprised.
There are also
bear bile
farms in China, where moon bears are kept in tiny cages and get unsterilised needles inserted into their abdomen to puncture their gall bladder twice a day and tap bile, because Chinese like to use bile for medicine instead of synthetic alternatives. The wounds never heal for as long as the bears are on the farms. They very frequently develop infections and gall bladder cancer. They also get spine deformities from living their lives in crammed cages.
Here is a video
of bear bile farming and AnimalAsia's wonderful work to end it.
There are
no animal protection laws
in China. Please sign
this petition
asking to implement animal protection laws.
Over a million Animals will die the most painful death in the next 24 hours in China only.
Fortunately people are becoming more informed in China through animal organisations there. Please support one of the below animal organisations so they can continue their work. Every little bit helps. The suffering of animals in China is tremendous. It is
hell
.
Animals Asia
Duo Duo Animal Welfare Project
People 4 Chinese Animals
Animal Guardian Organization