learned from my cats.
Something happened that removed my Billboard. I'm not all that thrilled to start it again, but here goes!
I love feeding and watching the birds in my back yard in Maine. The birds aren't exotic, just chickadees, finches, robins, pileated and other woodpeckers...an occasional cardinal... and huge bluejays and ravens sometimes. Here's a darling little jay I've never seen, but perhaps will one day. I heard of it from Dandelion in Florida...a native bird there, so I've gotta travel to see it. Enjoy!
And our other loving creatures are so important in this life. Let's care for them properly and lovingly.
These are my babies. Bitty Buddha & Jenny Gump.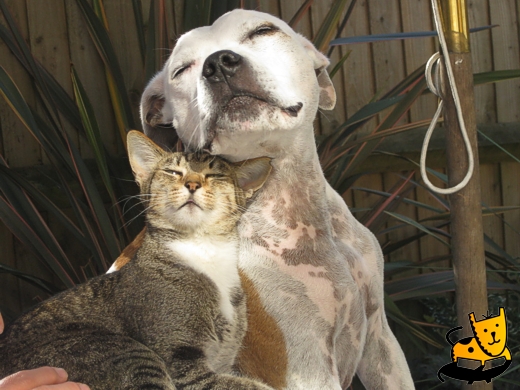 I love cats, too. They are perfection in my estimation. Let's not capture or contain wild animals in zoos. And let's neuter those we keep as pets. And let's adopt our pets from shelters instead of puppy and kitty mills which have owners who abuse them. Let's agree to take care of the other creatures of the world. They are so far superior to us!!
POSSIBILITIES
I prefer movies.
I prefer cats.
I prefer the oaks along the river.
I prefer Dickens to Dostoyevsky.
I prefer myself liking people
to myself loving mankind.
I prefer keeping a needle and thread on hand, just in case.
I prefer the color green.
I prefer not to maintain
that reason is to blame for everything.
I prefer exceptions.
I prefer to leave early.
I prefer talking to doctors about something else.
I prefer the old fine-lined illustrations.
I prefer the absurdity of writing poems
to the absurdity of not writing poems.
I prefer, where love's concerned, nonspecific anniversaries
that can be celebrated every day.
I prefer moralists
who promise me nothing.
I prefer cunning kindness to the over-trustful kind.
I prefer the earth in civvies.
I prefer conquered to conquering countries.
I prefer having some reservations.
I prefer the hell of chaos to the hell of order.
I prefer Grimms' fairy tales to the newspapers' front pages.
I prefer leaves without flowers to flowers without leaves.
I prefer dogs with uncropped tails.
I prefer light eyes, since mine are, too.
I prefer desk drawers.
I prefer many things that I haven't mentioned here
to many things I've also left unsaid.
I prefer zeroes on the loose
to those lined up behind a cipher.
I prefer the time of insects to the time of stars.
I prefer to knock on wood.
I prefer not to ask how much longer and when.
I prefer keeping in mind even the possibility
that existence has its own reason for being.
~ Wislawa Szymborska and C. J. MacIver ~
(Nothing Twice, trans. by S. Baranczak & C. Cavanagh)
ARE YOU A HEALER, SAGE, GUIDE...?
GO HERE TO TAKE THE QUIZ:

http://www.nrcprograms.org/site/PageServer?pagename=remember_strength_quiz

THIS IS SO IMPORTANT---TO RID OURSELVES OF THE EVIL THAT IS BEING PERPETRATED UPON AMERICA RIGHT NOW. THE SUPREME COURT HAS PROVEN ITSELF TO BE CORRUPT BEYOND REDEMPTION.... THOSE WHO MADE THE RULING FOR CORPORATION CONTROL OF ELECTIONS ARE TRAITORS & CRIMINALS!
IN MEMORY OF JOHN T. WILLIAMS
The picture that was here disappeared.
\
John T. Williams died in Seattle at the hands of a cop who shot him dead because John T. didn't respond to the cop's order. John T. was partially deaf and didn't understand the order. John T. died because he was deaf.
---
I mourn all creatures, great and small, who die without love or respect. I mourn my own darling pets who have passed by my way and who will never depart my heart. L'chaim, my dear ones:
Yellow kitty, Buffy, Casper, Si-Mon, Shonah, Emma, Jake, A.B. (Austin Blackie), and Blue Stocking. I will join you one day, if I'm lucky!
And bless my darling present babies:
Bitty Buddha & Jenny Gump
---
.......................................................... AND THEN IT IS WINTER
You know, time has a way of moving quickly and catching you unaware of the passing years.


It seems just yesterday that I was young, just married and embarking on my new life with my mate. And yet in a way, it seems like eons ago, and I wonder where all the years went.


I know that I lived them all


And I have glimpses of how it was back then and of all my hopes and dreams… But, here it is..the winter of my life and it catches me by surprise… How did I get here so fast? Where did the years go and where did my youth go?


I remember well… seeing older people through the years and thinking that those older people were years away from me and that winter was so far off that I could not fathom it or imagine fully what it would be like… But, here it is… my friends are retired and getting gray… they move slower and I see an older person now. Some are in better and some worse shape than me... but, I see the great change… Not like the ones that I remember who were young and vibrant… but, like me, their age is beginning to show and we are now those older folks that we used to see and never thought we'd be.



Each day now, I find that just getting a shower is a real target for the day! And taking a nap is not a treat anymore… it's mandatory! Cause if I don't on my own free will… I just fall asleep where I sit!
And so, now I enter into this new season of my life unprepared for all the aches and pains and the loss of strength and ability to go and do things that I wish I had done but never did!!
But, at least I know, that though the winter has come, and I'm not sure how long it will last...this I know, that when it's over...its over… Yes, I have regrets. There are things I wish I hadn't done… things I should have done, but indeed, there are many things I'm happy to have done. It's all in a lifetime…
So, if you're not in your winter yet… let me remind you, that it will be here faster than you think. So, whatever you would like to accomplish in your life please do it quickly! Don't put things off too long!!
Life goes by quickly. So, do what you can today, as you can never be sure whether this is your winter or not!
You have no promise that you will see all the seasons of your life… so, live for good today and
say all the things that you want your loved ones to remember…
and hope that they appreciate and love you
for all the things that you have said and done for them in all the years past.


You may not get the chance to say it later...


Make sure you have forgiveness given and asked for.


Life is a gift to you.


The way you live your life is your gift to those who come after.
Make it a fantastic one.'
LIVE IT WELL!----ENJOY TODAY!-----DO SOMETHING FUN!----
Be a blessing...
BE HAPPY!----BE THANKFUL!
You only have today....tomorrow is not a promise...
***
Am I repeating myself? Must be... because the winters can be pretty funny, too... but I forget how!
And cherish all your friends.
You know who you are!