"Be more established!"

Kirkland, WA, USA
female, age 34
committed relationship
Speaks: Some Italian, some Spanish, english
Joined Apr 10, 2008


Causes: Womens Rights, Same Sex Marriage, poverty, Protect America's Forests, Marine Wildlife, hunger, homelessness, environment, Endangered Species, Drunk Driving, Breast Cancer Awareness, Animal Welfare

Activities: yoga, writing, shopping, reading, photography, meditation, Listening to Music, gardening, Bellydance, cooking, concerts, astronomy, arts/crafts




This is my second Care2 account, I switched because I wanted a different user name so here I am starting from scratch.
**Quick note: I am very excited that this weekend I will be attending the Dalai Lama event here in Seattle!
Salvador Dali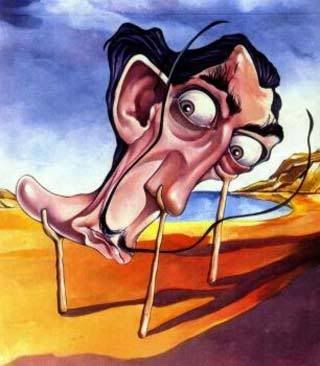 I am a fan of Salvador Dali's work, enjoy Bellydancing, reading weekend girly reads by authors such as Victoria Laurie and Angela Carter, collector of Alice in Wonderland items, healthy (most of the time) eating, a self proclaimed tea connoisseur, prefer natural healing, practice crystal work, meditate, yoga doer as often as I can, a writer ONLY problem is I am a Gemini which means I will start writing only to stop and start writing something else...
Joined
Apr 10, 2008
Activist Aspirations
undeclared
Here for
Meeting Friends, Support a Cause
Group Host of
none yet
Groups
Alice In Wonderland, American Senior Cats, Aquarium Enthusiasts, Bellydance, Buddhism, Metaphysical, PRRA - People for the Rights and Respect of Animals, Pagans, SeattleIssues/PacificNorthwest, Spirituality: through the eyes of the open mind.
Hometown
Los Angeles, CA
Homepage
Birthday
June 16, 1980
Languages
Some Italian, some Spanish, english
About Me
Introduce yourself to Nicole
Lifestyle
Pets
2 Cats
Activist Aspirations
Political Leaning
Religions
spiritualist, Pagan, Buddhist
Eating Habits
Raw Foods, LOTS OF TEA, garlic, Keep it Healthy, Drink Loads Of Water, Aspiring healthy eater, Almost anything... :)
Wild Fact About Me
I am a night owl and an early bird.
My Philosophy
Every moment spent being uhnhappy is a moment wasted!
What Gives Me Hope
The Earth, Sun, Moon, Words of wisdom from His Holiness...
If I were Mayor, I'd make the world a better place by
Stop wasting money! Fix the issues that require immediate attention: poverty, hunger, abuse (animal and human), healthcare, etc.
What/who changed my life and why
Don't laugh...Bridget Jones's Diary! I know, kind of lame, LOL!
What Bugs Me
people who WON'T use their minds!, People who steal, People who can't be their self, Religious intolerance, ignorance, Drunk Drivers, cruelty, Animal abuse
Passions
photography, writing, trees, reading, my cats, making a difference, LIFE!!!, learning, laughter, environment, Energy Healing And Love, earth, books, art, animals
Inspirations
Earth, the sun coming up, the beauty of nature, Bellydace, music, LIFE!!!, happiness
What Scares Me

Favorites
Role Models
My Wonderful Boyfriend Brian, Princess Diana, Mother Teresa, Maya Angelou, Dalai Lama, Buddha, Albert Einstein, My Mother and Father, My Grandmother, My Grandfather
Quotation
Interests
wildlife, Spirituality/Philosophy, recycling, Mythology / Folklore, Mind/Body/Spirit, meditation, herbs, gardening, environment, crystals, Books, Metaphysics, Alice in Wonderland, Salvador Dali, Bellydance
Books
Weekend girly reads, Fantasy, Twisted reads, LOTR, Harry Potter, Paranormal/Ghosts, Spirituality, Paganism, Buddhism, Dalai Lama, Victoria Laurie, Angela Carter
Music
Middle Eastern, the beatles, rock, Led Zeppelin, Hip Hop, classical, Classic Rock, celtic
Movies
Harold and Kumar, Superbad, Zoolander, Horror, 80's Flicks, Pretty in Pink, Sixteen Candles, Donnie Darko, Harry Potter, LOTR, Down with Love, Boondock Saints, Bridget Jones, Legally Blonde, Amelie, Way too many to list
TV Shows
the Daily Show, Animal Planet, Family Guy, Discovery Channel, Scrubs, charmed, Buffy the Vampire Slayer, futurama, Gilmore Girls
Favorite Foods
A mix btwn healthy and not!, chinese, salad, tacos, spaghetti, Teryaki, Cheeseburgers
Favorite Places
Nature, Anywhere with trees, Seattle, San Francisco
Can't Live Without
Family and Friends, Music, Dance, Faith, Love, Tea, Tasty Food, Books, Crystals, Moon, Sun
Introduce yourself to Nicole
My Butterfly Rewards
Recent Activity
---
I've earned Butterfly Credits