"To help animals as much as I can."

Ocean City, NJ, USA
female, age 31
married
Animal Attendant / Shelter Worker/Vet tech
Speaks: English
Joined Feb 25, 2006


Causes: Animal Welfare, Animal Welfare, Animal Cruelty, Animal Abuse, Animal Research, Against Factory Farms, Anti-Hunting, Zoo Reform, Abolish the Death Penalty, Pro-Choice, Legalization of Prostitution, Same

Activities: Writing, Volunteering, Trivia, Tombstone Rubbing, Scrapbooking, Reading, Meditation, Music - Concerts, Listening to Music, Painting, People Watching, Prayer, Astronomy, Backpacking, Bowling, Cafes, Camping, Concerts, Dance, Drawing/Sketching, Football (Am




WHIPS AND CHAINS BELONG IN THE BEDROOM--- NOT THE CIRCUS. BOYCOTT RINGLING BROS.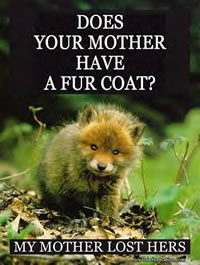 Joined
Feb 25, 2006
Activist Aspirations
Rabid
Here for
Meeting Friends, Job Search, Professional Connections, Support a Cause, Other
Group Host of
none yet
Groups
(PTT) Peace Think Tank, A Free Stuff Network (AFSN), ANIMAL HOTSPOT...THE INFORMATIVE PLACE, Abolish Animal Abuse, Activist Employment Opportunities: Job Postings, Activists Against Factory Farming, Activists of New Jersey! Networking to make a difference, All the best bands, American Staffordshire Terrier and Pit Bull Lovers, Amnesty International, Animal Abuse and Awareness, Animal Activists, Animal Wellness and Holistic Guidance for Animal Companions, Animals Do Talk more »
Hometown
Ocean City, NJ
Homepage
Birthday
March 03, 1987
Languages
English
About Me
I love animals, writing, reading, art, and standing up for what I think is right. I live with my wonderful, supportive, fiance and all of our cute furry friends.
Introduce yourself to Shawna
Lifestyle
Pets
@ my house: Pyewacket our kitten, Erezbet our rat. At my mother's Pixie th, Scruffy the guinea pig. At my dad's: Phr, Flea the cat, Robespierre, yet another cat
Activist Aspirations
Rabid
Political Leaning
Depends
Religions
Christian - Episcopalian
Eating Habits
Coffee - Now!
Wild Fact About Me
Every fact about about me is wild.
My Philosophy
"And harm you none, do as you will."
-- The Wiccan Reade
What Gives Me Hope
Animals, nature, good people.
If I were Mayor, I'd make the world a better place by
Attempt to chage the animal Welfare Act(AWA) to include, all currently excluded animals. As it stands now, companies that test on rats, fish, birds, and all cold blooded animals are not required to protect these animals under the AWA.
What/who changed my life and why
So many wonderful people have changed my life. For one, my supportive fiance, who helps me with everything from my activism, to my writing, to my life in general.
What Bugs Me

Passions

Inspirations

What Scares Me

Favorites
Role Models
Socrates, Ingrid Newkirk, mother, father, My step-father, Bono from U2, Jack Miller, Bruce McEwan, Peter Singer, Bud Cole
Quotation
There are too many to list, but here is a good one:
"To forgive is not to forget. The merit lies in loving in spite of the vivid knowledge that the one that must be loved is not a friend." --Mahatma Gandhi
Interests
pets, Wildlife, Antiques/Collectibles, Aromatherapy, Books - Author, Disabilities / Challenged, Environment, Herbs, Holistic Health, Homeopathy, Humor, Libraries, Linguistics, Marine Studies, Meditation, Mind/Body/Spirit, Music
Books

Music
Most rock. Usually bands that started be
Movies
Vampire movies, Disney Movies, Animal Rights documentaries, National Geographic films
TV Shows
Animal Planet, Star Trek TNG, Law and Order SVU, Charmed, Family Guy
Favorite Foods
COFFEE and CHOCOLATE, that's about it
Favorite Places
Belleplain State Forest, Jim Thorpe, Ireland, Los Olivos
Can't Live Without
Animals, My notebooks, Pilot pens, Friends and family, Books
Introduce yourself to Shawna
My Butterfly Rewards
Most recent activity (up to 500 gifts shown)
---
I've earned Butterfly Credits