"enjoy what you have,hope for what you lack-i got that from a fortune cookie & it was tasty"

, AA, USA
female
single, 4 children
Speaks: Would like to learn another language
Joined Jan 18, 2005


Causes: animal rights-meaning protecting them, Violence against Women - A, zoos/circuses/rodeos, Protect America's Forests, against factory farms, anti-hunting, very severe sentances for animal abuse, protection for wildlife and pets, Children Rights, Animal Welfare, envir

Activities: camping, travel, yoga, walking, Wildlife Observation, prayer, cooking, Journal Keeping, swimming, art, singing, Amusement Parks, hiking, reading, writing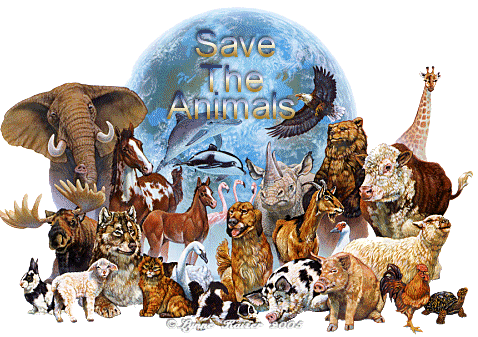 Removal Of The Group Feral Peril
http://www.thepetitionsite.com/takeaction/743884512
Sponsor: Waya Yonega Adesi
I am fighting to end the suffering of animals on Chinese fur farms; please sign this petition for the animals: http://www.PetitionOnline.com/s1a2c5ff/petition.html
~~~~~~~~~~~~~~~~~~~~~~~
~~~~~~~~~~~~~~~~~~~~~~~~~~~~~~
Please help me save this horsefarm from being destroyed and turned into condos!! Please read my share to find out more details: http://www.care2.com/c2c/share/detail/2603, or if you would like to sign the petition, please click here: http://www.thepetitionsite.com/takeaction/566714037
~~~~~~~~~~~~~~~~~~~~~~~~~~~~~~
Big Cat Rescue CLICK TO FEED A BIG CAT FOR FREE EVERY DAY!
~~~~~~~~~~~~~~~~~~~~~~~~~~~~~~
Focus:Endangered SpeciesAction Request:PetitionLocation:United States
Quick links:
Sign the Race for the Big Cats petition!
SPREAD THE WORD!
Put this image on your profile billboards, and on your favourite groups. If you need more help, read the first comment to this share, or contact me.


What's the problem?

While tigers number less than 3000 today, China's 1993 ban on the use of tiger parts, and its enforcement, has been instrumental in ensuring that the species does not go extinct.

All the same, some Chinese investors have created tiger farms, with the intention of breeding tigers and slaughtering them (like poultry). They are now lobbying the Chinese government to permit the use of farmed tigers in products like medicines and wines.


So how does that affect wild tigers?

Rearing tigers is expensive requiring $3,000-4,000 a year to feed a single animal. A poached tiger, on the other hand, can be acquired for as little as $50. A poached tiger may therefore be smuggled in and passed off as a captive-bred tiger. It's simple economics. If farmed tigers cost 80 TIMES as much as poached ones, wouldn't the demand for poached tigers sky-rocket? There can be no doubt that this move will drive tigers EXTINCT.

While farming the world's most beautiful animal is indeed cruel, the fact that it will wipe it out, forever, is a compelling reason to ask the Chinese government not to reconsider its commendable stance.

Why sign the petitions?

Look at them:



Photograph by Michael Nichols

Would you want them to turn into this:




Or this?


(it's an advertisement for tiger wine)

Sign the petitions. And spread the word!




I am fighting to end the suffering of animals on Chinese fur farms; please sign this petition for thttp://www.petitiononline.com/s1a2c5ff/petition.htmlhe animals:


The "Origami Whales Project"

This project is global in scope, and children (and adults) of all ages, schools, organizations, individuals, from all nations are invited to participate to raise awareness to the numbers that have been killed, as well as the need to halt further slaughter of these amazing Beings.

http://www.peggy-oki.com/cu_origami.html


WHAT THEY NEVER TOLD YOU........
http://www.peta2.com/p2vsk2_flash/

And so can you! Click to Donate sites make a donation just by you clicking...for FREE! Stop by this site and do ALL of your click to donates at once, with just ONE CLICK! Not only the click to donate sites just here at Care2, but click to donates from all the other sites too...WITH ONE CLICK! However, when you can, please take time to click on the sponsors....they depend on these sites!
http://dailycharity.googlepages.com/donate.html
Focus:Animal WelfareAction Request:PetitionLocation:United StatesSave Our FL Panther, Stop the Over-development of Florida
Target: Charlie Crist, Governor, Great State of Florida
Sponsor: Ceci M Madruga, http://www.care2.com/c2c/group/FloridaPanthers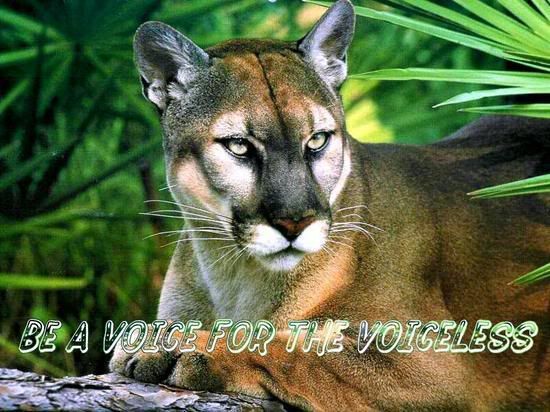 ATTN: GOVERNOR CHARLIE CRIST
FROM THE PEOPLE OF CARE2.com, THE WORLD OVER!

The purpose of this petition is to make it known to the Government of Florida that it is no longer acceptable to destroy this state. The environment, the wildlife has been put at great risk, and it is no longer a "sit back and wait" situation, we must take control and take our state back for our Florida Panthers, Manatees, Bald Eagles, Alligators, and all those suffering the effects of over-development. We know the time has come for a showdown with the developers and greedy politicians spread out all over our state. If they are allowed to continue to build uncontrollably we will no longer have the state we all know and love, but a skeleton of what once was a paradise. All that we know, all that we have loved all our lives will slowly die and disappear, including our beloved Florida Panther, as well as our Manatees, our beautiful birds, and just about every unique and special flora and fauna that reside here in this great state. Roads shouldn't drive land use decisions, and support is needed now for the Florida Forever Act (the state land acquisition program) to be funded at an increased amount during this legislative session. We also truly believe that Florida stands much more of a chance against global warming in it's most natural state, than it would as a block of cement.
TO READ MORE AND TO SIGN, PLEASE CLICK THIS LINK:
http://www.thepetitionsite.com/takeaction/607920770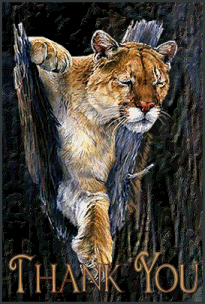 Please sign this petition if you haven't already to stop the cruelty on Chinese fur farms! I would like to cross the 1,000 sigs mark, but I am 7 sigs away at the moment. Please sign for the animals! They need our help! Thank you!


http://www.petitiononline.com/s1a2c5ff/petition.html
If you are not convinced that animals are being treated with incredible cruelty on these farms, please take a look at this video, but be warned, it is VERY GRAPHIC and not for the faint of heart!!!!
http://www.petatv.com/tvpopup/Prefs.asp?video=fur_farm
Additional petitions have been created to stop the fur industry, and if you would like to sign them, here are the links:

And here is yet another great petition to sign. This petition is for banning the fur commerce in USA.
Plz help take dogs and cats of the menu in Korea!
http://www.animal-lib.org.au/subjects/subjects/korea--dogs--cats.htm
Focus:Animal WelfareAction Request:VariousLocation:AustraliaThis is a wonderful site were you can write letters,send donations,and boycott to help save the Kangaroo's. They need our voice that its wrong to eat them, take there skin and harm them.
http://www.savethekangaroo.com/
& other kangaroo/wallabee links
http://www.savethekangaroo.com/links.shtml
Posted:
Dec 3, 2005 11:09am |
comment
(2) |
discuss
(0) |
permalink
|
edit
|
delete
Visibility:
Everyone
Tags:
Alert: Help Cheetah's!
Focus:Animal WelfareAction Request:VariousLocation:United States
Read Scout and Patch's story here:
http://articles.news.aol.com/news/article.adp?id=20051125090009990003&_mpc=news.10.1&cid=

84
2
From a PETA e-mail, 12/2/05:
Thank you for contacting us about the two cheetah cubs who were rescued by American troops in Gode, Ethiopia. We are grateful that these two cubs have been removed from such an abusive situation. On Wednesday, November 30, the cubs were airlifted to Addis Ababa and released on the grounds of the National Palace, where palace staff will care for them.
Sadly, such exploitation of wildlife is not uncommon. As is the case in many African nations, Ethiopia's animal protection laws are weak, and existing regulations are rarely enforced. We hope that this rescue will increase international pressure on the Ethiopian government to improve animal protection laws. You can help by writing a short, polite letter to the Ethiopian ambassador urging him to give animals the time and attention that they deserve:
His Excellency Kassahun Ayele
Ambassador Extraordinary and Plenipotentiary
3506 International Dr., N.W.
Washington, DC 20008
202-364-1200
202-587-0195 (fax)
info@ethiopianembassy.org
Cheetahs are in very real danger. Poaching, ranchers, loss of habitat, and competition with large predators have significantly impacted their numbers. Cheetahs need large areas of land to survive, but with the expanding human population throughout Africa, their habitat is shrinking.
The Cheetah Conservation Fund is an international charitable organization devoted to protecting this endangered species. The group's International Research and Education Centre is based in Namibia. For more information about the Cheetah Conservation Fund's efforts, you may contact the organization's U.S. office:

Cheetah Conservation Fund
P.O. Box 198072
Cincinnati, OH 45219-8072
513-487-3399
513-487-3398 (fax)
info@cheetah.org
plz help stop this horrable murder!
Focus:Animal WelfareAction Request:VariousLocation:United Statescan someone plz make a petition against this! i was looking for pics of bobcats on the yahoo search and this came up...it shows hunted deer and BOBCAT!
MEMBERSHIP PHOTO PAGE
Had some success this past hunting season that you would like to share with the membership? Caught any nice fish this past year or have a photo of a possible entry in this years contest? This is the place to post it. You can send photos attached to email or mail them to me and I will scan them for the site. All pictures must be of good taste (no bloody photos)! Include some short and to the point details and I will attempt to add them when I update the site.
Mail photos to: VPSA Webmaster, P.O. Box 26, Battery Park VA 23304
Include a self addressed envelope with sufficient postage if you want your original photo returned!
email to: vpsa1940@hotmail.com
The pictures below are thumbnails for fasting loading of this page. To see larger versions of these pictures double click on the image! Click the Back button on your browser to return to this page after viewing.
2000 - 2001 Hunting Photos
Non-Member John Graham harvested this nice buck in Suffolk, VA on 11-25-2000 at 10 yds. using a shotgun. John plans to enter the deer in the 2001 Contest.
photo courtesy of John Graham
Mark Maxwell of Smithfield, VA poses with some some of the animals he harvested during the 2000-01 Hunting Season
19" 8 Point harvest 12/16/200 with shotgun in Sussex Co.
19" Six Point harvested 10/23/00, 185lbsYork Co. with bow
26 lb. Male Bobcat harvested 11/3/2000 in Sussex Co. with bowSpike Sika Deer harvested on Eastern Shore with bow 10/3/2000. Jeff Scott (Left) Mark (Center) James "Bubba" Pauley (Right).
photos courtesy of Mark Maxwell
Non-member Ricky Mays havested this 11 pt. buck on 12/30/2000 using a muzzleloader in Bedford Co. Although Ricky is not a member he intends to enter his buck in the Big Game Contest.
photo courtesy of Ricky Mays
VPSA member Christy West of Smithfield, VA harvested this nice 8 pt. buck, 16 in outside spread, 135 lbs. hunting with her father Raymond West on 12-8-2000. The deer was taken at 35 yd. while rattling horns and using a shotgun.
photo courtesy of Raymond West
Keith Sherman of Evington, VA poses with his 11 pt. buck taken in
stop the killing of whales!
http://www.thepetitionsite.com/takeaction/111615377
and dolphins!
http://www.thepetitionsite.com/takeaction/427037941
Please visit
Landcare Project Platypus redirect
and help green up Australia! It's a free click to donate!



By Adding Words as Leaves You Collaborate to Nurture a Virtual Tree.
As the virtual tree grows, NEC will plant real trees on Kangaroo Island in Australia. For every 100 leaves (user-submitted msgs) on the virtual tree on ecotonoha.com, the company will plant an actual eucalyptus tree. Visit once a day.
https://www.ecotonoha.com/index_en.html
HOW TO WRITE:
1) follow the link to the ecotonoha website
2) click on either "fullscreen" or "normal" to enter the main site...
note: it will give you a replay of the msgs up to that time of the day, you can just click on "skip replay" to bypass all that and see the current state of the tree
3) if you mouse over the tiny black circles on the tree..they turn red, click on any one of those circles ..this will zoom you into that part of the tree
4) the black circles represent places on the branches that already have leaves (msgs), and the red dots represent free places...so click on one of those red dots ..and it will zoom in on that spot
5) a box will pop up, allowing you to enter your name and a brief msg
6) submit that and your msg will appear on the tree...and another leaf will be added to the tree :)
*Special thanks to
beatrice D.
for bringing this to everyone's attention!


RIP Steve

You were one hell of a man. Thanks for caring for the animals. You will always be loved and appreciated for all that you did to help them, and to all that you educated. I'll miss you terribly mate.



To All Non-Pet Owners Who Visit & Like to Complain About Our Pets:

1. They live here. You don't.
2. If you don't want their hair on your clothes, stay off the
furniture. (That's why they call it "fur"niture.)
3. I like my pets a lot better than I like most people.
4. To you, it's an animal. To me, he/she is an adopted son/daughter
who is short, hairy, walks on all fours and doesn't speak clearly.


ps:help stop canned lion hunting!
http://www.thepetitionsite.com/takeaction/842248180
Joined
Jan 18, 2005
Activist Aspirations
Rabid
Here for
Meeting Friends, Support a Cause
Group Host of
none yet
Groups
(APPPN) A Petition Posting & Peoples Network, Activists 4 Abandoned Animals, Activists of New Jersey! Networking to make a difference, All About Declawing Facts, Animal Abuse and Awareness, Animal Activists, Animal Lovers, Animal Memorial Group, Animal Rights vs. Animal Welfare, Animal Wellness and Holistic Guidance for Animal Companions, Anti-Fur Animal Activists, Ask the Vet Techs, Bunny Lovers, Care2 Feedback and Suggestions more »
Hometown
candyland
Homepage
http://www.bebo.com/Home.jsp
Birthday
June 08
Languages
Would like to learn another language
About Me
To much to think of...
Introduce yourself to Cat
Lifestyle
Pets
fish, cats
Activist Aspirations
Rabid
Political Leaning
Depends
Religions
Christian - Catholic
Eating Habits
i dont eat
Wild Fact About Me
Take a Geuss:D
My Philosophy
to treat all living things equally
What Gives Me Hope
People that are on my side and God
If I were Mayor, I'd make the world a better place by
I have 5 things in mind^_^
What/who changed my life and why
all my pets that passed and there always with you and my pets now! old friends always with you and new ones family and all animals! Skippy the Bush Kangaroo and MeerKatManor and a movie about a tiger i saw when i was about 6 i love all the cat species and all the animals around the world!the movie Whale Rider changed me also!
What Bugs Me
injustice to animals, people who don't "listen", indifference, arrogance, BEING IGNORED!, liars, ignorance, bullying, Litter Bugs!!, Stupid mean people, Those who hurt others weaker than them, People claiming friendship that are not
Passions
my pets in the rainbow bridge, possitive feelings, pray, hope, Any Exercise, books, my cats, Old friends Friends and Parents, love, environment, earth, art, singing, writing, cats, animals, trees
Inspirations
peace, god, the sound of the ocean, Old friends and Friends and Parents, Love songs, love, happiness, good people, courage, cat, Birds chirping, animals
What Scares Me
animal abusers, politicians, fire, George Bush, Arogance, ignorance, Is how cruel the people of the world are, being alone, Ignorance and evil, hate, Old Age
Favorites
Role Models
Steve Irwin & his family
Quotation
So Shippo, your village called, they're missing their idiot.-Inuyasha
Interests
Developmental psycology, humor, fitness, Art, massage, wildlife, pets, Having Fun, Cartoons, Ghost stories, Helping Animal, Singing
Books
Animal Welfare, fantasy, any books about /the PARANORMAL, Sefl Help Books!, Self improvement, Anything to do with animals and nature
Music
a few anime songs, Some 70's, 80's music, celtic, Pop Rock, Hip Hop, reggae, beatles, punk
Movies
Anything for animal welfare, Some English comedy, Whale Rider, Yellow Submarine (The Beattles), Spirited Away
TV Shows
History, Some Anime and English comedy, 80's toons, Meerkat Manor, Animal Planet, aqua teen hunger force, grim adventures of billy and mandy, sealab2021, ghost documentaries
Favorite Foods
fruit, veggies, bread, rice, salad, italian, Ice cream, Cake, japanese, cheese, chinese, pizza, spaghetti
Favorite Places
england, usa, nature, New Zealand, the mountains, hawaii, ireland, italy, To many to name
Can't Live Without
writing, singing-writing songs, faith/hope, water, food, my pets, animals, art, cats, god, friends and family
Introduce yourself to Cat
My Butterfly Rewards
Most recent activity (up to 500 gifts shown)
---
I've earned Butterfly Credits