"Global culture is the first step towards global peace."

Valencia, Spain
male, age 31
single
Speaks: some Italian, Catalan, English as a 2nd Language, French, Spanish
Joined Dec 18, 2004


Activities: Meditation, Painting, Listening to Music, Movie watching, Magic, Prayer, Reiki, Books - Collecting, Chakra Balancing, Games - Roleplaying, Travel, Writing




Hi! Welcome to my page, feel at home and free to contact me and tell me whatever you wish and feel you need to express.
Please, WATCH this and let your HEART fly higher than what you may have imagined!

Meanwhile, you can help signing these petitions:
Homeless Youth Initiative
Tell Ford to Stand by Its Hybrid Commitment
(Thanks for helping the world be a better place for us all.)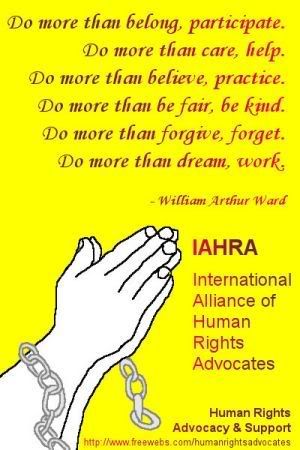 Clicking on the image you'll discover a whole new world, a place where strange human beings really care for their world, because they've realised something really bizarre: the Earth is their home and one should take care of one's home.
Don't you feel the warmth of the love their eyes give you? Well, they will soon stop doing so, because they will be killed. Would you like your best friend to be massacred? I don't think so, and the worst thing of all is that, if they are killed, the whole Earth loses their balance. And, even if you couldn't feel that warmth, you would be damaged by what hunters have done. Don't wait till seals disappear, act now you that can change it!
Click on the image to sign the petition!
(Thank you, on their behalf.)
Joined
Dec 18, 2004
Activist Aspirations
Enthusiastic
Here for
Meeting Friends, Job Search, Professional Connections, Support a Cause, Other
Group Host of
none yet
Groups
Amnesty International, Calling All Disabled, Medicaid, SS, Medicare Recipients, Disabled Support, GLBT Rights Global, Global Healing, Greenpeace, Human Rights Network, NATURE PROVIDES, Union of Concerned Scientists
Hometown
Valencia
Homepage
Birthday
Nov 28, 1986
Languages
some Italian, Catalan, English as a 2nd Language, French, Spanish
About Me
Deeply devoted to linking different cultures through language and art, aware that this is a crucial factor to ensure peace all around the planet: we are in need of knowing each other better. I work as a translator, so far my languages are: Spanish, Catalan, French and English. I plan on expanding to Turkish, Arabic and Italian.
Introduce yourself to Pablo
Lifestyle
Pets

Activist Aspirations
Enthusiastic
Political Leaning
Religions
Spiritual but not religious
Eating Habits

Wild Fact About Me
My Philosophy
I believe the human being is naturally inclined to do good, so the best thing that can be done is nourishing every single soul so that no wound can direct anybody to be harmful.
What Gives Me Hope
Seeing how very different people can work together for a common purpose, witnessing the resolution of a long-standing conflict or learning about how a single person has achieved so much.
If I were Mayor, I'd make the world a better place by
After ensuring total equality among different social groups (women, disabled people, 'racial' groups), I would focus all my attention on increasing the quality of education towards limits unknown, while decreasing the amount of money devoted to the army, of course. Erasing corruption would be one of my priorities too.
What/who changed my life and why
It was "Kryon 5: The way home", it showed me a new way of seeing life, people and the world.
What Bugs Me

Passions
music, languages, Global culture
Inspirations

What Scares Me

Favorites
Role Models
Jesus Christ, Buddha, St Germain, Mahatma Gandhi
Quotation
Interests
Biorhythms, Crystals, Disabilities / Challenged, Environment, Ethnic Studies, Internet, Linguistics, Magnet Therapy, Meditation
Books
, The Way Home, The Alchemist
Music
Celtic Woman, Enya, Hikaru Utada, Gripin, Cheb Khaled, Giorgos Alkaios, Tarkan, Robert Coxon, Zeljko Joksimovic, The Corrs
Movies
Under the Tuscan Sun, The final cut, What dreams may come, Bicentennial Man, The family Stone
TV Shows

Favorite Foods
Soups, Red fruits, Pasta
Favorite Places
Simply nature
Can't Live Without

Introduce yourself to Pablo
My Butterfly Rewards
Most recent activity (up to 500 gifts shown)
---
I've earned Butterfly Credits