"To help sick , injured, or abandoned animals"

Orwell, OH, USA
female, age 38
married, 3 children
Speaks: English
Joined Jun 5, 2006


Causes: environment, Adoption/Foster Care, Animal Welfare, Against Factory Farms, Anti-Hunting, Zoo Reform, Endangered Species, Protect America's Forests, Rain Forests, Euthanasia - Against, Evoluti




Hello everyone and Welcome to my page. Sorry I have been away for a while. Thank you for all your comments and stars they are very much appreciated.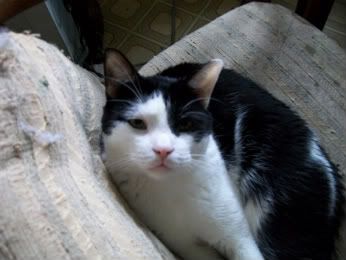 This is Sylvester. He was rescued in North Carolina. His mother was a stray who had been left behind by previous tenants. She had her babies under our house. Sylvester was one of the kittens along with 3 others. We took them in and provided for them, him and his brothers and sister are like family here. We have many others. Check out my photo albums to see other pictures and stories.
---
---
I am an artist and can paint pet portraits. I can paint them on sawblades, hand saws, wood plaques, canvas, shirts or other items.
If you are interested in having a painting done send me your request to songa454@yahoo.com
Prices will vary on every piece but I will try to work with your budget. Below are some samples. You can also check out my photos to see some more samples.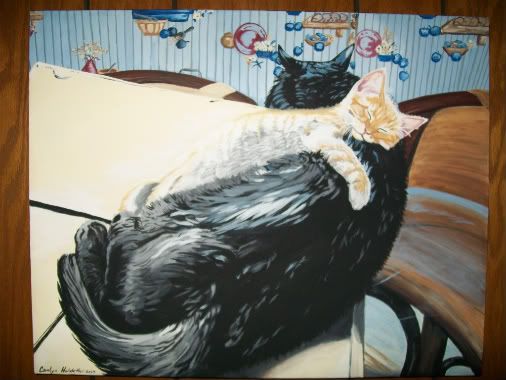 ---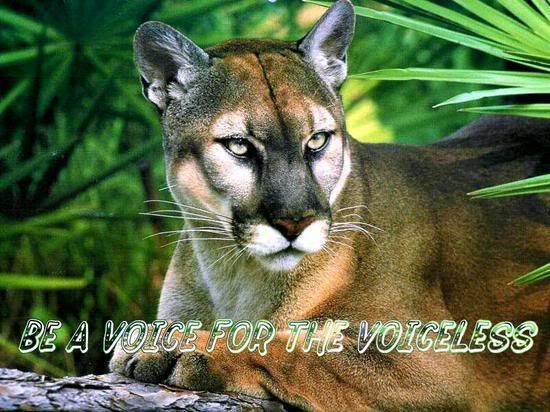 ---
Feel free to check out this group I Co-host. It is a Bi-Polar support group.
http://www.care2.com/c2c/group/ManiaAndDepression
---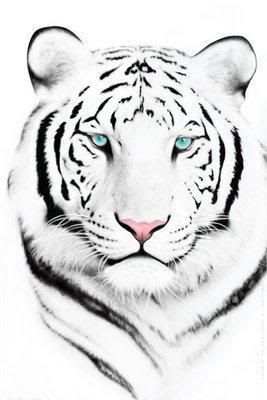 SEF-Stop Euthanizing Healthy Cats and Dogs Foundation

http://www.thepetitionsite.com/takeaction/826915915
Joined
Jun 5, 2006
Activist Aspirations
undeclared
Here for
Meeting Friends, Support a Cause
Group Host of
none yet
Groups
9/11 CONSPIRACY ! ! !, A Free Stuff Network (AFSN), ANIMALS NEED FOREVER HOMES ASAP HIGH KILL SHELTERS, Abolish Animal Abuse, All Animals Great And Small, Animal Lovers, Animal Petitions, Art 2 Art, Avatar Alley, Care2 Feedback and Suggestions, Care2 Princesses of Causes, Cat Lovers, Defenders of Wildlife, Demanding Tougher Penalties for Animal Abuse! more »
Hometown
Burton, OH
Homepage
http://my.care2.com/chofstetter
Birthday
April 14, 1980
Languages
English
About Me
I am an artist. I love animals. I also like old cars and fixing them.
Introduce yourself to Carolyn
Lifestyle
Pets
10 cats, 2 dogs, 11 fish
Activist Aspirations
Political Leaning
Religions

Eating Habits
Keep it Healthy
Wild Fact About Me
My Philosophy
What Gives Me Hope
If I were Mayor, I'd make the world a better place by
What/who changed my life and why
The Neo- Tech socitey
What Bugs Me
liars, George Bush, gossips, arrogance, abusive people
Passions
traveling, peace, LIFE!!!, family, broadening my horizons, art, animals
Inspirations
to fulfill my purpose on earth, the beauty of nature, friends, good people, blue skies, animals
What Scares Me
War - Cruelty - Greed - Indifference, spiders, moral direction of our society, politicians, Losing the ones I love, global warming, death, being alone, abusers
Favorites
Role Models

Quotation
Interests
pets, Wildlife, Antiques/Collectibles, Art/Design, Automobiles, Movies, National Parks, Music, Pets, Recycling, Safaris, Evolution, History, Travel/Adventure, Zoology
Books
fantasy
Music
rock, alternative, punk
Movies
I like anything from family movies to ho, but I think mystery and suspence is my f
TV Shows
Ghost Hunters and anything about the Par
Favorite Foods
Desserts - I have a very sweet tooth!
Favorite Places
hawaii
Can't Live Without
My Cats!!!
Introduce yourself to Carolyn
My Butterfly Rewards
Most recent activity (up to 500 gifts shown)
---
I've earned Butterfly Credits