If you cannot attain knowledge without torturing a dog, you must do without knowledge. - George Bernard Shaw
MAGGIE'S SONG:
http://www.maria-daines.com/music-63.html
Written in loving memory of my sweet little girl who lost a sudden and intense battle with cancer on 1/31/08.
www.helpyourdogfightcancer.com
www.themagicbulletfund.org
THIS SONG IS DEDICATED TO MERCY ..
The Rainbow Bridge (Song Dedicated to Mercy)
http://www.maria-daines.com/music-15.html
BEST FRIENDS CRITTERS RUN WILD!!!!
Check it out..:)
http://www.youtube.com/watch?v=IKTc2vf7WA8
http://animalworldusa.blogspot.com/
http://floridaanimalweek.com/
The Tree
"How can I do what you say," asked the child, "and still be me?"
"Look at me," said the tree. "I bend in the wind, droop in the rain.Yet I always remain myself, a tree."
"Look at me," said the man. "I can't change."
"Look at me," said the tree. "I change every season from green to brown to green again, from bud to flower to fallen leaf. Yet I always remain myself, a tree."
"I can't love anymore," said the woman. "With my love, I have given away all that I am."
"Look at me," said the tree. "There are robins in my branches, owls in my trunk, moss and ladybugs living on my bark. They may take what I have, but not what I am."
Whether we know it or not, we are like the tree. Only our pride hangs on to a false sense of self, wanting to keep everything, refusing to follow advice or orders. What we do doesn't matter; how we do it is what counts.
I heard the news today.....4/8/06 while driving back from BFAS:

In loving memory of my dear friend and animal advocate-Pat Jordan. You will be greatly missed. Thank you for all the love and inspiration you've shared with me.

Pat J.
Tomahawk, WI, USA
R.I.P dear Agnes...8/26/07
Agnes C. (590)
You will live in my heart always.

THE ANIMALS' SAVIOR
I looked at all the caged animals in the shelter . . . the cast-offs of human society.
I saw in their eyes love and hope, fear and dread, sadness and betrayal. And I was angry.
"God,", I said, "this is terrible! Why don't you do something?"
God was silent for a moment, and then He spoke softly. "I have done something,", He replied. "I created You."
Jim Willis, Author
You could FEEL their terrible sadness...no wonder; look at what that man has in his left hand(a bullhook)used to brutally beat and stab elephants to force them to "obey". This photo was caught here in Jacksonville, 2006. Please-do NOT attend an animal act circus. No one but the animals pay the price.

Heart Attacks...God's revenge for eating His animal friends.

It can truly be said: Men are the devils of the earth, and the animals are the tormented souls.
-Arthur Schopenhauer
http://floridaanimalweek.com/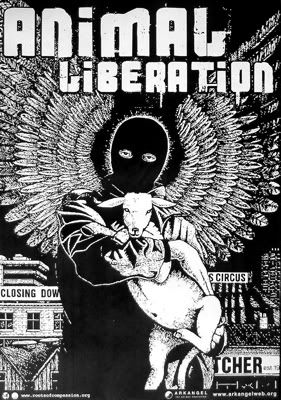 http://www.heartsofgoldpitrescue.petfinder.com
Year of the Ox
Element: Metal | - | Xin
February 15, 1961 - February 4, 1962
People born in the Year of the Ox:
- are mentally and physically alert
- are born leaders, inspire confidence in others
- can be too demanding
- have fierce tempers and can be stubborn
- are methodical and good with their hands
- hate to fail or be opposed
- make skilled surgeons, generals and hairdressers
STOP THE MADNESS-SPAY/NEUTER! TOO MANY PRECIOUS BABIES JUST LIKE THIS ARE BEING EUTHANIZED(OR BRUTALIZED)EVERYDAY! Allowing your companion to "breed" is only ADDING to this crisis! Do NOT do it! If you're looking for a "specific" breed-check your local shelter, if not-then research rescues-they DO exist for almost ALL "breeds".
Image: Best Friends Animal Society
We patronize them for their incompleteness, for their tragic fate of having taken form so far below ourselves. And therein we err, and greatly err. For the animal shall not be measured by man. In a world older and more complete than ours they move finished and complete, gifted with extensions of the senses we have lost or never attained, living by voices we shall never hear. They are not brethren, they are not underlings; they are other nations, caught with ourselves in the net of life and time, fellow prisoners of the splendour and travail of the earth."
-- Henry Beston, circa 1925
http://network.bestfriends.org
"A Better World Through Kindness To Animals"
The Kindness Revolution has Begun-will
YOU
be part of it?