"Highly Sensitive Cat Lover!"

West Hempstead, NY, USA
female, age 52
committed relationship, 1 child
Speaks: English
Joined Nov 13, 2005


Causes: global warming, Food Safety, anti-hunting, Fight Cyberbullying, Against Cruelty to Animals, Against Factory Farms, Affordable Housing, Separation of Church and State, Violence against Women, Violence against Children, Marine Wildlife, Breast Cancer Survivors, Cancer

Activities: Official Sea Shepherd Volunteer, Teaching my son EVERYTHING!, Teaching KINDNESS towards animals, Cooking Vegan, Being a MOMMY!, Animal rescue, Animal Activist, Arts/Crafts, Music - Concerts, Beadwork, Photography, Skateboarding, Snorkeling, Scuba Diving, Jewelry Making





In Hope, An Animal Shelter Story As a nation, we claim to love cats and dogs. Millions of households have pets, and billions of dollars are spent yearly on pet supplies and food. But as a nation, we should take a hard, sobering look at a different annual statistic: the millions of dogs and cats given up to shelters or left to die on the streets. And the numbers tell only half the story. Every cat or dog who dies as a result of pet overpopulation—whether humanely in a shelter or by injury, disease, or neglect—is an animal who, more often than not, would have made a wonderful companion, if given the chance. Tremendous as the problem of pet overpopulation is, it can be solved if each of us takes just one small step, starting with not allowing our animals to breed. Here's information about this crisis and why spaying and neutering is the first step to a solution. Visit http://www.brightlion.com/ for more information. For every cat you spay and neuter you can stop the birth of over 420,000 in 7 years. Just ONE can stop 420,000 others from being born unwanted. If you would spay just 3 cats you could prevent the births of over a million in your lifetime! Pretty Impressive.... For more information on how you can help go to http://www.catswithnoname.net Do Something! Do it NOW!




Marley Fund is a non-profit organization dedicated
to raising funds for FeLV and FIV community education
and making life better for affected cats.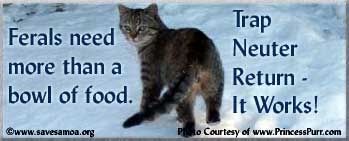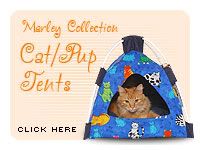 Click to Buy a Cat or Pup Tent! Funds Go to Marley House!
My cats love their tents! They make great pet gifts, too!
Save Shelter Cats! (and MORE!)
STOP Cruelty Against Animals! Visit my group on Myspace! http://groups.myspace.com/stopamimalcruelty
Don't Treat Others the Way You Don't Want to Be Treated.

Stop Cyberbullying. Report it when you see it.
I am being cyberbullied and stalked online by a cyberpath that goes by the name THE IMPROPER ADOPTEE.
Joined
Nov 13, 2005
Activist Aspirations
Rabid
Here for
Meeting Friends, Job Search, Support a Cause, Other
Group Host of
none yet
Groups
(APPPN) A Petition Posting & Peoples Network, ANONYMOUS R US, Abolish Animal Abuse, Acoustic Coffee House, Activists Against Factory Farming, All About Declawing Facts, Animal Lovers, Animal Petitions, Animals In Need - Can You Help?, Aquarium Enthusiasts, Ask the Vet Techs, Associazione Bolzano Amici dei Cani/Verein der Bozner Hundefreunde, Care2 FLY?, Care2 Feedback and Suggestions more »
Hometown
West Hempstead, NY
Homepage
http://www.myspace.com/spookiecats
Birthday
May 17, 1966
Languages
English
About Me
Different. Caring. Giving. Overly Sensitive. Outcast. Shy. Anxious. Artist. Creative. Empath. Animal Lover. Cat Lover. Dolphin Lover. Nature Lover. Pretty damn complicated, but loving, so I'm a good friend to have :)
Metal Industrial Hippy Chick.
I Fit NO Stereotype. I Am ME.

If you can't understand me or don't like want to, choose not to: simply put, f**k yourself! It's really that easy! :D
Introduce yourself to Suzanne
Lifestyle
Pets
caretaker to the local wildlife, Cats
Activist Aspirations
Rabid
Political Leaning
Liberal
Religions
Sephardic Jew, Jewish by birth, jewish, Roman Catholic, Spiritual but not religious
Eating Habits
Organic Vegan, Almost Raw Vegan, VEGAN!, Love vegan food, Organic, Almost Vegan-totally vegetarian, vegetarian working on vegan, Vegetarian with Vegan tendencies, I don't eat meat
Wild Fact About Me
Seriously physically messed up, yet still here and alive!
I like to dye my hair COLORS though I'm 42.
I lost my first job of 8 long years when I bought my first car. I lost my second long job of 8 long years when I bought my first house AND had my first baby. See a pattern? :D
My Philosophy
You get back what you give. Usually. I just don't get that lucky.
What Gives Me Hope
One day I'll wake up, and my TMS pain will be gone forever.
One day I'll not worry.
One day, I'll be able to save all the cats for the week's list of LAST CHANCE or... :(
One day, I'll be with my brother again. (DONE!!!)
One day, they will cure cancer.
If I were Mayor, I'd make the world a better place by
Outlaw high-kill and kill shelters.
Ban canned hunting.
Free all animals from torture/experiments.
Lower prices of Cruelty-Free foods and products so regular people like myself can afford to be vegan and not feel guilty due to being poor.
(this can go on for hours, so... uuuh, yea)
Free healthcare for all, because since I was laid off, I'm unable to pay for any healthcare of medication for myself, and it's very unfair. Why should I suffer in pain and be under such stress while trying to enjoy my first son, at my age?
What/who changed my life and why
My AR friends on MySpace, because I now am aware of the horrible treatment of animals, and I am a supporter of ALF, WAR and other groups that some people call "terrorists" when they are not to me. NIO — Negotiation is Over! , W.A.A.R.
What Bugs Me
APATHY, Stalkers and Trolls, stalkers, Ignorance, Factory Farms, Vivisectors, LIARS, Facebook gossipers, Misogynists, Bigots, Racists, Bullying, People Who Use Others For Self Gain, Narcissists, Abusive people to animals or humans, perverts, child exploiters, cyberstalker
Passions

Inspirations

What Scares Me
Facebook bullies...NOT!, Gossiping Idiots!, Ignorance And Apathy
Favorites
Role Models
Barry Horne, Captain Paul Watson (Sea Sheperd), cats
Quotation
Interests
pets, Wildlife, Antiques/Collectibles, Art/Design, Computers, Crafts, Internet, Jewelry, Marine Studies, Mind/Body/Spirit, Music, Oceanography, Pets, Psychology
Books

Music
Electronica (breakbeat, i.e. Boombox on Sirius), Industrial, Metal, NO gansta rap, NO country, NO lite stuff
Movies

TV Shows

Favorite Foods

Favorite Places

Can't Live Without

Introduce yourself to Suzanne
My Butterfly Rewards
Most recent activity (up to 500 gifts shown)
---
I've earned Butterfly Credits