"I AM A LIGHTWORKER - UPLIFTING OTHERS IS MY GREATEST PLEASURE (If you wish to add me to your friends list please send an introduction first)"

Artemis, Greece
female, age 59
married, 1 child
Speaks: English, Greek, Serbo-Croatian
Joined Feb 2, 2003





Welcome To My Page

Dear friends



I wish to thank everyone
for so many green stars, testimonials and comments. They fill my heart with sunshine and make my days brighter

. I appreciate them very much as I appreciate your friendship
.

N. B. I would appreciate if you contact me ONLY to send me a PERSONAL message. Do not abuse our friendship by spamming my NM with other people's messages (forwards) or petitions. Please use the 'share' feature instead. Thank you.

Happiness and Service




You want to be happy? Forget yourself and get lost in this great cause, and bend your efforts to helping people. Cultivate a spirit of forgiveness in your heart against any who might have offended you. Look to the Lord and live, and work to lift and serve His sons and daughters. You will come to know happiness like you've never known it before. I don't care how old you are, how young you are. You can lift people and help them. Heaven knows there are so very, very many people in this world who need help. . .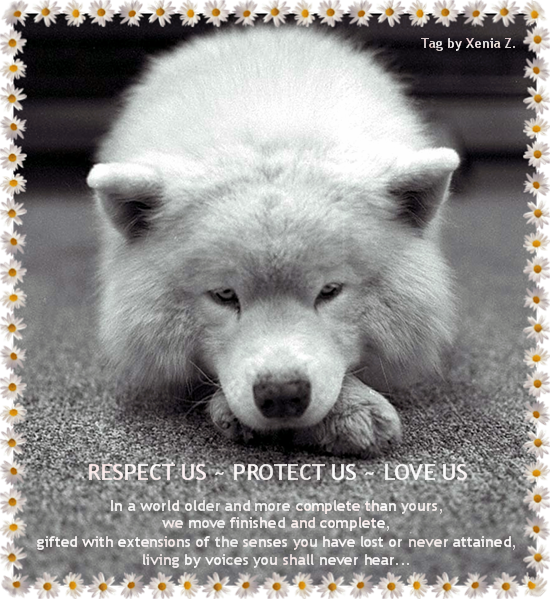 All ye under the heaven! Regard heaven as your father, earth as your mother, and all things as your brothers and sisters.

Save The World - One Click At A Time!

On each of these websites, you can click a button to support the cause -- each click creates funding, and costs you nothing! Bookmark these sites, and click once a day!





HELP STOP CHILD ABUSE:



If you wish to know me better join my group: DAILY INSPIRATION. I have chosen to contribute to Care2 community mainly through this group.




N.B. The artwork displayed on this page is my own and copyrighted.
PLEASE
!

Thank you for visiting my page.
Love and Blessings




Joined
Feb 2, 2003
Activist Aspirations
Casual
Here for
Meeting Friends, Support a Cause
Group Host of
none yet
Groups
ANGELS, AQUARIUS friends, Angel Friends - Touching Lives One Life at a Time, Ask the Vet Techs, Bird Lovers., Café du Monde!, Care2 Feedback and Suggestions, Cat Addicts Anonymous, Debunking internet hoaxes and rumors., Dog Lovers, Healthy Cooking, Healthy Living Network, International Network of Missing Children and Adults (INMCA), International Wildlife Rescue more »
Hometown
Athens/Artemis
Homepage
http://www.xeniazilli.com
Birthday
Jan 31, 1959
Languages
English, Greek, Serbo-Croatian
About Me
A Lightworker. Happy and blessed, multifaceted, artistic, creative, curious, open minded, enthusiastic. In love with animals, nature and art.
Introduce yourself to Xenia
Lifestyle
Pets
two cats and a dog
Activist Aspirations
Casual
Political Leaning
Very Liberal
Religions
spiritual
Eating Habits
Vegetarian, Organic
Wild Fact About Me
My Philosophy
Do what I can, for who I can, with what I have, and where I am.
What Gives Me Hope
family, friends, animals, nature
If I were Mayor, I'd make the world a better place by
What/who changed my life and why
my dearest grandmother, she was an exceptional, awakened person, she was my teacher and guide on the path of Light and Love and my other dear grandmother who has taught me to love myself
What Bugs Me
hypocrisy, complainers and whiners, ignorance
Passions
LIFE!
Inspirations
my son, everything beautiful, my garden, my two cats and dog, animals, friends, my parents, music, nature
What Scares Me
nothing
Favorites
Role Models
none
Quotation
We create our reality with our thoughts, words and visions. I encourage you to choose to think only the most beautiful thoughts, speak only those things you want to come to pass and to create the most powerful visions of your future success. Your happiness depends on what you choose to say, think and imagine. I know you will choose well. - Xenia Zilli
Interests
Art/Design, Interior Design, Yoga, Meditation, Computers, Crafts, Pets, Gardening, Wildlife, Herbs, Homeopathy, Holistic Health
Books
fairytales, fantasy, spirituality, true stories, sci-fi, mysteries, fiction
Music
classical, spiritual, new age
Movies
spiritual, trillers, true stories, science fiction, drama
TV Shows
I don't wach TV
Favorite Foods
natural simple and spicy plus, coffee and, chocolate
Favorite Places
my home and garden, wild nature, forests, beautiful gardens, lakes, sea and under the sea
Can't Live Without
love, understanding, friends, reading/learning, contact with nature and animals
Introduce yourself to Xenia
My Butterfly Rewards
Most recent activity (up to 500 gifts shown)
---
I've earned Butterfly Credits