"Enjoying retirement"

Las Vegas, NV, USA
male, age 67
single
Speaks: English, Chinese, little Japanese
Joined Feb 14, 2007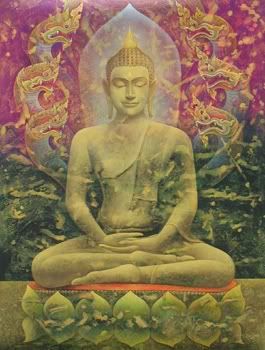 BUDDHIST PRAYER OF COMPASSION
With every breath i take today, i vow to be awake;
And every step i take, i vow to take with a grateful heart.
So i may see with eyes of love into the hearts of all i meet,
To ease their burden when i can and touch them with a smile of peace.


"Buddhism has the characteristics of what would be expected in a cosmic religion for the future: it transcends a personal God, avoids dogmas and theology; it covers both the natural & spiritual, and it is based on a religious sense aspiring from the experience of all things, natural and spiritual, as a meaningful unity." A widely cited, but spurious quotation attributed to
***ALBERT EINSTEIN***


We are not human beings going through a temporary
spiritual experience.
We are spiritual beings going through a temporary
human experience.
Joined
Feb 14, 2007
Activist Aspirations
undeclared
Here for
Other
Group Host of
none yet
Groups
none yet
Hometown
Fargo, ND
Homepage
Birthday
April 11, 1951
Languages
English, Chinese, little Japanese
About Me
Retired & Relaxed
Introduce yourself to Norse
Lifestyle
Pets
2 Stuffed Fabric Frogs
Activist Aspirations
Political Leaning
Religions
I Don't Believe In Organized Religion, Just say no thank you!, none
Eating Habits
High-End Pro Supplements, Life Extension, Life Force
Wild Fact About Me
Researcher, extensive world travel.
My Philosophy
Real faith is faith in yourself.
What Gives Me Hope
Breath!
If I were Mayor, I'd make the world a better place by
Advocate Peace & Education!
What/who changed my life and why
9/11, chose early retirement.
What Bugs Me
injustice, ignorance, abusive people
Passions
Kindle, Mini Kobo, Mini Nook, writing, books
Inspirations
Mountains - Beaches - Valleys, mountains and deserts, ocean, Sunshine, blue skies
What Scares Me
Nothing Scares me
Favorites
Role Models
Deepak Chopra, Osho, The Original Buddha
Quotation
"Know thyself"
Interests
Ascension, Electronics, internet, reading, Mind/Body/Spirit, meditation, computers
Books
Osho books all, Deepak Chopra, Anything dispelling religious myths, Anything Zen, Research Ancient Ways
Music
The sound of silence
Movies
Life in the U.S. is like a "B" movie
TV Shows
Just say no to TV
Favorite Foods
Mediterranean/Italian/Greek, Life Force, japanese, chinese
Favorite Places
Japan, China, Hong Kong (Kowloon), Taiwan
Can't Live Without
Oxygen, Zen, peace, water, sunshine
Introduce yourself to Norse
My Butterfly Rewards
Most recent activity (up to 500 gifts shown)
---
I've earned Butterfly Credits