"Save the animals, Save the planet, Save us from ourselves."

Thorsby, AL, USA
female, age 43
married
Charge Nurse/House Supervisor
Speaks: English
Joined Feb 11, 2001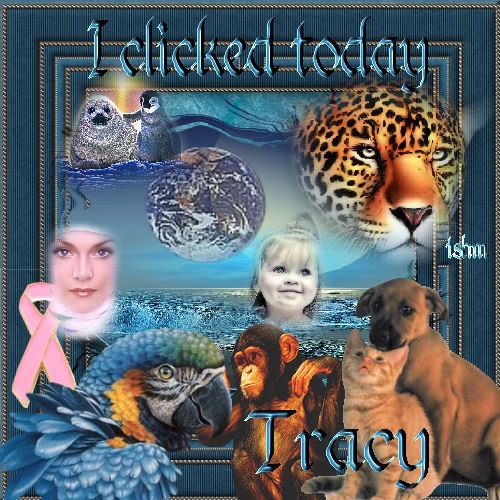 http://www.care2.com/click2donate/
Have you clicked today?
View My kitties profiles on Catster!
http://www.catster.com/family/93336
Which Original Star Trek Character Are You?

You are Spock. Logic defines you-just like Spock! Sometimes you may seem a bit rigid, but that is only because you want everything to go according to plan. You tend to take things literally and people sometimes bewilder you with their jokes and sense of humor. You are reliable and intelligent and can always be counted on to keep a cool head when situations get out of control. You tend to keep everything- but in a well organized manner, of course! Friends love your ability to be able to solve problems.
Find Your Character @
BrainFall.com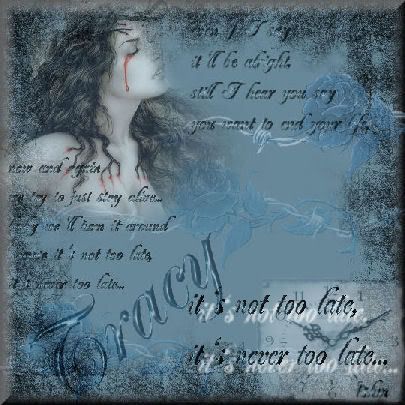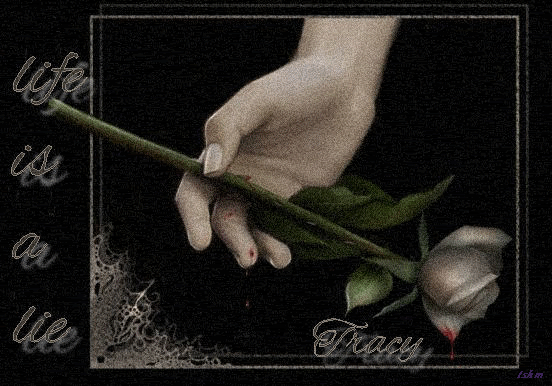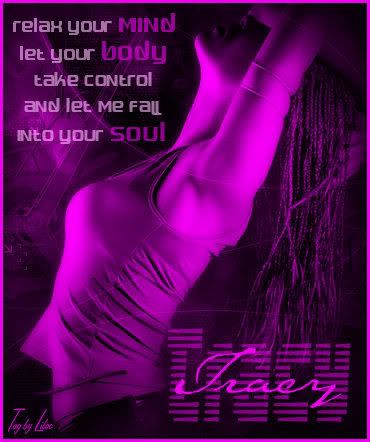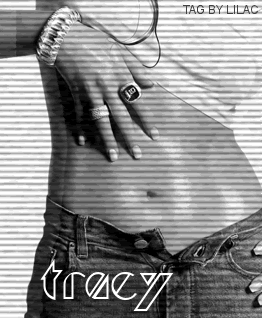 Pink/Blue Ribbon - - - Infant Loss, Infertility, Miscarriage, Pregnancy Loss, Premature Birth, Sudden Infant Death (SIDS), Stillbirth
Joined
Feb 11, 2001
Activist Aspirations
Casual
Here for
Meeting Friends, Support a Cause
Group Host of
Groups
BipolarGroup, Black Cat Cove, Café du Monde!, Care2 Feedback and Suggestions, Cat Addicts Anonymous, Charmed Life, DELETE!? My A**!!!, Florida Panthers: Can We Save Them?, GRAPHIX & SIGGIES FOR THE TAKING, Magical Diaries, The Restaurant of the Mind, The Room of Requirement, The Three and a Half Broomsticks, World of Teas more »
Hometown
DixieLand
Homepage
http://www.myspace.com/nightnurse24
Birthday
Sept 27, 1974
Languages
English
About Me
I am just an animal loving, all around fun person, easy to get along with and easy to talk to.
Introduce yourself to Tracy
Lifestyle
Pets
Cats
Activist Aspirations
Casual
Political Leaning
Very Conservative
Religions
Christian - Seventh Day Adventist
Eating Habits
Aspiring healthy eater
Wild Fact About Me
I am known to have premonitions.
My Philosophy
Housework can wait.
What Gives Me Hope
Nothing, currently.
If I were Mayor, I'd make the world a better place by
Make sure all the animals had food and shelter. Enforce tough penalties for animal cruelty.
What/who changed my life and why
What Bugs Me
Any one that would hurt an animal
Passions
nursing, nature, animals, the South, my cats
Inspirations

What Scares Me
Life without meaning, abusers, Ignorance and evil
Favorites
Role Models

Quotation
If you can't handle me at my worst, you sure as hell don't deserve me at my best.
Interests
reading, crafts, camping, pets, Wildlife, Music
Books

Music
80's rock and new country, some new pop
Movies
The Matrix, Disney movies
TV Shows
Law and Order Criminal Intent, CSI-Miami, Law and Order SVU, CSI, Law and Order
Favorite Foods
pasta, ice cream, chocolate
Favorite Places
beach, the mountains
Can't Live Without
My Cats, family, computer, music, ice cream!
Introduce yourself to Tracy
My Thank You Notes
Apr 5, 2014

view card
My Butterfly Rewards
Most recent activity (up to 500 gifts shown)
---
I've earned Butterfly Credits