"making poverty history-One.org"

Montreal, Quebec, Canada
female
committed relationship, 29 children
mixed media,photography and words
Speaks: English, French
Joined Aug 3, 2004


Activities: Beachcombing, Birding, Boating - canoeing/kayaking, Cafes, Candle Making, Cave Exploration, Concerts, Dance, Driving, Gardening, Yoga, Whale Watching, Travel, Swimming, Reading, Photography, People Watching, Music - Concerts, Meditation




RAVEN MACHAN 'S PORTFOLIO
Make Poverty History
:
click here

Please sign - The One Declaration

---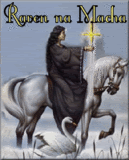 Welcome to my Portfolio
This began as a project for my work.
find Care2 to be a wonderful platform to showcase one art/work.
This is also a place where I can champion causes
I find dear to my heart and make it count.
The world is a little smaller and friendlier.


My work in art and photography is my passion in life.
Sharing ones soul(passion)is a state of union with the world.I believe in the gnosis of God the father,mother and child.
We are guardians of this planet and as custodians we
are promised to act with beauty and with strength
toward holism; oneness.

As guardians of each other and as culture we color
our world as we give it wings by showing tolerance
Joined
Aug 3, 2004
Activist Aspirations
Enthusiastic
Here for
Meeting Friends, Other
Group Host of
none yet
Groups
Ask the Vet Techs, Avatar Alley, Canadians, Care2 Feedback and Suggestions, Charmed Life, Citizens Against Child Abuse, Exploring Canada, How far would you go for...?, ONE • EDUN • RED, Pagans, The Three and a Half Broomsticks, Tree Connections - spiritual, info & calling for more action for TREEs, White Magic Circle of Light, ~Colours of the Wind~
Hometown
Ilés des Soeurs
Homepage
Birthday
Feb 29
Languages
English, French
About Me
Introduce yourself to Raven
Lifestyle
Pets
cat, dog, bird
Activist Aspirations
Enthusiastic
Political Leaning
Indifferent
Religions
druid
Eating Habits
Almost Vegetarian
Wild Fact About Me
runs with the nights
My Philosophy
let love rule
What Gives Me Hope
If I were Mayor, I'd make the world a better place by
What/who changed my life and why
What Bugs Me
a world that hates
Passions
googling, family, traveling, trees, making poverty history, photography
Inspirations
seeing with compassion, walking your talk, the beauty of nature, the sound of the ocean, People waking and seeing their own light
What Scares Me
a world without wildlife, poverty/homelessness/hunger
Favorites
Role Models
grandmother
Quotation
On ne voit bien qu'avec le coeur. L'essentiel est invisible pour les yeux.
-Le Petite Prince, Antoine de Saint-Exupéry
Interests
Long walks on the beach, tango, traveling, photography, wildlife, Art/Design
Books
Victoria Frances, Oscar Wilde, Fairy Tales, Rilke, Harry Potter Series, J.R.R. Tolkien
Music
Peter Gabriel, Joss Stone, Jethro Tull, Evanescense, Loreena Mckennitt, Johnny Cash, classical, blues, celtic, folk, jazz
Movies
Love Actually, Braveheart, A Patch Of Blue, DreamGirls, Lord of the Rings, Ed Wood
TV Shows
Seraphin, The X-Files, Discovery Channel, IFC documentary channel
Favorite Foods
fish, blueberries, avacados, Tirimisu, strawberries, thai, rice, italian
Favorite Places
Riviere du Loups, Montreal, Quebec. Old Quebec City, South Beach, Ocean/beach, NYC, Paris, Majorica, Ireland
Can't Live Without
my beloved, earth, fire, air, water
Introduce yourself to Raven
My Butterfly Rewards
Most recent activity (up to 500 gifts shown)
---
I've earned Butterfly Credits