Payson, AZ, USA
female, age 45
married, 2 children
Speaks: Sign Language (American), english
Joined Sep 26, 2007


Causes: Freedom of Expression, Food Safety, Breast Cancer Awareness, Affordable Housing, Violence against Women, Violence against Children, environment, Human Rights, pollution, Peace &amp, amp, amp, amp, Nonviolence




Doing No Harm
Imagine what the world would be like. If no one harmed anything or anyone. Wars would cease, rain forests would flourish, babies would be free of bruises and broken bones, women would not be battling the effects of inequality, criticism, and rejection. How can such a dream become a reality? Beginning with ourselves, we can courageously and consciously adopt the gentle attitude of doing no harm. Before we speak or act, we can stop and ask ourselves, " Will what I am about to say or do harm this person or thing"? We already, at some conscious or unconscious level, live out the desire to do no harm. We may gently pick up a spider and put it outdoors instead of killing it or we may thoughfully alter a statement we're about to make if we know it may be hurtful. But we need to be sure to include ourselves in this accepting attitude of treating all people and things with respect. An interesting thing happens as we begin to practice harmless living; an awareness of the sacredness of all existence, ourselves included, begins to dawn on us. We begin to sense the Goddess/God in everything. we begin to experience a reverence for life, both animate and inanimate, that, in turn, creates serenity in our hearts and minds. By expanding our desire not to harm, we create a powerful pebble-in-the-pond phenomenon. The ever-widening circles of respect and love we create touch countless people.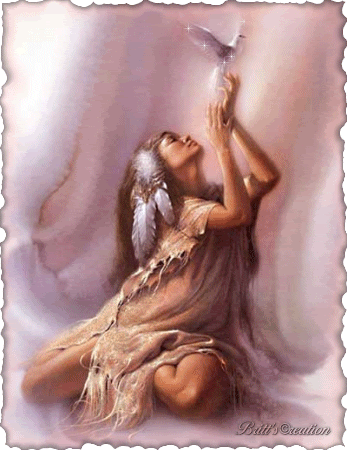 You are The Star
Hope, expectation, Bright promises.
The Star is one of the great cards of faith, dreams realised
The Star is a card that looks to the future. It does not predict any immediate or powerful change, but it does predict hope and healing. This card suggests clarity of vision, spiritual insight. And, most importantly, that unexpected help will be coming, with water to quench your thirst, with a guiding light to the future. They might say you're a dreamer, but you're not the only one.
What Tarot Card are You?
Take the Test to Find Out.
Joined
Sep 26, 2007
Activist Aspirations
undeclared
Here for
Meeting Friends, Support a Cause
Group Host of
none yet
Groups
Earth Day, Pagan/Wiccan Parenting, Pagans
Hometown
Homepage
Birthday
Oct 01, 1972
Languages
Sign Language (American), english
About Me
Introduce yourself to Lisa
Lifestyle
Pets
fish, dog and cat
Activist Aspirations
Political Leaning
Religions
interfaith--spiritual but not religious, Native American spirituality, earth religions, wiccan, Pantheist, pagan, spiritual
Eating Habits
tea and coffee, Still Love Chocolate Though!, Keep it Healthy, LOTS OF TEA
Wild Fact About Me
My Philosophy
What Gives Me Hope
My hope, would love to live in Europe someday. That is my hope.
If I were Mayor, I'd make the world a better place by
What/who changed my life and why
What Bugs Me
People whom do harm unto others, People who can't be their self, People claiming friendship that are not!, Litter Bugs!!, ignorance, cruelty, bullying, Any one that would hurt a child, abusive people
Passions
my family, my husband, Raising My Children, water, trees, family, earth, children, LIFE!!!, love
Inspirations
understanding, the wind, rain, peace, ocean, a gentle breeze, blue skies, the sound of the ocean, the beauty of nature
What Scares Me
War - Cruelty - Greed - Indifference, Losing the ones I love
Favorites
Role Models
Mother Nature, Mother Earth in all her beauty, Dalai Lama, my family
Quotation
Go Forward with Courage
When you are in doubt, be still, and wait; when doubt no longer exists for you, then go forward with courage. So long as mists envelop you, be still; be still until the sunlight pours through and dispels the mists--as it surely will. Then act with courage.
-White Eagle-
Interests
faeries, Spirituality/Philosophy, Mythology / Folklore, music, movies, Holistic Health, crystals, Books - Author, Mind/Body/Spirit
Books
Almost anything worth reading, Mysteries, spirituality, Self improvement, fantasy
Music
opera, u2, rock, jazz, Heavy Metal, enya, classical, celtic, blues, alternative
Movies
Pratical magic, drama, comedy, action, Finding Nemo, Gladiator, Harry Potter, Lord of the Rings, PIRATES OF THE CARIBBEAN, Star Wars, titanic, American Beauty, Braveheart
TV Shows
x-files, lost, Discovery Channel, csi
Favorite Foods
seafood, salmon
Favorite Places
ocean, nature, forests, beach
Can't Live Without
chocolate, my husband, my children, sunshine, sex, nature, freedom, coffee, love, family
Introduce yourself to Lisa
My Butterfly Rewards
Most recent activity (up to 500 gifts shown)
---
I've earned Butterfly Credits