"Helping the Earth survive the stupidity of humans"

Lawton, OK, USA
female, age 118
married, 4 children
Speaks: English
Joined Feb 26, 2000


Causes: Zoo Reform, Same Sex Marriage, Rain Forests, Protect America's Forests, Marine Wildlife, hunger, Children's Welfare, against factory farms, Animal Welfare, Breast Cancer Awareness, Breast Cancer Survivors, Corporate Responsibility, Drunk Driving, Education, Endangered




http://www.andiesisle.com/ifidiebeforeyouwake.html
This is an AWESOME link. PLEASE watch, copy, and send it on!! Thank you.


A PET'S TEN COMMANDMENTS.........

1. My life is likely to last 10-15 years. Any separation from you is likely to be painful.

2. Give me time to understand what you want of me.

3. Place your trust in me. It is crucial for my well-being.

4. Don't be angry with me for long and don't lock me up as punishment. You have your work, your friends, your entertainment, but I have only you.

5. Talk to me. Even if I don't understand your words, I do understand your voice when speaking to me.

6. Be aware that however you treat me, I will never forget it.

7. Before you hit me, before you strike me, remember that I could hurt you, and yet, I choose not to bite you.

8. Before you scold me for being lazy or uncooperative, ask yourself if something might be bothering me. Perhaps I'm not getting the right food, I have been in the sun too long, or my heart might be getting old or weak.

9. Please take care of me when I grow old. You too, will grow old.

10. On the ultimate difficult journey, go with me please. Never say you can't bear to watch. Don't make me face this alone. Everything is easier for me if you are there, because I love you so.

Take a moment today to thank God for your pets.
Enjoy and take good care of them. Remember that they can't do a lot of things for themselves and that they depend on you to make their life a quality life!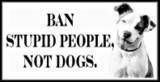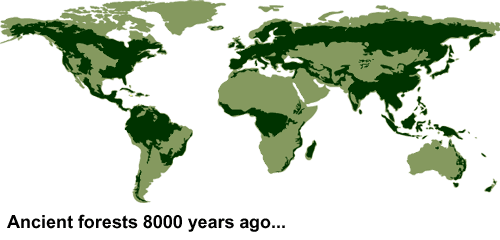 When the world is finally quiet, when it is calm and peaceful, then and only then can we all breathe a sigh of relief. Until that time we must fight the good fight.
"Love" is the condition in which the happiness of another person is essential to your own.
-Jubal Harshaw,
Stranger in a Strange Land
No person is your friend who demands your silence, or denies your right to grow. - Alice Walker
SIMPLE SOLUTION:
Peace
By Elizabeth Cunningham
The problem is
people think peace is boring
we have lost our imagi-
nations. We have forgotten
the fluidity of peace
how it is like all the muscles
rippling to lift the dancer's leg,
how it is the slow rhythm of tidal rivers
how it is clouds forming and dispersing
how it is a flock of birds turning as one
in evening sky
how it is food laid out on a round table
and honest struggle
between lovers and friends
how it pulses in our blood
how it sings in our ears
how the death of each tiny thing
is held secure in its arms
with the life. We have forgotten
how boring it is to kill each other
how predictable.
There is much more suspense
in peace.

And the Cat said. .

1. Thou shalt not jump onto the keyboard when thy human is on the computer.

2. Thou shalt not unroll all of the toilet paper off the roll.
3. Thou shalt not project hairballs from the top of the refrigerator.
4. Thou shalt not sit in front of the television as if thou art invisible.

5. Thou shalt not jump onto thy sleeping human's bladder at 3 A.M.
6. Thou shalt not reset thy human's alarm clock by walking on it.
7. Thou shalt not trip thy humans, even if they are walking too slowly.
8. Thou shalt not push open the bathroom door when there are guests in thy house.
9. Thou shalt not jump on the toilet seat just as thy human is sitting down.
10. Thou shalt attempt to show remorse when being scolded.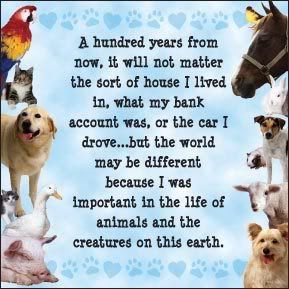 Blue Whale - video powered by Metacafe
Joined
Feb 26, 2000
Activist Aspirations
Rabid
Here for
Other
Group Host of
none yet
Groups
"SAVE OUR WILD MUSTANGS & OUR HERITAGE & STOP SLAUGHTER", Ask the Vet Techs, Canine Concerns: Stop Puppy Mills / Dog Chaining & Fighting, Care2 Feedback and Suggestions, Caring & Compassionate Friends, Ending Animal Cruelty....A balanced approach, International Network of Missing Children and Adults (INMCA), Jane Goodall Institute: Race for the Primates, ORANGUTANS: Men of the Forest, Omega's Group, Pets in Need, Race for the Big Cats, Race for the Rainforest, SHARING AND CARING more »
Hometown
Homepage
Birthday
April 04, 1900
Languages
English
About Me
Eclectic
Introduce yourself to G.
Lifestyle
Pets
Cats
Activist Aspirations
Rabid
Political Leaning
Depends
Religions

Eating Habits
Ice cream, ice cream, ice cream!!!!, Chocolate - Lots of it
Wild Fact About Me
I've been a jack-of-all-trades, but my heart is with my forestry(have a degree) and children, especially special needs.
My Philosophy
There is a place in the world for all of nature. But NOT for the greedy ones who are lining their pockets and ruining things for me,for my children, for my grandchildren and great-grandchild, and for those who appreciate Nature!
What Gives Me Hope
Reaching children and seeing them realize THEY can make a difference.
If I were Mayor, I'd make the world a better place by
Stop selling off our world in order to please the 'big guys'. Make it a law to protect our environment so that we in turn, protect ourselves.
What/who changed my life and why
My third grade teacher, "Bambi" and "Smokey the Bear" - years ago, I was drawn to the stories when I became aware of the horrible destruction that results from carelessness. Those two things lead me to my initial career in forestry. When my health and circumstances made me unable to continue in forestry, I took to teaching. It afforded me the opportunity to instill in children confidence that they can make a difference in even little things that better our world. My third grade teacher inspired me because of her enthusiasm for her chosen profession!
What Bugs Me
GREED AND CORRUPTION, The destruction of rural areas, The rat race, Those who hurt others weaker than them, pushy people, Stupid mean people, pretense, people who WON'T use their minds!, people who steal and harm others, people who rape, People claiming friendship
Passions
All animals, writing, water, trees, spirituality, reading, photography, peace, nature, my husband, my friends, my family, MY CHILDREN!!!, music, love, life, learning, laughter, fire, environment, earth, children, books, art
Inspirations
rain, ocean, nature, my husband, my children, My best friend, music, love, friends, children, animals, Birds chirping, a gentle breeze
What Scares Me
Politicians, How cruel and uncaring people are, war, Losing the ones I love
Favorites
Role Models
Smokey the Bear, Dad, My Sister!, my friends, my husband, mother, Diane Fossey and Jane Goodall
Quotation
Interests
photography, pets, Wildlife, Botany, Children, Computers, Disabilities / Challenged, Ecology, Environment, Environmental Studies, Geography, Humor, Zoology, Water Conservation, Pets, Oceanography, National Parks, Music
Books
unusual or very old cookbooks, the Bible, sci-fi, poetry, fantasy, John Saul, Dean Koontz, Anything to do with animals and nature, Almost anything worth reading
Music
too hard a question
Movies
Animated - most
TV Shows
West Wing, NCIS, history channel, Animal Planet, Discovery Channel, CSI
Favorite Foods
salad, italian, greek, fruit, cheese cake, cheese, apples, chocolate, pizza, ice cream
Favorite Places
nature, the ocean, woods, Mountains, lakes, deserts
Can't Live Without
computers to stay in touch, Friends and family, pets, books, my favorite foods
Introduce yourself to G.
My Butterfly Rewards
Most recent activity (up to 500 gifts shown)
---
I've earned Butterfly Credits