"Loving, Healing, Teaching, Enviromental Activist"

Carlisle, OH, USA
female, age 54
committed relationship, 3 children
www.rethaeagle.com
Speaks: English
Joined Feb 21, 2006


Activities: Artist, Writer, Rock Climbing, Yoga, Tarot, Writing, Walking, Adventure Travel, Hiking, Reiki, Backpacking, Magic, Meditation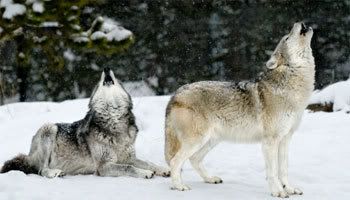 Join Me In Signing This Petition
To Stop The Senseless Slaying of These Beautiful Animals
More than 750 wolves - over half of the wolf population in the Greater Yellowstone and central Idaho regions - could be killed under this new rule change, starting as early as March 2008.
When the American buffalo rebounded from near-extinction and gray wolves returned to the wild, they found their refuge in the tawny grasslands and pine-covered ridges of Yellowstone National Park. When grizzly bears lost most of their habitat to logging and development, the northern Rockies provided them with the thousands of square miles of wild forests and meadows they needed to survive.
Now, the Bush administration is set on sacrificing more of the country's most cherished wild places to satisfy energy corporations. These wildlands include vital habitat for many of our nation's most beloved wildlife species: threatened grizzly bears, wolves and thriving herds of pronghorn, elk and bison.
Tell the Bush administration to protect the outstanding wildlands of the Rocky Mountain West.
Joined
Feb 21, 2006
Activist Aspirations
Enthusiastic
Here for
Meeting Friends, Job Search, Professional Connections, Support a Cause
Group Host of
none yet
Groups
Acoustic Coffee House, Amnesty International, Bird Conservation, Defenders of Wildlife, Dog Lovers, Elephant Lovers, Friends of Feral Cats, Healthy Living Network, Homeless Civil Rights and Civil Liberties, Marine Mammal Rescue Group, Mind, Body, Spirit - The Holistic Way, Ocean Advocacy, Our Mother Earth, Prepare to Unlock Reality (UR) more »
Hometown
Springboro, OH
Homepage
Birthday
April 22, 1964
Languages
English
About Me
Please become a BIODefender! Go to: http://www.savebiogems.org/

Get Educated about Feral Cats! This plan really does work...
Capture, Spay/Neuter, Return
Please Sign the Petition:
http://www.thepetitionsite.com/takeaction/1
59856180


More about me: Independent, Mostly Vegetarian, Loving, Caring, Rejoicing, Activist,I am a healer, tree-hugging nature lover. I stand for peace and coexistence. My goal is to live fully, love unconditionally, and heal the world surrounding me.
Introduce yourself to Retha
Lifestyle
Pets
Cats, Dogs
Activist Aspirations
Enthusiastic
Political Leaning
Very Liberal
Religions

Eating Habits

Wild Fact About Me
My Philosophy
Love one another, Respect our differences, Celebrate Life
What Gives Me Hope
Looking into the eyes of my daughters and my two granddaughters
If I were Mayor, I'd make the world a better place by
What/who changed my life and why
What Bugs Me

Passions

Inspirations

What Scares Me

Favorites
Role Models

Quotation
I must be the change I wish to see in the world. -Ghandi
Interests
Yoga, Reiki, pets, Wildlife, Aromatherapy, Biodiversity, Children, Ecology, Fair/Alternative Trade, Herbs, Vegetarian / Vegan, Tarot/Numerology, Seed Exchange, National Parks, Movies, Mind/Body/Spirit, Meditation
Books

Music
changes daily...World Music, Janis, Melissa, Alainis
Movies

TV Shows

Favorite Foods
Real, whole, organic
Favorite Places
Mountains and Seashores
Can't Live Without
I live without attachments to physical t, I start my day with an ice cold Coke or
Introduce yourself to Retha
My Butterfly Rewards
Most recent activity (up to 500 gifts shown)
---
I've earned Butterfly Credits