The Wyoming County SPCA is a 501c3 not-for-profit organization relying solely on donations.

Ultimately, the best way to help WCSPCA is to make a monetary donation. Our existence is only possible through the support of people. In order for us to feed the animals, pay employees, pay utilities, and pay our vet bills, we need over $240,000 yearly.

Please show your support by making a donation to the SPCA No-Kill Shelter. Help keep a home open for our homeless pets.


We are a NO KILL shelter located at:

808 Creek Road. Rt. 98
PO Box 151
Attica NY 14011
Phone No.: 585-591-3114

Shelter to handle Emergency calls every day 11 am to 3 pm

Please, if you call the shelter and the answering machine picks up, leave a message and the Shelter Manager will return your call.

Here are some of the animals you would be helping:


---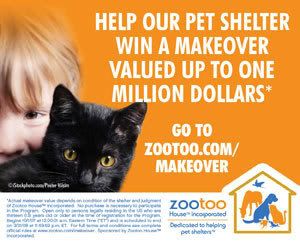 Help the Wyoming County SPCA win a Shelter Makeover

We can win a shelter makeover from ZooToo.com

Information about us from ZooToo.com:

The Wyoming County SPCA is a NO-KILL Shelter. We currently house 260 cats and kittens and 7 dogs. We operate on donations and fund raisers. A Board of Directors oversees the operation of the business. We get NO county or state funding. Our operating funds are critically low. We are desperate for the funding for new facility to house the animals that we have.

Please join the site and then choose our shelter to your profile.

The link for our shelter is here:

http://www.zootoo.com/shelters/zip14011_wyomingcountyspca2

How to earn points for our Shelter!

Register: 100 points

Registration becomes complete and points are assigned when you receive an email from zootoo and click on "validate my zootoo account". One (1) per person.

Shelter Ownership: 100 points

A shelter gets a one-time award of 100 points when the manager enters the shelter code and takes ownership of the shelter account.

Volunteer: 100 points

When you choose to volunteer for a shelter by indicating your skills. One (1) per person.

Write a Review: 20 points

There is a daily limit of 10 reviews per user. If other users find and mark your review helpful, you get an extra 5 points. Please note: there is a limit of 140,000 helpfulness points per shelter.

Discuss News: 8 points

There is a 25 news discussion-posting limit per user per day. You receive one (1) point if readers of your comment indicate that it is a "good point."

Refer a Friend: 100 points

Use the online tool on the site to send an email to a friend or family member. Points accrue only after the person registers and validates his or her registration email. All referrals must be to unique individual people, not just email accounts.

New Photo Review: 20 points

Where specifically indicated, upload a still shot "photo review" showing your pet using a featured product or service. There is a limit of ten (10) per person per day.

New Video Review: 40 points

Where specifically indicated, upload a "video review" showing your pet using a featured product or service. There is a limit of five (5) per person per day.


---

How many pets do you think are euthanized each year? 100,000? 500,000? According to the U.S. Humane Society the answer is 4 million!




How can you help? A new search engine powered by Yahoo! called GoodSearch supports your favorite animal rescue, the Wyoming County "no-kill" SPCA, with every search. It doesn't cost you a thing — the money they donate comes from the advertisers, about a penny per search. You use it just as you would any search engine, and it's powered by Yahoo!, so you get great results.

Search engines generated more than $6 billion in revenue last year. Just think how many animals could be helped with even a fraction of this money! Here's the web site — www.goodsearch.com . You can also read about GoodSearch in the NY Times, Oprah Magazine, CNN, the Wall Street Journal, and more. Just 500 of us searching four times a day will raise about $7300 in a year without anyone spending a dime! And please, be sure to spread the word!
---
Help the Shelter when you buy or sell on eBay. Click the above icon for a listing of the auctions that are helping us.


---


iGive: You can help support the SPCA by doing your on-line purchases through www.igive.com. Just sign up and list the Wyoming County SPCA as your "cause." Every time you make a purchase, select companies will donate a percentage of your purchase to your "cause". There are hundreds of companies participating. Before shopping, log onto "igive" and choose the company where you want to shop.
---

HELP RAISE MONEY FOR A COMPUTER:

We are recycling laser and ink jet cartridges to raise money for a new computer. We're 1/4 of the way there. Please drop off any cartridges, that haven't been recycled at the shelter. We can recycle cell phones, too!
You can send the cartridges direct to FundingFactory with the WCSPCA to benefit by setting up an account. The Funding Factory will send prepaid UPS mailing boxes to you. Please click on the image above to sign up for an account.


---

Support Wyoming County SPCA

Please support our cause by shopping via eBay and amazon.com through giveness.com.
100% of the commissions
generated from your purchases will go to our organization.
---
The Wyoming County SPCA is registered shelter in Purina's Give-a Bowl campaign.
You can help us by downloading a $4.00 coupon from the web site below. When you redeem this coupon the animals at the Wyoming County no-kill SPCA receive $1.00 directly from Purina.
Pass this along to anyone you can to help "give a bowl" to our shelter animals.
http://www.giveabowl.com/home.aspx?LI=1
Choose the option to download the coupon.
Take the Quiz
At the end, put in the Zip Code 14011 to choose the Wyoming County SPCA
Then you will be able to download your coupon.
---

~~Wish List~~~

Puppy Dreams and Kitty Schemes

Clay Cat Litter
Scoopable Cat Litter
Purina Dry Cat Food
Kitten Food (canned & dry)
Purina Dry Dog Food
Wet Cat Food
Bleach Laundry Soap
Latex & Plastic Gloves
Johnson & Johnson Q-Tips
Antibacterial Hand Soap
Antibacterial Dishwashing Liquid
33 Gallon Garbage Bags
Plastic Shopping Bags
Copy Paper
Postage Stamps (postcard & 1st class)
Paper Towels
Post Card Stock
Envelopes (legal & regular)
Wash Cloths
Hand Towels
Volunteers to work events (if you can help, we can find the event for you…tell us your specialty)
EZ-Up like tent that can withstand inclement weather 12' x 14'
We also collect Dad's UPC labels and Purina weight circles…these help to buy food for the shelter animals!!
*Special note regarding food: Often people immediately thank of buying pet food for a pet shelter. This has the best of intentions. However, because we have pets coming in with various health issues, it is essential we quickly address their
nutritional needs. We cannot manage our pet's health if everyone eats different brands of different quality. We also want to avoid medical problems often caused by low quality and high ash food.
A pet suffering with ongoing stomach problems will need more medical attention and be less likely to be adopted. Therefore, we usually feed all of our SPCA pets Purina brand. Non-Purina food donated is used in limited quantities.
---