"*Mitakuye Oyasin* In Peace 4 World Peace"

Camarillo, CA, USA
female, age 59
single
Speaks: Canadian-that's English right? Wink!!
Joined Feb 23, 2012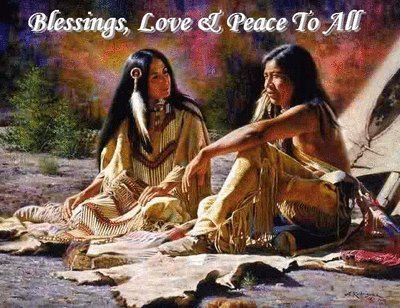 NOVEMBER IS NATIVE AMERICAN HERITAGE MONTH!
I WOULD LIKE TO SEE EVERY DAY HONORED AS SUCH!
Silence, they say, is the voice of complicity.
But silence is impossible.
Silence screams.
Silence is a message,
just as doing nothing is an act.
Let who you are ring out & resonate
in every word & every deed.
Yes, become who you are.
There's no sidestepping your own being
or your own responsibility.
What you do is who you are.
You are your own comeuppance.
You become your own message.
You are the message.
In the Spirit of Crazy Horse
www.leonardpeltier.net
Link to Dr. Maya Angelou's Tribute: http://www.care2.com/news/member/901507364/3774304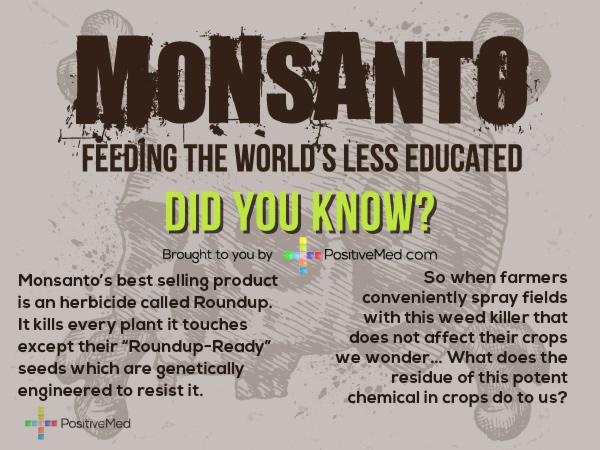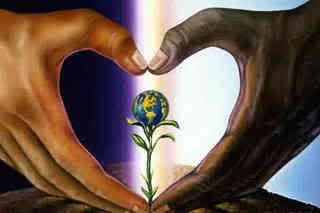 FIRE information: http://yubanet.com/nevada/King.php
http://www.care2.com/news/member/901507364/3794918-SEEDS*SEEDS*SEEDS*SEEDS*SEEDS*
http://www.calepa.ca.gov/StaffDirectory/AgencyContacts.asp Envirnenmental Numbers
http://500nations.com/California_Events.asp Pow WoWs in CA.
http://www.care2.com/c2c/group/chat
Photos that take your breath away-Sue
***http://www.care2.com/news/member/901507364/3794918 (Heirloom SEEDs) ***************
Hometown
Camarillo, CA
Homepage
http://www.care2.com/c2c/groups/disc.html?g
pp=3287&pst=1673308
Birthday
Sept 18, 1955
Languages
Canadian-that's English right? Wink!!
About Me
Eclectic and a dreamer~ I see the world very clearly but not through my eyes, through my Heart. Lover of Nature. Being an organic gardener for decades I've never once wore shoes or gloves while working the land. The soil feeds my soul. I'd rather have blisters while walking on sizzling cement than put on flip flops to go to my post box. I've chopped kindling barefoot~ at -30 because I feel closer to our Mother Earth. I learn more from children and animals than most people, but the people whom have been in my life have been the best friends one could have. "They" say you are Blessed if you have one truly good friend. I have many. I love the Elderly & call myself an Elder-Stalker! I would never turn away from anyone or thing in harms way. I'd rather take the bullet. I am honest and Loyal. I was a CRAZY EXTREME pro/am Skier for over 20 years~ 120 plus days minimum. I am extremely sensitive and feel things deeply, as mental dis-eases are 'challenging' at best. It is intensified as I am ashamed of my species! I would rather live under a bridge then sell out for monetary gain. I have a deep connection and actually communicate with all animals! I always have and can't walk past any of my animals without hugging and kissing and just loving them. That could easily be over 100 'conversations":):):)
Introduce yourself to SuSanne
Lifestyle
Pets
My SweetHEART tribe of cats =^..^=, Weazel (Sweeties brother), Sweet Blessing (Sweetie), Lil' Homie (feral) now a lover
Activist Aspirations
Rabid
Political Leaning
Very Liberal
Religions
Studying Native American-Great Spirit, Spiritual, My Religion is Simple-it's Kindness-D.L
Eating Habits
Extremely HEALTHY, prefer Raw, "Picking" my meal, French or Italian Sparkling H2o- LOTS!, On RARE occasions quality fish., vegetarian or vegan ever since!, Vegetarian since 1971, Organic, non GMO, 95% Sustainable, Organic and Healthy
Wild Fact About Me
My beliefs are exactly the same as the 60's.
My Philosophy
"You do the best you know at the time, and when you know better you do better". Maya Angelou-RIP. Oooops, that's a favorite quote.
What Gives Me Hope
The Simplest Acts of Kindness. Honesty, which is an endangered species. The days I can get out of bed. People with integrity, compassion and don't judge me for my severe flaws. RAIN
If I were Mayor, I'd make the world a better place by
Resign! I can barely stand a "little white lie"!!!
What/who changed my life and why
My father Dick Plumb. Although we were very close for a very long time, his death has had a profound impact on me to accomplish what I thought I was incapable of doing. I Love you dad.
What Bugs Me
Gossip...ALWAYS hurtful, Liars and Disloyalty, People who don't recycle!!!!, EVERYONE who disrespects Mother Earth, Anyone to harm an animal, Anyone to harm a child, Anyone to treat an Elder poorly, GR$$D, Racists, People whom are Judgemental, Intollerance, People w
Passions
Creativity and ART, ORGANIC GARDENING/FARMING, My animals &amp, all Wildlife
Inspirations
Well lived lives, the beauty of nature, People who refuse to give up, The simplest acts of kindness, LOYALTY, Listening with my Heart, Animals, The gifts and passions I've been given, All of Mother Earth
What Scares Me
Destroying our Mother Earth, SHAMEFUL., Dis-Respect of Elders and Values, CURRENT IN*HUMANITY, Corporations...EVIL, Gr$$d~ in all aspects, Cruelty in it's essence, Ignorance and Apathy, Pain-What We do to one another
Favorites
Role Models
WHY DOES C2 KEEP LOOSING MY INFO???
Quotation
Interests

Books
365 Days of Walking The Red Road, The Wind Is My Mother
Music
Classic Rock, Blues
Movies
Thelma and Louise, Big Chill, It's' a Wonderful Life, You've Got Mail, Pretty Woman, Message in a Bottle, A Wonderful Life, Shawshank Redemption, Fried Green Tomatos
TV Shows
Law and Order SVU, Saturday Night Life, House, I know it's not 'cool' but I Love TV!, Healthy cooking or gardening show, History Channel, Bill Maher's Politically Incorrect, ALL Documentaries, ALL the insane "Housewife" reality shows
Favorite Foods

Favorite Places
Red Rocks-Canyon Lands, Anywhere in the Mountains, The entire ALPS, Sedona Arizona, Taos New Mexico, Telluride Colorado
Can't Live Without
Organic food grown with LOVE, My Loving C2 FAMILY, My Art and Creativity, B.Maher~K.Olberman~J.Stewart~ R.Maddow, Flowers and Fragrance, The remarkable people I have met on C2, Weazel~Lil-homie~Sweet Blessings, Bathtub, Soy or Beeswax Candles~LOTS, White Sage, LOVE
Introduce yourself to SuSanne
My Butterfly Rewards
Most recent activity (up to 500 gifts shown)
---
I've earned Butterfly Credits