"WHEN IN DOUBT ASK YOURS'ELF WHAT WOULD LOVE DO NOW!"

Amsterdam, Netherlands
female, age 57
married
teamplayer
Speaks: Dutch, English, Swedish
Joined






I am here to transmitt light from my soul to all i MEET


"Remember," the voice said. "Remember that you are always loved. You are always protected, and you are never alone...You also are a being of light, of wisdom, of love - you can never be forgotten. You can never be over looked of ignored. You are not your body; you are not your brain, not even your mind. You are Spirit. All you have to do is to reawaken to the memory, to remember. Spirit has no limits, not the limit of the physical body not of the reaches of the intellect of the mind.


I feel like my face is a rainbow
but when i smile and i cry
at the same time and im thankfull
that i rain and i shine
at the same time but whats painfull
like my number one love that i aint even got a name for

let me see you smile and enjoy yourself
everytime you cry cause your overwhelmed
of the pain and the joy and the life itself
from the front to the back from the right to the left ,let me see you smile and enjoy yourself
when you wake up in the morning feeling overwhelmed
by the highs and the vibes from your family and friend
its all love from begginging to the end.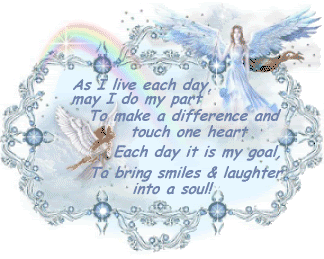 http://www.thedashmovie.com/

reality

"There is no reality except the one contained within us. That is why so many people live such an unreal life. They take the images outside them for reality and never allow the world within to assert itself."
-Hermann Hesse
My topic this month is reality. What is "real?" Something we can see with our eyes, feel with our hands? What "makes" something real? With virtual reality and reality-TV, these are tough questions these days! But we know what is really real when we know it in our heart. We know love is real.
reality

"Nothing which is at all times and in every way agreeable to us can have objective reality. It is of the very nature of the real that it should have sharp corners and rough edges, that it should be resistant, should be itself. Dream-furniture is the only kind on which you never stub your toes or bang your knee."
-C.S. Lewis
We've often heard the phrase "harsh reality." As if reality can smack us in the face. But that smack could just be a wake-up call to alert us to the bigger "reality." When we stub a toe, we're brought immediately to the present moment! Living in present-moment awareness we can more clearly see what is real and what is not, what is important and what is dispensable.
reality

"All our interior world is reality – and that perhaps more so than our apparent world."
-Marc Chagall
Love, joy, bliss, peace – we experience all this in our interior world, yet we cannot draw a picture or take a photo of exactly what it looks like. Our interior world is so vast, so filled with amazing gifts. Yet where do we place our attention? We're busy trying to make our apparent world, our exterior world, look good. When we look within, we find the abundance that we so desperately seek. It is there all the time!
reality

"Reality has changed chameleonlike before my eyes so many times that I have learned, or am learning, to trust almost anything except what appears to be so."
-Maya Angelou
Appearances change. Nothing in this exterior world stays the same. Have you ever gone to visit a place, only to return several years later and not even recognize it? Buildings go up and down, tenants move in and out, trees grow, signs change. People change, too. We all start out as babies, and our features mature as we age. Our hairstyles and clothes change with the trends. But what stays the same? Spirit. We can trust that love never goes out of style, and never moves away.
reality

"We live in a fantasy world, a world of illusion. The great task in life is to find reality."
-Iris Murdoch
Have you ever been to Disneyworld? It's a beautiful place – colorful, clean, fun, and full of surprises! And when we're there, we know that it is all illusion – that it is all there for our enjoyment. We experience the rides as entertainment, even the scary roller-coasters. Yet when we're in our own "world" we tend to take things so seriously. What would happen if we approached life as our own amusement park? Knowing that one ride takes us for a spin and another shakes us up and another lets us sit back and relax? What a concept! Then we could stop looking for reality all around us and start finding it inside of us.
-Lissa Coffey

BIIIIG
hugs
Angelicious-Fairy


Jobs Desired
healing, helping co creating a new way of living
Work Place
new healing modalitys
Professions

Job Titles
teamplayer
Skills
posess a bigger imagination then anyone
Former Employers
my own clothes line called addiction
Associations
indigenous people all over d world
Education
Colleges

Location
Netherlands
Majors

College Grad Yr

Degree
Other Degree
High Schools

Location
Netherlands
High School Grad Yr

Introduce yourself to Angelica
My Thank You Notes
May 30, 2013

view card
My Butterfly Rewards
Most recent activity (up to 500 gifts shown)
---
I've earned Butterfly Credits