https://www.youtube.com/watch?v=D6zx0Oju8U4
http://www.all-creatures.org/quote.html
The Reality of Puppy Mills
https://www.youtube.com/watch?v=ZVyFSTYY7zg
Burn in hell, Michael Vick and all who support him... he's NOT sorry for the vile acts he did to the dogs he was fighting and killed. And, as far as I'm concerned, I say, "SHAME on the Pittsburgh Steelers for signing him to their team." That's beyond despicable.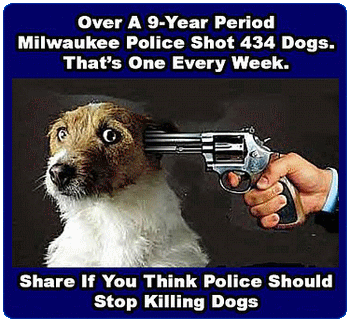 and that's just in Milwaukee, MN, USA - SHAMEFUL!
"A time will come when people understand that the murder of an animal is
just as heinous as the murder of a human being." ~Leonardo di Vinci~
www.nonhumanrights.org
(Documentary) - https://www.youtube.com/watch?v=Be5Zlsbq_-I
http://www.all-creatures.org/poetry/ar-my-life-misery.html
http://www.kenyoung.net/circus.html - a ton of links re: circuses - which I am AGAINST! But, it's a good list for those writing petitions.
http://racingextinction.com/
http://www.palmoilinvestigations.org/
https://www.youtube.com/watch?v=i1GKQ8W-raQ - (PART 1) and (PART 2) - https://www.youtube.com/watch?v=6ToJaXNVTus AND https://www.youtube.com/watch?v=7BRGj0DwYwA
http://www.wisegeek.org/what-is-the-difference-between-ethics-and-morals.htm
"The greatness of humanity is not in being human, but in being humane." ==Mahatma Gandhi==