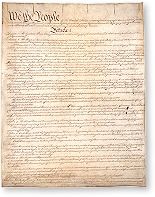 With all the frightening and urgent matters to be addressed both domestically and internationally right now, WHY is Dumbo Bush making a new effort to push a constitutional ban on gay marriage?
Hasn't this idiot learned that we are on to his tired old tactics – distract the people from the important and potentially dangerous stuff so they won't raise a rightful ruckus – and that we would prefer that he focus his limited mentality and attention span to more pressing concerns?
Alas, apparently not.
With the immoral, deceptive and bloody war in Iraq, the selling of America to foreign interest and American jobs to third-world countries, the border and immigration crisis, the lack of decent healthcare for Americans, our multi-trillion-dollar federal deficit and inequitable world trade position, the loss of millions of good-paying jobs over the last 5 years (all replaced with part-time menial positions in restaurants, Wal-Mart etc.), the refusal to enact an urgent response to the global warming crisis, the pervasive corruption in Washington - stretching across all boundaries of party and position - the price of gas and the lack of government incentives for alternative vehicle and fuel developers, the outright failure of the ludicrous and expensive NO CHILD LEFT BEHIND mandate and the subsequent slide in the state of American education, the escalating erosion of privacy and civil liberties (think: the selling of your tax info by the IRS, the domestic wiretapping on millions of innocent people, etc.) and the incipient attack on Iran (yes, I believe it's just around the corner), doesn't this fool have better things to do than escalate homophobia in the ignorant slice of the population that buys his garbage hook, line and sinker?
Where is the intelligent, compassionate leader we need in this era of chaos? Certainly not in the White House. Bushman, his cronies and a good portion of the kowtowing Congress are acting like ostriches – what they can't see or hear can't hurt them.
PLEASE, leaders of our country – take off your blinders, stop kissing the asses of the military-industrial complex, the oil industry and the right-wing Christian fanatics and develop serious, workable solutions for the mess America and the rest of the world are in. We are close to losing all that we cherish about our country and finding ourselves held lock, stock and barrel in the thrall of an overwhelming environmental, fiscal and civil liberties disaster.
© 2006 RC deWinter


Good H. (3822)
Saturday June 3, 2006, 8:33 pm
Countless massacres happening in Iraq; the real story.

http://www.viewzone.com/atrocities.html

send green star
Author


RC deWinter
female, age 63, divorced
Middletown, CT, USA