Meditation on the Sound of Praise and Criticism
Excerpted from Lama Zopa Rinpoche's How to Practice Dharma: Teachings on the Eight Worldly Dharmas, edited by Gordon McDougall. Forthcoming 2012 from the Lama Yeshe Wisdom Archive.
---
Pictured at right: Lama Zopa Rinpoche, Lake Arrowhead, 1975.
Photo: Carol Royce-Wilder.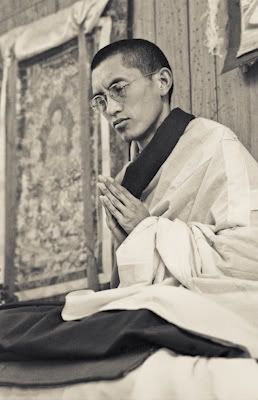 You can learn much about your mind by being aware of how it reacts to praise and criticism. How pleased are you when somebody praises you? How depressed are you when you are criticized? Even if you logically know that neither the praise nor the criticism is justified, it is very difficult to separate your mind from the situation and have a more realistic attitude to these two worldly dharmas. Here is a meditation that will help.
---
Think of a compliment or some praise that you've recently received. Don't worry whether you feel you deserved it or not, just concentrate on the way your mind reacted to it. Were you genuinely pleased to receive that praise without any exaggeration of the mind or did your mind immediately become attached to it? Explore how much you need praise.
---
Perhaps somebody has praised your wisdom--"How wise you are." Immediately your mind wraps itself around this sentence and you feel very happy. But really, where is the real happiness in those four words? They are just sounds hitting your ears. If they were a true source of happiness then every time you heard them you would be as happy. If there were some absolute existence in that sentence, then just saying "How wise you are" to yourself would have exactly the same effect. Does it?
---
It could be your mantra. You could repeat it over and over to yourself, counting your mala-how wise you are, how wise you are, how wise you are. If it were real happiness, the more you repeated it the happier you would become. You could record it and play it back to yourself all day every day and you would be the happiest person in the world. But of course it is not like that.
---
Take each word and see whether there is happiness there. Is there some intrinsic happiness in "how" or in "wise," in "you" or in "are." Of course not. The individual words themselves are no reason for attachment, so why is the whole sentence?
---
Experiment like this and see how the happiness you feel when praised does not come from the side of the words themselves. The words themselves are empty sounds; the meaning comes from your own mind.
---
In the same way, if you check whether "You are so terrible" really exists, you will find that what you believe to exist is utterly nonexistent. You get angry and upset when somebody says that, the actual sentence brings pain to your heart, but really it's only a group of sounds hitting your ear. How can it have that effect? You believe the sentence, but examine each word. Do you get angry with the "you" of "you are so terrible?" There's no point in getting angry at a "you." And there's no point in getting angry at the word "terrible." Does just hearing the sound "terrible" make you angry?
---
If you add a "no" to "you are good" you get a negative sentence, "You are no good." Those two letters "n" and "o" change the sentence around. The first sentence doesn't have "no"; the second one does. You don't get angry when you hear the word "no" alone, so why get angry at the whole sentence? Is it because the combination of words is related to you? If this is so, then when you tell yourself you are no good, it should cause you to get angry in exactly the same way.
---
The moment you discover the emptiness of the object that you believed in before, your feeling changes. There's no problem in your mind, no confusion. All of a sudden, by checking like this, your attachment or aversion diminishes and your mind becomes much more relaxed and happier than before. The wrong conception that held the truth to be in that group of sounds simply vanishes, and with it the attachment or aversion you felt because of those words. You can't find the truly-existing object of your negative emotion, so it is naturally dispelled. This way you keep your mind peaceful. You become your own doctor, psychologist and psychiatrist and bring peace to your own life.
---
Connect with LYWA
Visit LYWA website
http://www.lamayeshe.com/index.php

Become a fan on Facebook
http://www.facebook.com/pages/Lama-Yeshe-Wisdom-Archive/197994450850?ref=mf

Follow LYWA on Twitter
https://twitter.com/#!/LYWA