Monday the 22nd the Main Square in the Austrian city Linz was the location of a big animal rights demonstration. Not only activists were part of it but also animals who died in animal research laboratories.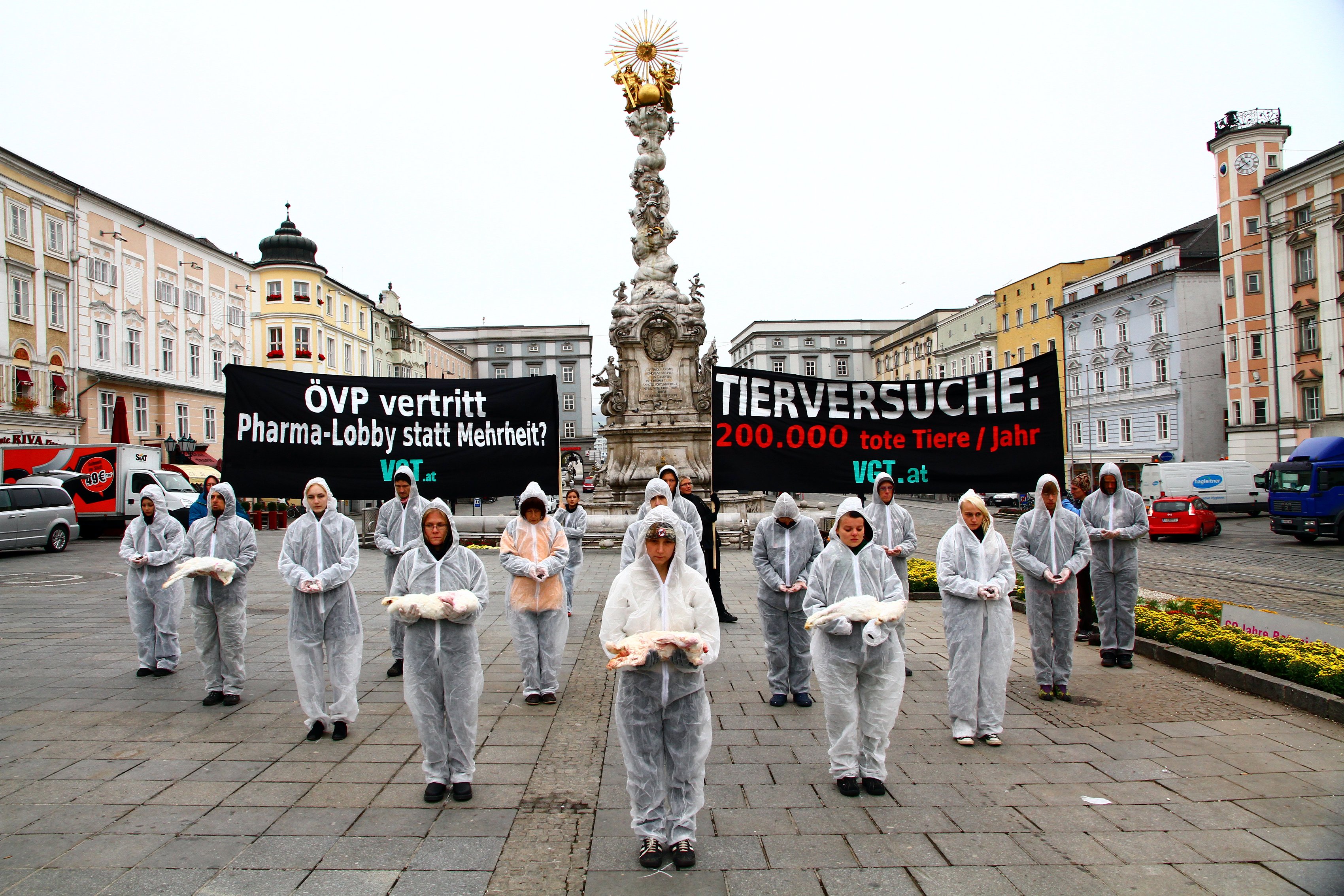 Activists were holding the dead victims in their hands to show the public the cruelty which the animals had to endure during their lifetime and to urge for a better animal research law, which has to be changed this year, since it is already over 20 years old.
Only 1/3rd of all animal tests are done for medical reasons, the rest is a pure unnecessity due to already existing alternatives. Nevertheless all experiments are permitted, no matter how cruel or unnecessary they are, although a committee that should decide over the justification of certain experiments does exist.
Around 200 000 research animals die only in Austria each year. Because research animals are not considered in the animal welfare act of Austria, there is no &ldquo
rotection of life and well-being of the animals" (§1 animal welfare act) and no prohibition of animal cruelty (§5 awa) for them. The definition of animal testing in the animal research act even connects animal research directly with distress, pain and death.
Because of that active animal advocates urge lawyers for research animals (animal lawyers already exist in every federal state in Austria, though, not for research animals yet), stricter controls and stricter approval procedures, an impartial evaluation of animal need and human need and animal welfare in the Austrian constitution.
§1 of the animal welfare act is supposed to be raised into the constitution. For this issue it was already planned in February that a subcommittee is constituted, though, this didn't happen because the Conservative Party of Austria (ÖVP) did not agree unless other state objectives which have nothing to do with animal welfare are discussed first, such as Living and Dying in Dignity. There have been several pre-election promises from the Conservative Party that were not kept. Still the Conservative Party doesn't want §1 to be raised into the constitution, but instead another wording that still allows the economic exploitation of animals.
Also the interest-group for animal research does not want the mentioned claims to be established but also refuses to speak in open discussions with animal advocates and the public. Discussions make a democracy, which they refuse to be part of.
Please take a short time to help:
Also as non-Austrian citizens you can urge the science speakers of the Austrian Parties to enforce lawyers for research animals, stricter controls and approval procedures for experiments and an objective consideration of both benefit for humans and harm done to the animals.
Also urge the representative of the Conservative Party of Austria, Michael Spindelegger, to support §1 of the animal welfare act into the constitution.
Science Speakers:
Green party: kurt.gruenewald@gruene.at
Social party: andrea.kuntzl@spoe.at
Liberal party: kontakt@martin-graf.at
Conservative party: katharina.cortolezis-schlager@parlament.gv.at
Representative of the Conservative Party:
michael.spindelegger@bmeia.gv.at